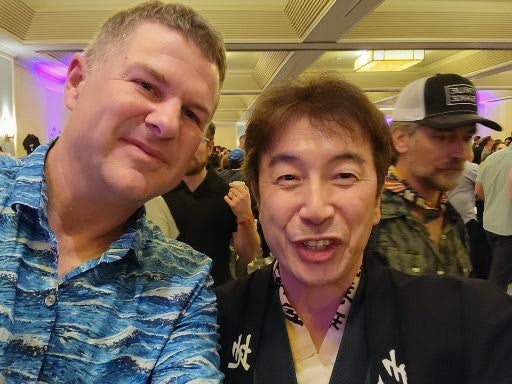 Sake People – Say Hello to Owen Randall, A True Sake Customer with Sake Passion
Every so often, one of our outstanding customers comes into the shop and we talk the talk. You know? Sake talk! They tell us what they are vibing on and they tell us things that we didn't know. It's really fun when customers divulge their experiences, because at the end of the day, we are all on the same sake train. 
With this in mind, one of our favorite customers who always comes to True Sake exactly on Newsletter drop days, Owen came in yet again and we got to talking. Sake talking! He is a very good communicator of what sakes he likes and why. And it was awesome going over his sake trials and tribulations. He and his wife have template(d) their sake experiences - they know what they like. And we like that. 
We enjoyed Owen's sake journey so much that we asked him if he would like to write a piece for the Newsletter that he reads regularly. And voila he said yes! So without further ado, here is some customer-to-customer sake talk! *Pictured below with Masao Aisawa san of Takenotsuyu.
First off, thanks for reading this far in the Newsletter. My name is Owen Randall, and I'm honored to be part of this monthly True Sake tradition. I was asked to write a few words about my experience and perspective as a customer.
As for me, I grew up in the Bay Area and live and work in San Francisco. I suppose that my hobbies would include running, hiking, spending time in the mountains, watching movies and sports (particularly my kids' soccer games), and constantly updating my "You Recently Viewed" section of the True Sake site.
Looking through my email, it seems that the earliest True Sake message from my Inbox was a receipt for Sake Day 2013 tickets. Of course, my first experience with sake goes even further back. I still have fond memories from the late 90s of the Temple that set up shop at the SF Cherry Blossom Festival and offered "FREE SAKE!" from casks in preparation for the parade. 
But if we're talking about the moment when I truly started enjoying sake, I can say that this was 20 years ago, almost to the day, at a robatayaki 炉端焼き restaurant in Berkeley, California. We decided to try something new and order one of the cold sake options, the Akitabare Koshiki Junzukuri Junmai. I was blown away. The combination of dry rice flavors with a slight hint of lemon was completely different from any sake that I had ever tried. In about ten minutes, we went from being wary of ordering a "fancy" sake to getting a second carafe in order to process what we had just tasted. That was the beginning, and I eventually discovered that sake has a near infinite set of possible combinations of flavors, richness, depth, dryness, and sweetness. 
As I've found new favorites and discovered new styles over the years, it has become difficult for me to pinpoint my favorite type of sake or identify specific characteristics that I'm looking for in just one, ideal bottle. Some days, I'll want a fruity Ginjo, whereas on others, I'll prefer something richer with more rice tones. While we do enjoy revisiting our favorites, part of the joy of drinking sake is trying a new bottle, and discovering something new from that infinite set of possibilities. When I try and choose something I've never tasted before, I may have an idea of what I might pick based on past experience with a brewery, the tasting notes that Beau and company put together, or sometimes even the technical specs on the label. But there are limits as to what I can get from this type of information, and you can't fit everything on a label or a website. Coming into the store or reaching out to the team lets me ask some specific questions and particularly find distinguishing points between two bottles that would otherwise seem very similar. 
Very difficult to narrow down my favorite sakes to just six, but here are some that my wife and I are really enjoying at the moment:
Toyonoaki Junmai "Karakuchi Kingoro"

 

– My favorite Junmai in the "I'm feeling like something rice-y" category. Plenty of rice, but also butter crackers and graham crackers as well. Really easy drinking for +8 SMV. 
Tonoike Sanran Ginjo – A longtime favorite of ours that we were very happy to see make its return to the store. A fair amount of fruit, but really balanced and not overwhelmingly sweet. 
Kuroushi Junmai Ginjo "Black Bull" – Rich but not heavy. A nice mix of rice, vanilla, spice, and umami. A little bit of sweetness as well. Goes amazingly well with pizza, pork & eggplant over rice, and probably just about anything else.
Gikyo Junmai Ginjo – This one has a little bit of everything. Part dry, part effervescent, part fruit, part grain. Served this recently at a BBQ with ribs and got good reviews from everyone, non-sake drinkers included.
Kirinzan Junmai Daiginjo

 

– Our favorite splurge, special-occasion bottle. Essentially the equivalent of simultaneously drinking summer and winter with some lime mixed in. The Kirinzan Junmai and Junmai Ginjo are favorites of ours as well. [EDITOR'S NOTE: Bottle not pictured, may be out of stock at this time.]

Takenotsuyu Hakuro Suishu Junmai Daiginjo "Winter Water"

- A great representation of a daiginjo in that it so elegantly combines fruit, umami, faint sweetness, and a very clean and soft texture on the tongue. 
"True Sake Newsletter Release Day" also serves as Sake Restock Day for me. If you go into the store close to lunchtime today and see some tall guy debating between Ginjo A and Ginjo B for his last bottle, feel free to say Hi.
Owen