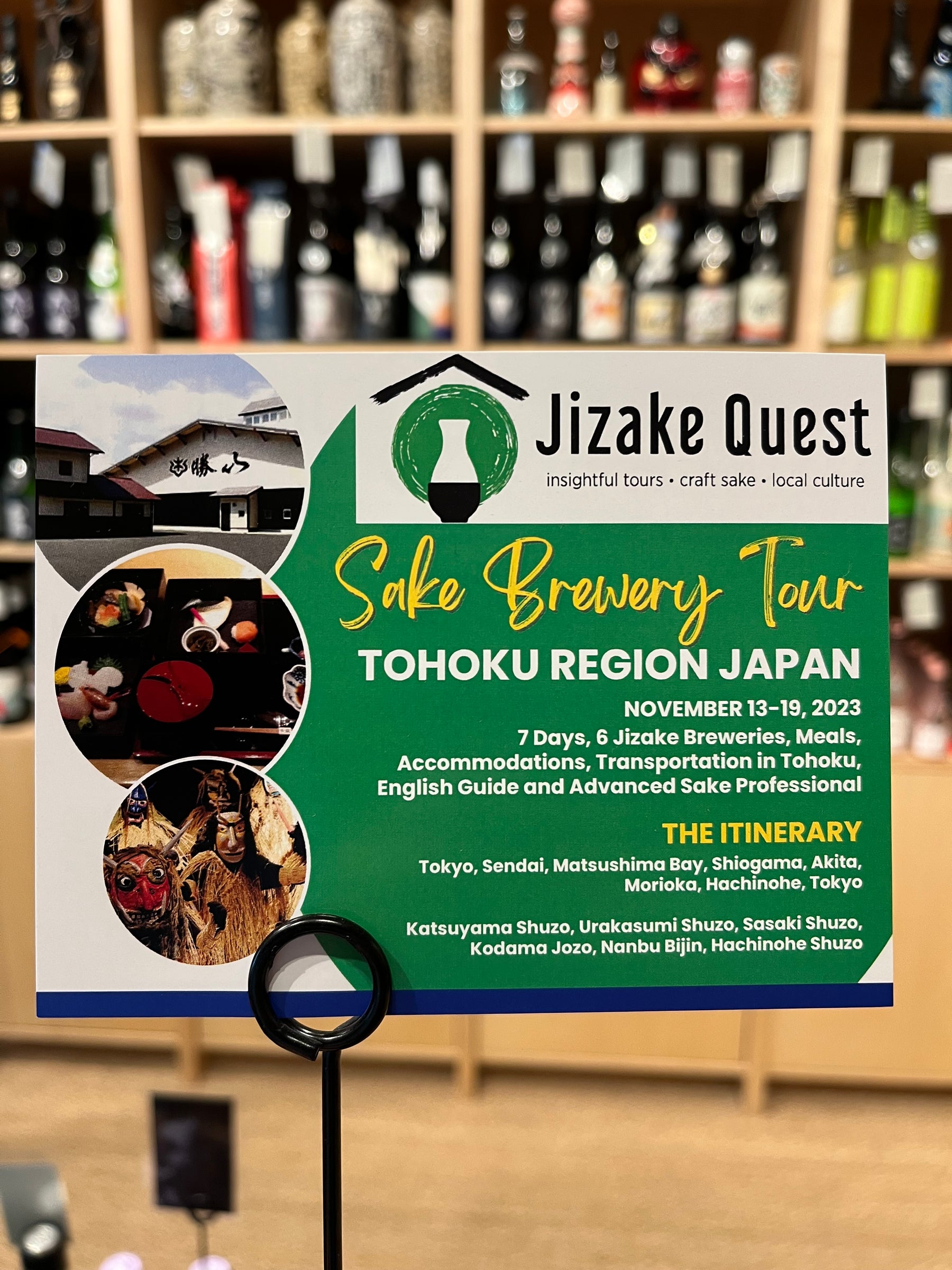 Sake Tours – Go Visit 6 Sake Breweries in Northern Japan In November
Haven't you always wanted to visit a sake brewery in Japan, but just didn't know how? Well your prayers have been answered. 
David Sakamoto and his company Jizake Quest are offering a once-in-a-lifetime sake experience and he has done all of the work for you. In his words, this is David introducing his company and his amazing brewery tour opportunity:
Jizake Quest was formed in 2019 with the goal of spreading the love of sake to the US market. Along with the love of sake was the desire to reach back and integrate the roots of Japanese culture and heritage with the rich history of sake. Jizake Quest started off with ambitious plans to import sake, assist US consumers in learning about and appreciating sake, and organize tours to sake breweries and to discover Japan. That was our "Quest."
In 2020, we started importing Japanese sake and scheduled our first sake brewery tour for March 2020, until the unthinkable happened . . .the world basically stopped!
Forward to late 2022 – pandemic restrictions slowly start easing and Japan opens its borders for tourism. After being isolated from people and other countries, tourism starts picking up from the pent-up demand and 2023 saw many countries experiencing huge increases in tourism. Jizake Quest is back as well to bring you more sake and exciting sake knowledge!
Jizake Quest is now taking reservations for its first sake brewery tour of the Tohoku Region of Japan November 13-19, 2023. We have scheduled brewery tours at six amazing sake breweries (some of which are not open for public tours). In addition, we have scheduled several exciting activities and visits to cultural sites during the week. The tour includes all accommodations, all meals (except for one open night in Sendai), activity fees and transportation (trains, buses, taxi) during the tour which starts and ends in Tokyo. Of course, we will be tasting some of the best Nihonshu produced in the Tohoku region throughout the tour.
The tour is designed for first-time visitors to Japan, as well as those who have been to Japan numerous times before. The Tohoku Region is often overlooked on most tourist's itineraries, but the region boasts some of the most beautiful scenery in all of Japan. The highlight will be 6 extraordinary brewery visits that you will cherish as you explain (brag!) to all of your sake friends when you return home. 
As examples, you can learn about a brewery that was completely destroyed by the Great East Japan Earthquake of 2011 and the owners were resilient to rebuild a new brewery. You can also visit a brewery and learn how a famous Japanese historical figure prominently played a role in the development of a famous Star Wars character.
If you are interested in the Jizake Quest Sake Brewery Tour, ask the people at True Sake for more information or drop an email to info@jizakequest.com, and we'll send you a detailed e-brochure with the full itinerary and costs. 
Finally, as a special incentive for True Sake fans, we are offering a special discount for True Sake fans who commit to reserving a space for our Tohoku Tour by September 15, 2023, in the amount of $150. Just send us an email with the promotional code "True Sake Fan Tohoku 2023" and commit with an initial 10% deposit. We'll provide more details about making the deposit from there.
David Sakamoto