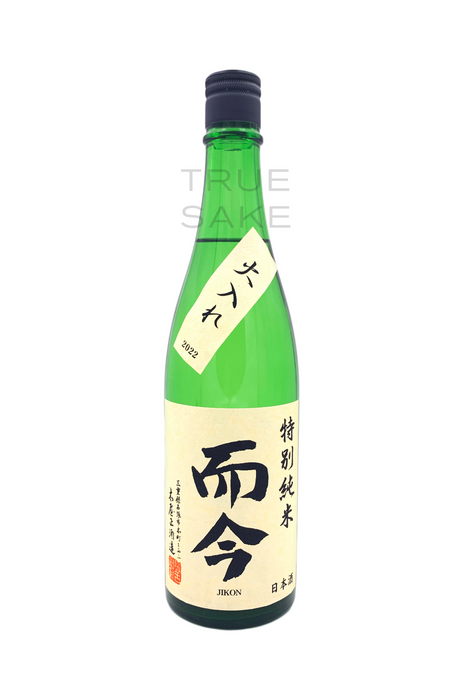 Jikon Tokubetsu Junmai
Sold out
Original price
$50.00
-
Original price
$50.00
Jikon will no longer be available online. In-store customers only. NO EXCEPTIONS. We apologize for the inconvenience.

Limit 1 bottle per household per customer. Any attempts to obtain more than 1 bottle per household per customer will be refunded immediately. This is True Sake's attempt at letting everyone get to try Jikon, not just collectors.

The nose on this famous sake in Japan is a cool collection of melon, berries, green apple, cut grasses, spring onion, pear, and bright fruit aromas.  A light, crisp, and bright jump into a new style of sake that plays with an elevated acidity field that jumps out of the glass. Pitched to wine drinkers, this sake is very expressive with lots of shibumi and acidity elements that drink lively, crisp, and spritzy. Look for layers of flavors such as Asian pear, peach, young melon, persimmon, green apple, and basically young fruit tones that pop on a tantalizing acidity play that says, "Hola!" This is a legendary sake for good and zesty reasons. It's hard to get in Japan so don't miss a brew that takes umami to new and vivid expressions. WORD: Famous WINE: Zesty Reds/Crisp Whites BEER: Crisp Ales FOODS: A Yakitori monster.
🚨 Jikon Is Here! - Raffle Entry Rules and Drop Dates 🚨

OK, so here's the deal. Every time we get Jikon, we try our best to make things fair and honest for our customers. Since this sake is so limited, we're trying out a raffle system for our in-store customers only. Apologies to our online customers. We hope to snag more bottles in the future to release out into the wild. But for now, if you're within driving distance of San Francisco, this is your chance to try sake from the legendary Kiyasho Shuzo!
Here's what will happen. You will come to our shop at 556 Hayes St to enter for the chance to purchase the Jikon(s) you would like. There is no fee to enter in the raffle. We will contact you in the following week if you are randomly selected. After purchasing your bottle, you can then pick up your Jikon at the store. The raffle dates are on the following Saturdays listed below. You can only enter once per Saturday. Please read the rules before entering! 
Sounds like a lot but the buzz around Jikon has made us fighting for a way for our customers to obtain bottles fairly. We hope that you will bare with us as we try this new method. To our online customers, please continue to wait as we work to snag more bottles in the future.
Raffle sign up dates are as follow:
Saturday 8/19 - Jikon Tokubetsu Junmai 11am-7pm

Saturday 8/26 - Jikon Junmai Ginjo Senbon Nishiki 11am-7pm

Saturday 9/2 - Jikon Junmai Ginjo Omachi 11am-7pm

Saturday 9/9 - Jikon Junmai Ginjo Yamada Nishiki 11am-7pm

Saturday 9/16 - Jikon Junmai Daiginjo Tokuto Omachi 11am-7pm
Rules:
Sign ups are all done in person.

Must have or make a customer profile with True Sake.

Must subscribe to the True Sake newsletter.

Only one (1) bottle per person per household per raffle date.

You will be notified within the following week if you have been selected.

If you are chosen, and after being notified, you have 24 hours to respond and purchase the bottle. If we do not hear back in 24 hours, your entry will be dropped and a new entry will be chosen at random.

Name on the government issued ID, credit card used, person picking up must all match and it has to be you. NO FAMILY OR FRIENDS OR COLLEAGUES PICKING UP ON YOUR BEHALF. You have 30 days to pick up after purchasing. If bottle(s) are not picked up within 30 days, another person will be chosen at random. NO EXCEPTIONS.

Any foul play detected will lose the chance to purchase bottle(s) in the raffle. Which includes immediate refunds if the bottle(s) were already purchased, and being disqualified from all future raffles and lotteries.

Rules are subject to change without notice and we hold the right to determine if foul play was made.
Good Luck!