New Store Arrivals – The Fall Released Namas Called Hiyaoroshi
In the store we now have three new Fall released nama sakes (single pasteurized) that are built for food pairings of the autumn harvest season. They are all tasty by themselves but also handle your savory Fall flavors very well!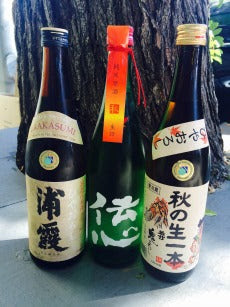 Urakasumi Hiyaoroshi '14
From Miyagi Prefecture
Tokubetsu Junmai "Draft"
SMV: +1 Acidity: 1.5
$33/720ml
The nose on this perennial fall fan favorite brew is a collection of raisin, cocoa, saw dust, leather, and nougat aromas. Not as rich as in year's past this season's version is still rich, layered, complex and full-bodied. Look for layers of flavors such as burnt sugar, sweet rice, cocoa, with a hint of banana. Smooth and plump, this thick brew has peek-a-boo notes of nougat and take note all of you "umami" fans. A mid-sized glass makes this brew work the best and definatley do not be afraid to warm this sake. WORD: Rich WINE: Complex reds and savory whites BEER: stouts and Belgian ales FOODS: Works well with complex dishes, savory fare, and cigars!
Denshin "Aki" Hiyaoroshi '14
From Fukui Prefecturee
Junmai Namazume Genshu
SMV: TBA Acidity: TBA
$33/720ml
This Fall draft sake has an explosive nose filled with fruity, berry, yeasty and candy bar tones. Wow! Talk about fat, chewy, viscous and mouthful of fluid, this "genshu" (undiluted) sake has a plump 19% alcohol content that really presents itself in a larger glass. A smaller glass yields super flavorful brew that has hints of honeydew and cantaloupe (both!), dried fruits, and honey covered nuts. It is bright and chewy which is fun, but doesn't fit the prototypical Hiyaoroshi savory profile. Who cares? Look for a vein of peach tones and if you ever wanted to put a sake "on the rocks" this is your brew! WORD: Fat n' Fruity WINE: Chewy reds and plump whites BEER: Belgian Ales FOODS: International spice, frisky fare, fruit salads, soft cheeses.
Wakatake "Aki No Ki-Ippon" Hiyaoroshi '14
From Shizuoka Prefecture
Tokubetsu Junmai "Draft"
SMV: +1 Acidity: 1.3
$29/720ml
The nose on this seasonally released brew is a collection of grains, steamed rice, wood, and a hint of kiwi and green onion aromas. This brew is for all of you dry sake lovers as it is dry, tight and a tad yeasty. (Beer drinkers take note). Look for gentle tones of grains and dark chocolate in fluid that does best in a larger glass that helps distribute the touch of alcohol tingle. A little dryer then last year's version but still extremely popular with the fall foodies. WORD: Dry WINE: Zesty Reds/Crisp Whites BEER: Crisp Ales FOODS: Grilled fare, soups and stews of the season.