Sake Competitions – The "Big Boy" Sake Competition in Japan
As you know from the last True Sake Newsletter I am deeply vested in the International Wine Challenge Sake Competition called the IWC. Essentially the IWC is the largest wine tasting competition in the world held in London every year. Ten years ago they added sake to the competition format and this year in May in Hyogo Prefecture the IWC held the largest international sake competition in the world. It was amazing and worth a look back at the newsletter if you missed it!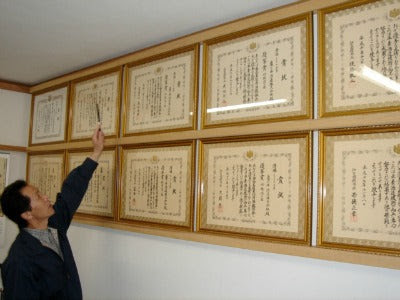 But and this is a very big but! The IWC is an "outside" body independent of any brewer or winery associations. Why do I say this? Well in Japan, the government via the National Research Institute of Brewing holds an annual sake competition that is the end all-be-all for all sake makers in Japan, and has been so since 1911. This is the real "big boy" tasting in the sake world for the brewers and it carries the most weight! If you visit a sake brewer the awards from this national competition and judging are usually proudly displayed. (That said – the IWC certificates are right there up on the wall as well these days!).
I've always thought it was pretty cool for a government to support its brewing sector by not only holding these competitions but by being directly involved with the industry on so many levels, sadly of which excludes promotion and advertising! The NRIB is the end all be all in the sake industry! And their Annual Sake Awards have tremendous impact on the sake world. These awards and designations carry a ton of weight in the industry and I would argue that they used to be far more significant. If your brewery received a "Gold Medal" it was a very significant accomplishment. In fact, some brewers have taken their lives if they didn't win. Not joking!
Outside looking in I always thought the competition was a little odd. I am not saying this negatively! To enter a sake you must first have a brewing license, and each brewery can only submit one entrant. Period! (That's why some older breweries, and there are only a few, have two licenses. Because they have two kura – Urakasumi for example – they get to submit two entrants.) It's the entrant sake that is hard for me to get my mind around – from a retailer and consumer's point of view. Essentially a brewery makes a specific sake for this competition. Their entire line up of sake could be average at best, but if they make a super quality sake for this competition then they get a Gold Medal for a brewery that really isn't that good! That doesn't seem right! They become known as a Gold Medal brewery, but what they sell to the end user is only average sake that doesn't reflect what got the Gold Medal. That is why the IWC is more consumer focused, because each entrant has to be available to the mass market. But, and here's another big but! Many brewers actually submit their retail sakes for the national competition and my hat is off to them!
Nevertheless, The National Research Institute of Brewing's National Sake Awards are the bomb! And they really help define what good sake is in Japan. I recently received a note from one of their members and he wanted me to share some information about the competition to draw better attention to this tasting. So herewith are the basic details of the competition that just took place in Hiroshima.
Outline of the Annual Japan Sake Awards 2016
May 20, 2016 - National Research Institute of Brewing Japan Sake and Shochu Makers Association
The Annual Japan Sake Awards 2016 were held under the joint auspices of the National Research Institute of Brewing (NRIB) and the Japan Sake and Shochu Makers Association. This year marks the 104th Annual Japan Sake Awards, which were first held in 1911.
For this contest, a nationwide investigation of manufactured sake was conducted with the aim of clarifying the current manufacturing technology and trends in order to contribute to the improvement of sake quality and to enhance public awareness of sake. This is the only one national contest of sake, and we believe that these awards contribute to improvements in manufacturing technology and quality of sake.
1. Application process:
(1) Applicant requirement Manufacturers who hold a sake brewing license and are members of the Japan Sake and Shochu Makers Association
(2) Standard for entry Sake applied to this contest must be unprocessed Ginjo-shu brewed at the manufacturer's own licensed production sites during the brewing year 2015 (from July 2015 until the application deadline of the contest), as stipulated in the "labeling standard for the manufacturing process and quality of sake" of the National Tax Agency. Applied sake must have a degree of acidity* higher than 1.0 and contain no added aroma compounds.
(3) Number of entries - Limited to one entry per manufacturer.
(4) Entry fee The entry fee is 16,200 yen (including consumption tax) per item. *Degree of acidity is volume (mL) of 0.1 N NaOH solution to neutralize 10 mL of sake to pH 7.2. Acidity 1.0 is equal to 0.090 g of lactic acid /100 mL or 0.075 g of tartaric acid/100 mL.
2. Overview of the awards:
(1) Number of entries, 854
(2) Schedule of blind tasting
Preliminary judging; 3 days, from April 20 to 22, 2016>br> Final judging: 2 days; May 10 and 11, 2016
(3) Judging panels Experts on sensory evaluation of sake and appointed by the president of the NRIB from: Sake manufacturers Sake specialists from prefectural research centers Technical officers of the National Tax Agency and 2 Staff of NRIB
(4) Methods of blind tasting a) During the preliminary judging, a sensory profile of each sake was created by characterizing "aroma" and "taste" and evaluating "total quality" (5-point scale). In the final judging, an overall sensory evaluation was given (3-point scale). For both the preliminary and final judging, entries were grouped based on the concentration of aroma compounds, which was analyzed in advance. b) Results of the sensory profile and overall evaluation will be sent to the applicants in the hope that the results might be used to improve Ginjo-shu manufacturing technology and storage management in the future.
(5) Results Prize winners, 413 entries Gold prize winners (those recognized as the very best among the prize winners), 227 entries Testimonials are presented to the manufacturers jointly by the presidents of the NRIB and the Japan Sake and Shochu Makers Association. The list of gold prize winning sake is shown on a separate sheet.
(6) Tasting event for sake manufacturers etc. Time; Thu. May 26, 2016, 10:00 – 15:00 Place; Higashi Hiroshima Sports Park, Gymnasium 67-1, Taguchi, Saijo-cho, Higashi-hiroshima, Hiroshima (7) Public Tasting will be held by the Japan Sake and Shochu Makers Association.
About 100 monthly issues ago or so, I wrote about this competition for the True Sake Newsletter and I went into real detail on the actual conditions of this tasting. For example the time of the tasting is important – around 10AM when the palate is at its peak – the room color must be beige and the room itself must be facing North I believe - samples are sent in 500ml olive green sake bottles (Like Koshi no Kanbai "Tokusen" bottle) and must rest for up to a month in a non refrigerated room – if your samples are broken you cannot re-enter etc. It's very strict! And one further side note should be of interest to you. I mentioned that most of these entrants are not for consumer sales. Well years and years ago this was very much the case. Not really fair was it? A brewery makes Gold Medal sake but you never get to taste or buy it! That changed with the Niigata brewery that I mentioned above – Koshin no Kanbai. I believe that they were the first kura to sell their Competition sake to the mass market! My hat is totally off to them, and perhaps that is why they still sell their Tokusen in that competition 500ml bottle. Check it out!
I will link you to the complete Gold Medal Winner's sheet, but for a little more focus and relevance herewith are some of the breweries that won Gold Medals that True Sake carries and supports:
The True Sake List of "Gold Prize Winning Sake In the Annual Japan Sake Awards 2016"
Otokoyama
Nishida
Momokawa
Asabiraki
Senkin
Nanbubijin
Urakasumi – Urakasumi (2)
Ichinokura – Ichinokura (2)
Aramasa
Takashimizu
Akitabare
Hideyoshi
Taiheizan
Yukinobosha
Hiraizumi
Dewazakura – Dewazakura (2)
Yonetsuru
Kurouzeamon
Jyundai
Kudokijozu
Takenotsuyu
Jokigen
Hatsumago
Koikawa
Okunomatsu
Suehiro
Ippin
Watarebune
Kaika
Bunraku
Koshinohomare – Koshinohomare (2)
Asahiyama
Kakurei
Mineno Hakubai
Kikusui
Kirinzan
Mahime
Masumi
Sawanoi
Shichiken
Sogen – Sogen (2)
Ippongi
Shiroku
Eikun
Gekkeikan – Gekkeikan (2)
Tomio
Sawanotsuru – Sawanotsuru (2)
Shochikubai
Hakutsuru – Hakutsuru – Hakutsuru (3)
Fukuju
Hakushika
Ozeki
Kikumasamune
Harushika
Izumufuji
Gokyo
Umenishiki
Tsukasabotan – Tsukasabotan (2)
Niwanouguisu
Kouro
Holy Moly! That's a heck of list! If you want Gold Medal brewery sake then we have a crapload! I am very proud of many of these breweries. Some very dear friends won Gold Medals, and I know it means a lot to them. I also remember the years that they didn't win and I had to say something along the extent of, "You can't drink a Gold Medal, but you can drink your very good sake!"
On further inspection here are some of my thoughts about the Gold Prizes:
Lots of breweries won 2 Golds – that's pretty cool! And you go Hakutsuru winners of 3 Golds! (I didn't even know they had three licenses, but they probably have 4 or more!)
Miyagi had 15 Golds and Niigata had 16! Wow!
Shizuoka Prefecture only had 1 Gold Medal – very surprising.
Kyoto Prefecture only had 5 Gold Medals – I'm stunned.
Many of the IWC Gold Medal Breweries won Gold Medals.
Hyogo and Yamagata tied with 17 Golds.
Fukushima wins it with 18 Gold Medals. Double Wow!
Northern Tohoku Breweries kicked butt!
8 Prefectures had single Gold Medal winners – that's good for local sales!
True Sake represents at least 60 Gold Medal Breweries and that's got to be a record at the store – and to be honest I probably missed a bunch!