Sake Day – Save This Date For An SF Sake Weekend!
First and foremost – get your pencil out! Now get your calendar out! Now circle Saturday October 1st! Make a bigger circle to include Friday and Sunday as well! Why? Because we are planning Sake Day '16 to be a "San Francisco Sake Weekend." That's right we said it! Sake Weekend!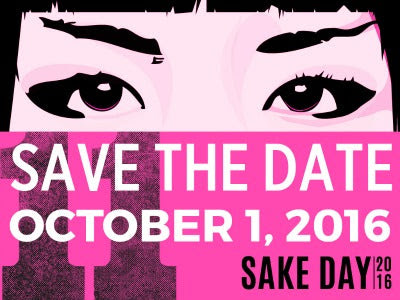 What's better than San Francisco in October? A Sake Day that is actually on October 1st , which is the traditional day of sake in Japan called Nihonshu no Hi! So if you plan now you will get the best of both worlds for an amazing weekend of sunny San Francisco (Our Indian summers are the best) and all things sake! For example on Friday True Sake will be hosting a sake brewery tour at a local sake brewery. Then on Saturday True Sake and Friends will be hosting The 11th Annual Sake Day at the tremendous event space called the SF Armory – last year was the first year at the Armory and it was amazing – and on Sunday True Cup will be hosting a Sake Brunch of note!
If you have ever thought about attending a Sake Day but never pulled the trigger, this is the year! If you are an out-of-towner this is the best weekend in Sake pure and simple. On October 1st we will look to expand our Craft Sake section and we will also be crowning a Mr. and Mrs. Sake USA. Of course, we will be offering well over 200 sakes with a large portion of sakes that are not available in the US. We will also feature several prefectures that will bring sakes hopefully trying to attract some new business partners. Last year we were responsible for 3 breweries making new introductions to export their sakes. As per usual, a substantial portion of the proceeds will go to the Japanese Cultural and Community Center of Northern California.
Tickets will go on sale July 1st and we expect this event to be larger than life itself! So grab a group of friends, grab your mom, grab Uncle Rico, grab your book group, grab somebody and get yourself to Sake Day 2016.
The 11th Annual Sake Day is not to be missed, especially if you live outside of the bay Area! It's the perfect Day and Weekend!