The Top Ten List: 10 Sparkling Sakes That Will Light Up Your New Year's Eve
Sparkling sake are hot! No, not literally but figuratively! They truly are one of the most exciting segments in the sake industry, and no they are not a novelty. Sparkling sake are fantastic and they are very appealing for those who like their sparkling wines. Are they just like Champagne? Not really, but they work very much in the same capacity with fun and flavorful bubbles. Some are tight and crisp and very Brut-like, and others are a little more fat and sweet with big gooey bubbles that lift your spirits. Drink them out of a Champagne flute and you may not notice a difference, but in the back of your mind you will be saying, 'how can rice and water taste like this?' Herewith are ten sparkling sakes to enjoy on New Year's Eve:

10) Suehiro "Poochi Poochi" - This is a great introduction to sparkling sake as it is not too sweet and not too dry! This brew has a nice ricey attitude and reminds you that you are no longer in the Champagne Valley.

9) Ninki Ichi "Natural" - This sparkling is made with Junmai Ginjo sake, which is a little more premium and bright. It is also more on the Brut side of things with tight and clean bubbles that are refreshing and compact.

8) Fukucho "Seaside" - A woman "toji" or Master Brewer makes this awesome sparkling sake that was crafted to pair with seafood! How cool is that? It's on the dry side and is very drinkable despite being layered and complex.

7) Dassai "Otter Festival" - The Dassai brewery is extremely popular in Japan and around the world! Their "Brand" is blowing up and so too is their Sparkling sake that is made from Junmai Daiginjo sake. This is a super flavorful sparkling that brightens up any Champagne flute.

6) Gokyo Ne Ne "Five Bridges" - With an SMV of -95, this has to be one of the sweetest sakes in the store. But don't let that freak you out as the acidity and bubbles makes this sparkling sake drink fat, gooey, and fun. It is totally delicious and amazing. It makes you wonder how rice and water can taste like this. It's also creamy and very juicy.

5) Ichinokura Wabi "Ace Brewery" - Say hello to one of the first Gold Medal winning sparkling sakes at the International Wine Challenge in London. It was so amazing that it won the sparkling sake trophy for being so well balanced and flavorful.

4) Chiyomosubi "Sorah" - This amazing sparkling sake is in the store for a very limited time. It is made using a local Tottori rice variety milled to Junmai levels. Perfect in a Champagne flute for "toasting" like you would with Champagne.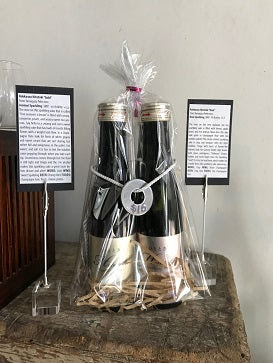 3) Dewazakura Tobiroku "Sparkling Festival of Stars" - Winner of the 2018 International Wine Challenge as the best "Trophy" sparkling sake in Japan. Simply a fantastic welcoming to the sparkling sake segment for the uninitiated. It's not too sweet or dry, but rather it is ricey and very well balanced.
2) Ichinokura Suzune "Chiming Bells" - Considered by many as the best sparkling sake in Japan, it took time and a lot of urging by True Sake to get this sake exported. It is the perennial favorite Sparkling Sake of Beau Timken. (period)

1) Rokkasen Sparkling Sake Set! - Can't decide on just one sparkling for the holidays and New Year's Eve? Then try this set of two sparkling sakes from the same Yamagata brewery! One is crisp and brut like and is made with a red rice for a nice rose color, and the other is a little sweeter with fatter and more luscious bubbles. The set comes with reviews for each brew and is a perfect gift to yourself or anybody on your shopping list.