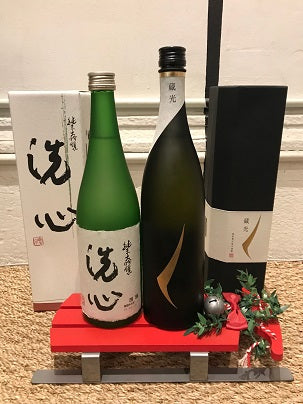 Sake Holidays – Give the Liquid Gift of The Season!
This is always one of our favorite issues of the True Sake Newsletter to write and send. Why? Because it's that time of year man! This is the opportunity to separate you from all of the other holiday gift givers out there! Wine again? Really? How many hours have you looked online for a gift that is cool? Don't get us wrong, if you want to spend money on another ho-hum present that is totally your call. Hopefully the word ho-hum puts a touch of pressure on your coolness meter. Be cool! Seriously! The gift of sake is as cool as you can get. Trust us!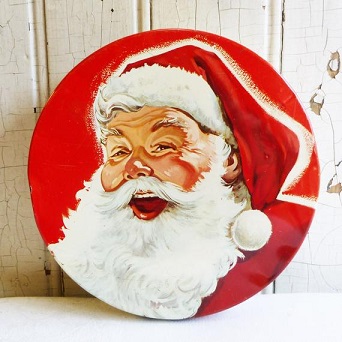 So now it is time to trust your Trust Sake Elves. Yes! They do exist. And no we don't live in the North Pole. But we have just as much merry magic as the northern elves. Herewith is a list of some sake presents that have worked for us. Each True Sake Elf will present their favorite gifting and seasonal sake. Enjoy this list as much as we do, and remember if you want to order your presents for shipping that you better do it sooner rather than later – as in order today or tomorrow at the latest. Things have already been crazy and we are shipping like mad. And we have established:
ELF MEI: 
"Kikuhime BY is one of my favorites in the store. Perfect to pair with a hearty Christmas dinner! A "high-end" sake that is perfect for the ones that love fuller-bodied sake. And Umenishiki Junmai Daiginjo is going completely in the opposite direction of Kikuhime. This is a beautiful and elegant sake with that chic label that is perfect for the ones that like a lighter and cleaner sake. The beautiful red box that it comes in speaks for itself as a gift box."
ELF SAKI:  
"My two selections are both unique and perfect for gift giving. The first is a Junmai Daiginjo from Kikusui called Kuramitsu. This sake is from the famous brewery that makes "Funaguchi" but it's more fancy! Its rice polishing ratio is only 23%, and it has a rich and round sweetness of rice. The handmade box also looks fantastic and suitable for the gift someone precious for you! The second gift idea is a sparkling sake called Sorah. There are a lot of sparkling sake recently, but Sorah is more like Champagne. I totally recommend drinking it with a flute glass, which enhances its fascination! Bring this sake to the party to make a toast instead of sparkling wine."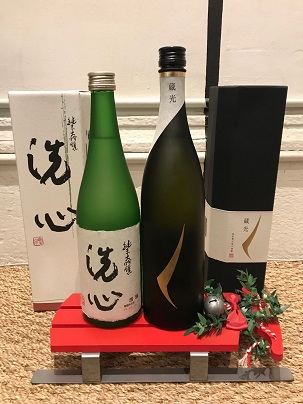 ELF HIROMI: 
"My selections are two totally different Daiginjos! The first is the very famous Senshin from Asahi Shuzo (Kubota). Clean, beautiful, elegant 'Sophisticated Mind' is the perfect sake for silent night? My second selection is from the Yamagata Brewery called Dewazakura and is a cold-aged (5 years) Daiginjo. Yukimanman "Snow Country' has body and is fruity and complex. It would be very good for Kanpai for the New Year!" 
ELF SHIN: 
DAISHICHI MYOKA RANGYOKU "HEAVENLY FLOWER" 
You've just been invited to your Japanese lovers' family New Years Party, which is the most important holiday of the year (if you didn't know, you're welcome.) That being said, you can't come empty handed and you really want to impress the family. What I have for you is not only a highly refined Junmai Daiginjo, it's also a Kimoto style, Shizuku, and Aged for 4 years adding depth and savoriness to the ultimately sublime finish that will surely impress any prideful Japanese parent! KANPAI! 
Daishichi Myoka Rangyoku "Heavenly Flower" -
BORN GOLD JUNMAI DAIGINJO 
Are you still having trouble converting that one stubborn friend into sake? Saying "it's too boozy, too hot, too blah blah?" Your troubles are over my friend because this Born "Gold" Junmai Daiginjo is a sake that sips super clean, elegant and airy that'll demystify the grudges your one friend keeps going on about.
PAPA ELF:  
"Ho Ho Ho! It's sake gift giving season so let's go! My first awesome gift sake selection is an amazing word of liquid art in the bottle. Hyogo Prefecture's Tatsuriki is world known for the brilliant leadership of the former owner who passed away two years ago. This great man had a passion for great rice, and that passion flows through their superb Junmai Daiginjo called 'Kome no Sasayaki" or 'Whisper of Rice." There are a ton of tropical fruit tones in this sake that drinks like liquid velvet! Speaking about velvet the box that this brew comes in is green velvet, and how holiday is that? My second gift giving selection is relatively new to the store, but I've been drooling for this sake for years. Heiwa Shuzo has a brand line called 'Kid' but there is nothing childish about their sake. This is a flavor bomb in the bottle. And this is one of those sake that displays amazing balance. There are a ton of fruit tones, but the balance of the brew makes it drink happy and smooth. And happy and smooth are two very key gift-giving points. I like the label too, which is also good for gifting!"
PLEASE PLEASE PLEASE order as soon as possible to make it in time for the holidays, and remember some of these bottle boxes are too difficult or expensive to ship. We will try our hardest to incorporate them in our shipping capacity.