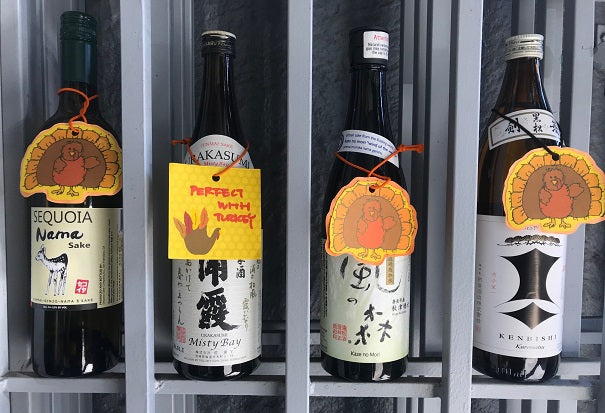 Sake Season – Time To Talk Turkey With Your Sake
Gobble Gobble people! It's that time of year to get you out of your Thanksgiving Dinner rut that features wine. Stop WINE(ing)! Nothing goes better with your bird than sake. It's documented. Look back in the archives of this newsletter for every November issue – there are 15 of them folks, 15 different takes on having sake with turkey for Thanksgiving! Some of the issues are really funny pairing specific sakes with items found during the first Thanksgiving meal, which didn't feature turkey at all!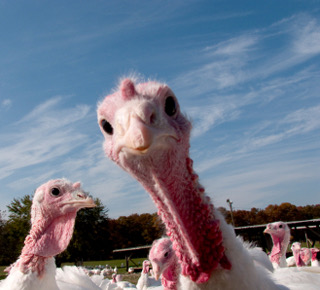 After you are done looking back at our turkey takes focus on what's brewing now. If you come to the store you will see Special Turkey Tags hanging around the bottlenecks of the specific sakes that our team has picked out for you to enjoy on Thanksgiving. We each picked two brews that will rock your bird and will bring untold happiness to your Thanksgiving Dinner.  Herewith are the ten different sakes that you should check out: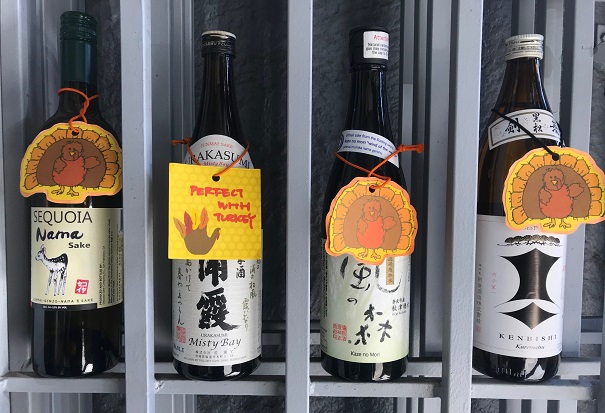 MEI: "I picked these two brews because they have been my "Go-To" Thanksgiving picks 2 years in a row. Solid Choices to have while cooking and eating Thanksgiving grub." 
SAKI: "I had Sequoia Nama with Jake and Noriko (From Sequoia Sake) last Thanksgiving, which they recommended, and it was nice! My other selection is Kaze no Mori that has berry-ish notes that would go well with cranberry sauce."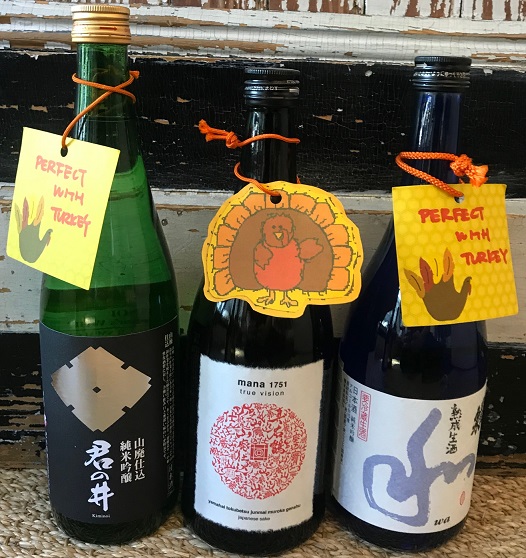 HIROMI: "I picked my two Thanksgiving sake, because they both have excellent acidity balance." 
SHIN: " I selected Mana 1751, because this sake is Thanksgiving in a bottle. Great to pair with all Thanksgiving dishes because of just how umami/savory, earthy, and rich it is. Pair this with all the birds! For Vegetarians/Vegans any mushroom or fall fruits would do nicely. And Houraisen Wa 'Harmony' is a nama that is tank aged for a year, giving off velvety umami qualities, adds, to the lush and gentle fruit tones of berries and Fuyu persimmons which I think can be a great pairing with mashed potatoes and gravy along with a variety of savory items. Try it with different jams and pies alike!"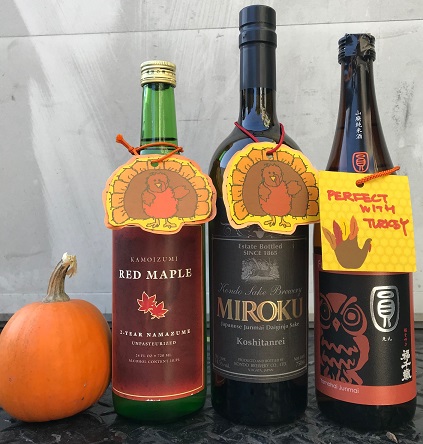 BEAU: "My two selections cover all spectrums of flavors and feelings found on Thanksgiving. Both brews speak to the bird first and the accompaniments second. The first is a very special Junmai Daiginjo that is made by a brewer who loves heavy French cuisine and wanted to make a sake that drank like complex wines to go with venison, game, and fowl. Miroku is a very unassuming sake. It is light, soft, and gentle, but it pairs so well with turkey. It also has a starchiness that screams for your mashed potatoes and gravy. The second brew is also extremely complex in it's own right as it is an aged Nama Junmai Ginjo. Kamoizumi Red Maple is full-bodied and very expressive that has an upfront sweetness that evolves into an umami play that would cover your bird and jump all over your sweet potatoes and cranberry sauces.