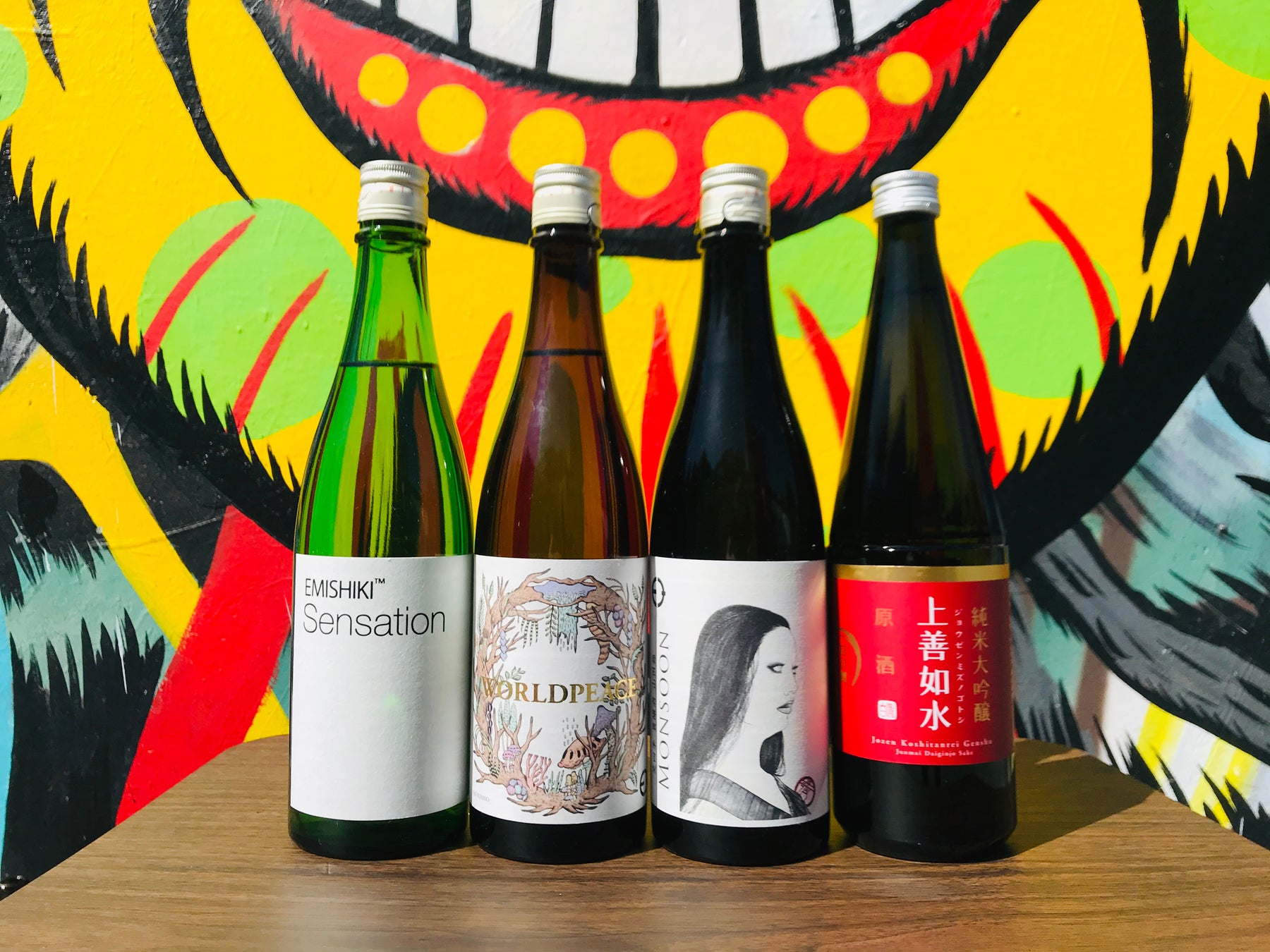 New Store Arrivals – Emishiki x 3 and Jozen Red
Emishiki "Sensation White"
From Shiga Prefecture. 
Junmai Genshu.
 SMV: -5 Acidity: 1.6
The nose on this "New World" Junmai is a great collection of green apple, lemon peel, cut grass, and floral aromas. Today's "Junmai" category has to be the most exciting segments in all of sake. So many new techniques and styles are emerging. It's great news for consumers. Take for example, this Emishiki Junmai Genshu that is clean, compact, crisp, and has a quick finish. It's loaded with all kinds of complexities like an elevated acidity level and lots of shibumi (astringency). Which makes this brew drink more like a wine than a Junmai sake. There is a tannin-like dryness that plays so well  with flavors such as green apple, mineral, kiwi, young pear, and peach. It's purposely made to drink clean and crisp, but with so much right under the tight surface. A wonderful sake made for a new generation of Junmai drinkers. 
WORD:
 Sensational 
WINE:
  Tannin-Reds/Crisp Whites 
BEER:
 Crisp Dry Ales 
FOODS:
 Sushi, sashimi, grilled fare, oysters, white wine fare.
Emishiki "World Peace"
From Shiga Prefecture. 
Junmai Ginjo Genshu.
 SMV: -7 Acidity: 1.6
The nose on this sake made using a "Hana" or flower yeast is an incredible collection of apple, mineral, blueberry, rice pudding, banana, and plum aromas. Who wants to pump up the complexity volume? World Peace is exactly that, a very cool concept sake made with Yamadanishiki milled to 50% that drinks complex and very confidently. It is a solid brew, which means it's very well balanced. Round, chewy, and rich. It drinks smooth, bright & very velvety, which means chewy & viscous. There are deep fruit tones that drink more rich than sweet. Look for pear compote, blueberry, red grape, apple juice, peach, and pear flavors that float on the plump liquid. Complexity and smiles! A true impact sake that has body, shape, and revels in balance. Look at the label and think confident. 
WORD: 
Complexity 
WINE: 
Juicy Reds/Fat Whites 
BEER:
 Fruity Ales 
FOODS:
 Meat, fowl, and game, complex pastas and roasts.
Emishiki "Monsoon"
From Shiga Prefecture. Kijoshu. SMV: -20 Acidity: 2.0
The nose on this specially made aperitif/dessert sake is an amazing array of fruit sorbet, pineapple, honeydew, bubblegum, banana cream, and aloe vera aromas. Take it all in! A Kijoshu made with Yamadanishiki milled to 50%, a truly one of a kind label, and a name Monsoon (which usually has a negative connotation), and what do you get? A downpour of flavors and a deluge of sweetness in a (FFF) fat, fun, flow that is so expansive and so flavorful that you'd be silly to never try this extremely unique sake. Full-bodied, smooth, round, and fleshy it drinks like the equivalent of a sake smoothie. Who doesn't want to try a lush sake filled with grape, ripe apple, banana bread, root beer, taffy, maple syrup, melon, caramel, and sweet tomato flavors. This is THAT brew! If you like it on the sweet side this is your street. A mid-sized glass captures all of the flavors and we are talking a ton of flavors. A work of brewing art that should not be missed. WORD: Sweet WINE: Dessert Wines BEER: Sweet ales FOODS: Sauterne complexity fare like foie gras, Ankimo, smoked duck and pheasant, sweet fare, desserts and cheeses plates.

Shirataki Jozen "Red" 2021
From Niigata Prefecture. Junmai Daiginjo Genshu. SMV: -2 Acidity: NA
The nose on this limited released Genshu; "undiluted cask strength" brew, is a vivid collection of cherry, blueberry, mineral, cantaloupe, straw, and steamed rice aromas. Niigata is famous for the Koshitanrei brewing rice varietal, and this sake is a celebration of this flavorful and dynamic sake rice. Made with 100% Koshitanrei milled to 45%. It is rich and dry, which is a pretty cool combination. Chewy, full-bodied, plush, round and smooth it rolls across the palate with a dry savory tide. An SMV of -2 has never tasted dryer so throw that out the window. Look for all of the interesting dried fruit tones like trail mix versions of dried apple, pear, mango, fig, and raisin with hints of a savory chicken broth. There is a ton of umami in this sake that is thick and smooth with lots of legs on the glass. A solid Junmai Daiginjo that celebrates the uniqueness of Koshitanrei. WORD: Body WINE: Huge Pinot/Fat Whites BEER: Large Belgians FOODS: A food pairing monster that shines with salty/savory/fried/grilled and smoked meats and fowl.