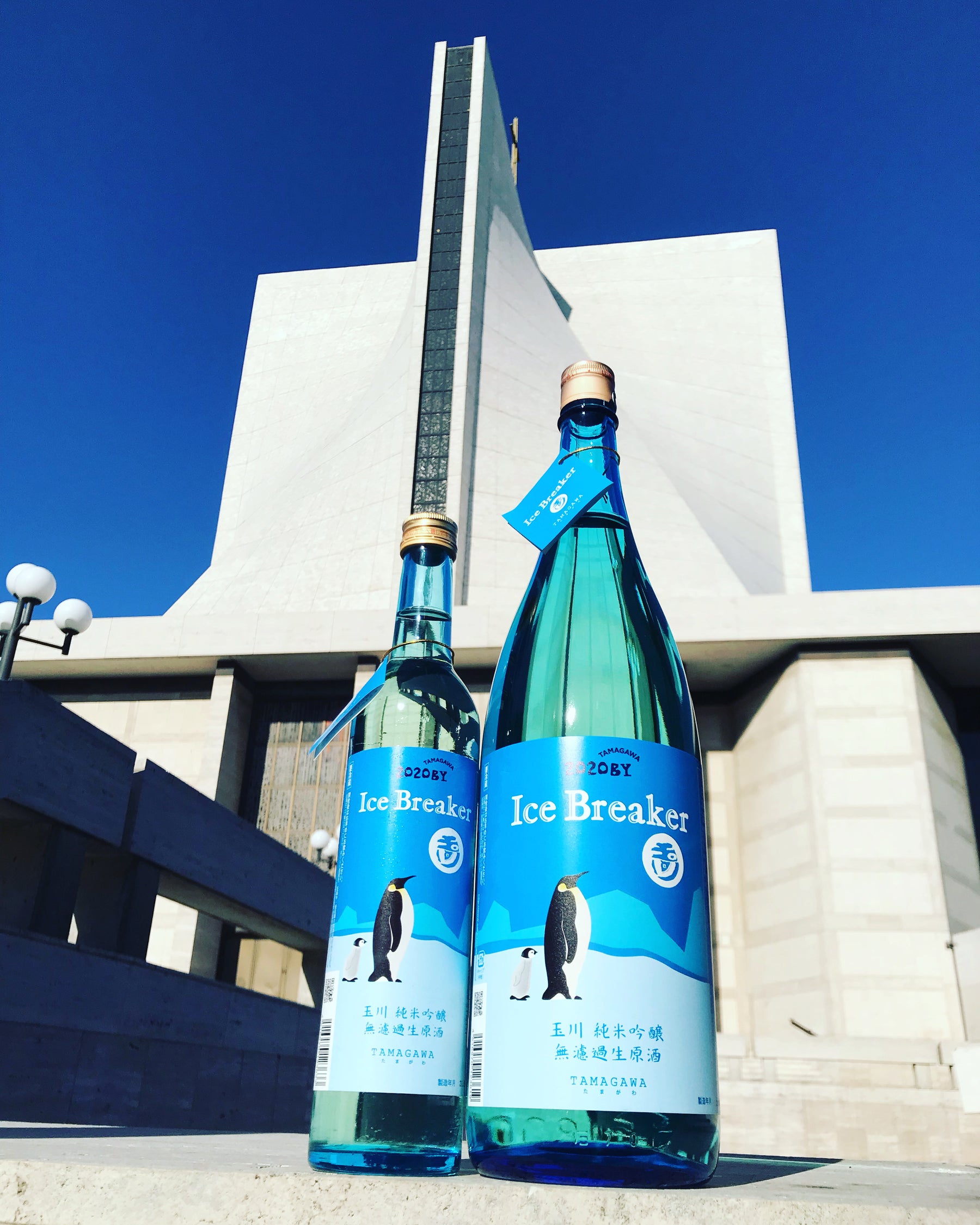 Sake Firsts – 1.8L Ice Breaker Is Now At True Sake
Don't get me wrong, living the sake dream in the US is awesome. But there is nothing like going to a sake-centric izakaya in Japan and looking at all of those shiny and wonderful bottles, especially the 1.8L ishobin bottles. It's like Christmas every day, and it's glorious. We get a lot of 1.8L offerings in the US, but nothing close to the army of tall soldiers in Japan all lined up like they are in marching order within glowing refrigerators. If you can't read the label they are easy to point at and say "kudasai."
As my sake years progressed and my visits to Japan became more numerous, I found myself seeking out specific 1.8L brews in Tokyo and beyond just to be a part of the large format. A friend in Kyoto Prefecture made one such brew, and it's one of the most welcoming and beautiful 1.8L bottles in the business. When you order a flight of three to five brews, they bring the bottles to you and only you. Ice Breaker makes you look like a superstar.
Philip Harper makes a powerhouse and popular nama genshu called Ice Breaker with a very distinctive light blue bottle and splendid label of a penguin with her chick walking behind her in a landscape of blue. Tamagawa Ice Breaker is one of those distinctive bottles and brews that sets you apart – it means you know sake and it designates that you love sake.
Sadly, we never had access to the 1.8L bottles in the US. For years, we have sold a ton of the 500ml bottles (see New Store Arrivals section) and our customers love it. It's an easy sell, because the brew sells itself. Not only that, True Sake sells A LOT of Ice Breaker. We proudly move cases, and we told Philip that when he visited the store back in 2018. He's visited several times, and it's always fun to show him how we sell Tamagawa or better yet how Tamagawa sake sells itself. It was then when I asked Philip if we could get the 1.8L bottles in the US so we could sell even more Ice Breaker. Without hesitating he answered, "Absolutely, let's just work it out with the importer (World Sake Imports)." Then COVID hit, and time stopped.
Well, as sake fate would have it, Philip emailed me and said "Do you remember asking for the 1.8L bottles?" I said heck yah. And he said that they allocated a good portion of this incredible sake in this incredible format for us, and the bottles would be arriving soon. Well, our shipment has arrived!
True Sake has 1.8L Ice Breaker and we are the only ones. Ask and ye shall receive! Unfortunately, we no longer ship 1.8Ls. That means you will have to pick up at our store or call in to arrange a courier service to get your 1.8L bottles. And trust me when I say that there is nothing cooler than arriving at a party carrying a 1.8L bottle of Ice Breaker.
With opportunity comes responsibility. When I thanked Philip, I told him that we would take Ice Breaker to new and crazy international heights. We would challenge the brew through temperature, oxidation, and food pairings. Perform Ice Breaker experiments and serve them on the rocks. As well as pairing it with international spicy fare and testing Ice Breaker in different storage and serving temperatures. We will experiment with this brew as much as possible all in the name of seeing how well Ice Breaker stands up to anything and everything. In a sense, Ice Breaker is the "Ultraman" of 1.8L sake – big, bad, and indestructible. And really cool!
So if you are ready to get in on the Ice breaker game then get after this unbelievable Junmai Ginjo Nama that is a Genshu (undiluted) and has an ABV of 17-18%. Our batch bottle date is 2021.05 and this fresh-pressed brew was made to be served on the rocks to cool sake people down in the very humid Japanese summers. And since our SF Indian Summer is coming this Ice Breaker has your name on it!
Go big or go home!