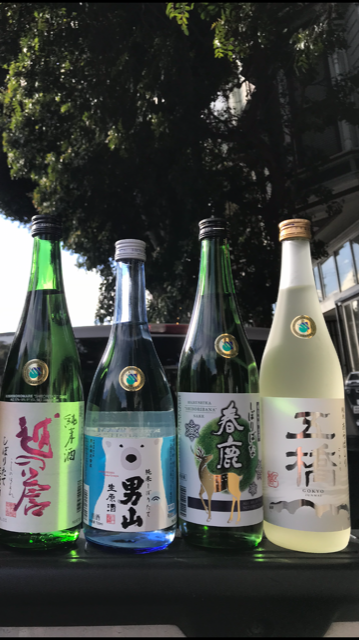 New Store Arrivals – The Spring Namas Are Here!
The nose on this Spring released unpasteurized sake is a gentle collection of honeydew, apple, strawberry, and yeasty aromas. Say hello to a smooth and bright super fresh sake that is bottled right after it's made and released to sake lovers like yourself. It drinks tingly, edgy, slightly brash, but has a really cool smoothness to the "living" fluid. Look for hints of apple, white grape, citrus, minerals like snowmelt, and yummy rice tones from the very unique Hokkaido rice varietal called Ginpu, which has been milled to 55%. A really great feeling sake that is smooth and soft in a white wine glass with a Polar Bear drinking sake on the label – how cool is that? WORD: Smooth WINE: Soft Reds/Flinty Whites BEER: Crisp Ales FOODS: Sushi, sashimi, shellfish, grilled fare, and oysters. $34/720ml
Koshinohomare Shiboritate 2020 
From Niigata Prefecture. Junmai Nama Genshu. SMV: ±0 Acidity: 1.9
The nose on this super-fresh just-released unpasteurized sake is a clever collection of pear, mango, papaya, cream, and powdered sugar aromas. This sake screams "Hey You Sake Drinker, It's Nama Time!" Talk about a chewy and fat sake that drinks like liquid texture. This brew is all things Spring from chewy and gooey to lush and tingly with an active acidity of 1.9. With a semi-sweetness that drinks more rich than sweet. Has an alcohol content of 18% this "Genshu" is a wonderful dance partner in your glass with creamy moves of honey, pear, mango, and gentle rice tones from the Gohyakumangoku milled to 65%. This is a feeling brew that excels in the palate, and is perfect for those who like bigger bolder wines with a touch of sweetness. A small cup makes for more fruitiness and a larger glass moves the acidity to a more balanced level. WORD: Chewy WINE: Full Reds/Fat Whites BEER: Belgian Ales FOODS: The kitchen sink from International Spice to American sushi.  $29/720ml
From Yamaguchi Prefecture. Junmai Nama. SMV: +2 Acidity: 1.8 
The nose on this just released super fresh unpasteurized Spring Nama is an interesting collection of lime, blackberry, steamed rice, and lemon custard aromas. Say hello to a very welcoming sake that is lively in the palate with a superb finish. It is zesty, tingly, brash, bright, and very fresh. Look for hints of tangerine, grapefruit, peach, and a young pear that drinks more Ginjo-like rather than a Junmai. The rice blend is Yamadanishiki and Nihonbare milled to 60% that drinks best out of a mid-sized glass. If you are looking for balance in the raw this Gokyo is exceptional this year. WORD: Balanced WINE: Crisp Reds/Edgy Whites BEER: Crisp Ales FOODS: Crab, lobster, shrimp, caviar, grilled items on a stick, sushi, and sashimi.  $39/720ml
From Nara Prefecture. Junmai Ginjo Nama. SMV: -2 Acidity: 1.8
The nose on this just released unpasteurized sake is a very mild collection of pear, raisin, and steamed rice aromas. This by far is the most gentle nama sake of these early spring releases. It is a "living" sake that drinks very much like a Ginjo that is smooth, clean, and easy. Easy freshness is a pretty cool concept then add in gentle flavors like Asian Apple Pear, young strawberry, melon, and apple and you get a fresh glass of easy elegance. This is a great starter nama to understand how rice and water can taste like so much more.
WORD:
Elegant
WINE:
Soft Reds/Clean Whites
BEER:
Light Beer
FOODS:
Clean cuisines, grilled fare, shellfish, sashimi, sushi
$36/720ml