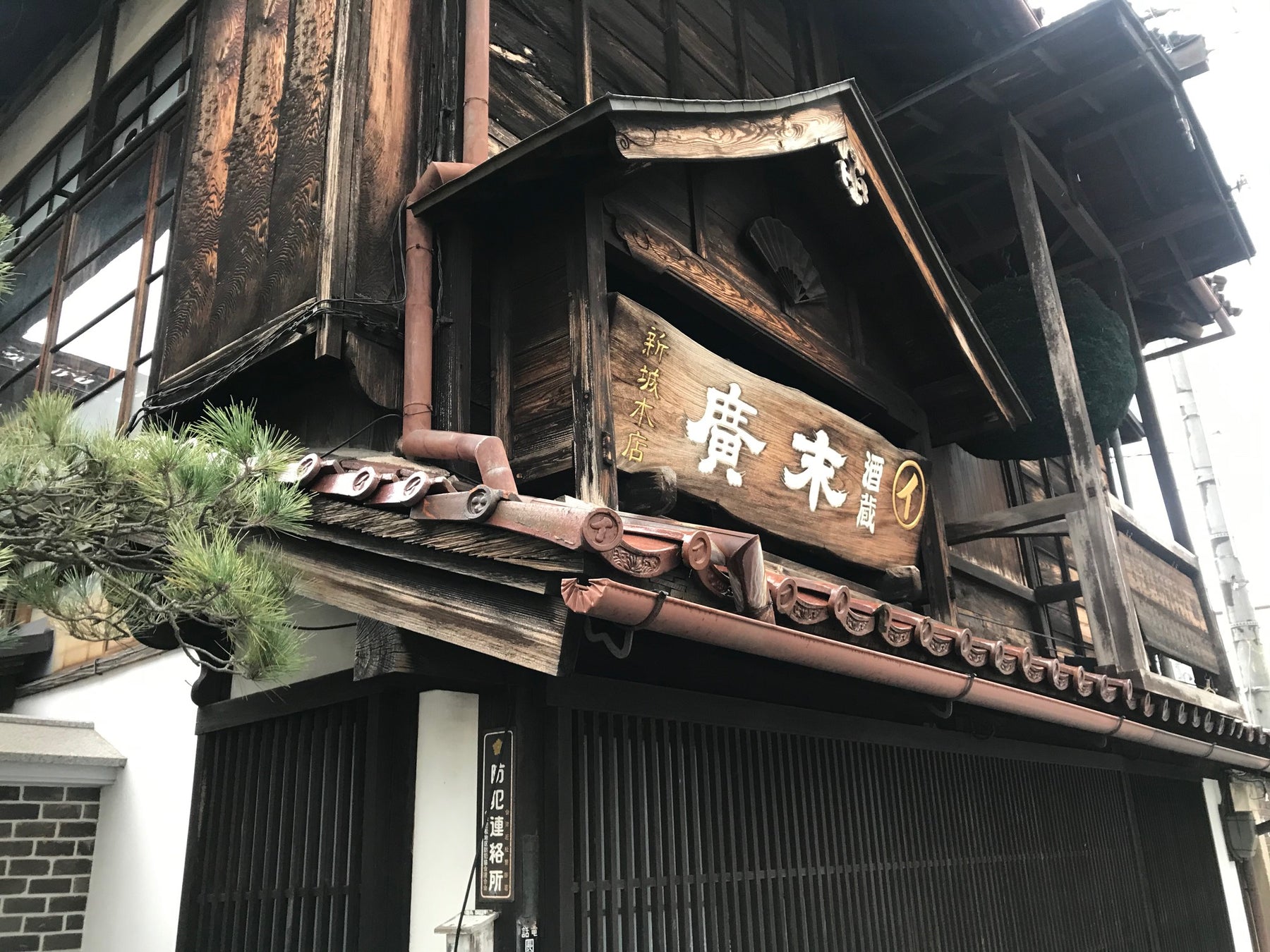 Sake Stories – A Visit to Suehiro Sake Brewery in Fukushima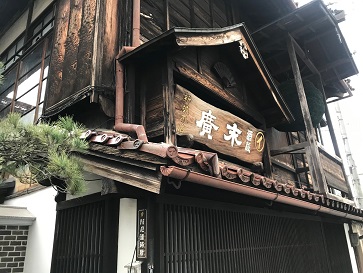 Sometimes sake, for me, is like a reality TV show. Say what? Well, I don't watch reality TV shows so this might be way off the mark, but bear with me. Imagine watching a guy selling sake in a retail store. Picture him selecting his inventory, tasting and selling his wares. Picture him taking a certain sake home quite often, because he really likes it. And then imagine him selling this brew for over a decade and watch as countless others enjoy the same sake for all of the same reasons.
Then imagine as they whisk this sake seller off to Fukushima Prefecture to the exact brewery where that sake and others that he sells are made. Then picture the owner of the brewery talking to him and saying that one of the most important sake brewing techniques was discovered and utilized there to make that sake. Then wait for it...! Now picture the look on the sake seller's face when he realizes that he is standing in the exact room, in the exact spot where this mini sake brewing revolution occurred. And then the camera fades away as the sake seller is just standing there dumbfounded and totally blown away!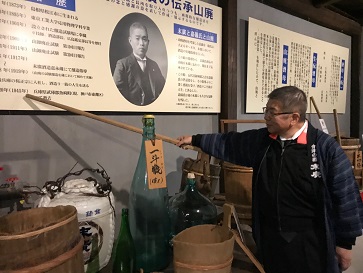 And so there I was standing in the old brewing room in one of the oldest sake breweries in the Aizu area of Fukushima Prefecture looking at President Shinjo Inokichi of the Suehiro sake brewery as he used an ancient brewing paddle to point at a date written on the wall describing the historic moment when the Yamahai brewing technique turned in two directions.  And it was like I saw fire for the first time. It was like the proverbial light bulb moment, and it made me smile. Because it was at that moment when he described how Yamahai styles diverted that it all made sense.  
Without getting too technical it was the historical moment when "Yamahai" became one of two styles – one being the prototypical Ishikawa style Yamahai that is like drinking the skunk and funk of a wet dog in a glass, and the other being a more soft, round, and velvety type without all of the acidity and crazy big flavors. Both are excellent styles and both are very popular, but I had no idea that Suehiro is credited for starting the softer and cleaner style. A master brewer Mr. Kinichiro Kagi basically created a new brewing technique in several laboratory experiments, and wrote reports about his findings "Yamaoroshi-Haishi." In 1917 he went to Suehiro to put his experiments to practice and brewed this style for the next 3 years.
President Ionokichi stood there in that room and waited until my comprehension of what I was hearing sunk in. He basically wanted to impress upon me that he was still using the exact "Kagi-method" to make his Yamahai sake that has won Gold at the International Wine Challenge. He alluded to the technique, colder temperature fermenting with better acidity control that produces a cleaner and less funky-style. He watched as my 20 years of tasting and exploring Yamahai sake caught up to me at the very important moment. I was standing at ground zero for one of my favorite brewing techniques, and it made me smile. It made me love sake even more. And it made me love Suehiro's Densho Yamahai Junmai even more.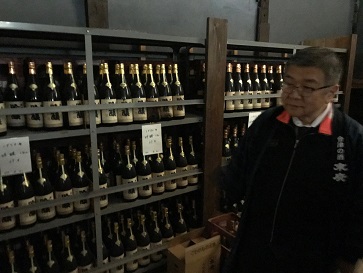 When I came back to reality Shinjo-san was already walking towards a "secret place." I quickly caught up to him as he told the story of his first year as President of the brewery. He said there was a ton of pressure to please his father and family so he wanted to make his mark that year in 1979. But what could he do? He decided to make a special Daiginjo sake and put it in a new bottle that was shaped like a cognac bottle. Was it a hit? No, quite the opposite. The sake was a bust and the bottle was not well received by the tax department. So he decided that "his" sake "Needed more flavor," so he aged them in his secret spot for the next 40 years! That said this Daiginjo was the genesis for Suehiro's "Ken" which has been a top seller for a very long time.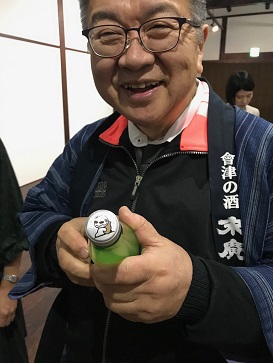 As we entered the tasting room to taste his line of brews I saw some old familiar bottles including Densho, Ken, and Poochi Poochi, which is their sparkling sake that is named for the sound of bubbles popping.  We've sold this product for a very long time as well. There is a certain caricature on the bottle and the cap that looks like a drunk dog-like animal holding a large bottle of sake – sort of leaning on it to keep standing. As I tasted the products Shinjo-san came up to me with the Poochi Poochi cap and said, "That's me!" I laughed and snarfed the bubbling sake through my nose. Really? "Yes, they say I look happy when I drink sake and this is the way I look!" Yes, yes it is! I'll never look at that cap and label the same again. Thank you Suehiro for being awesome.