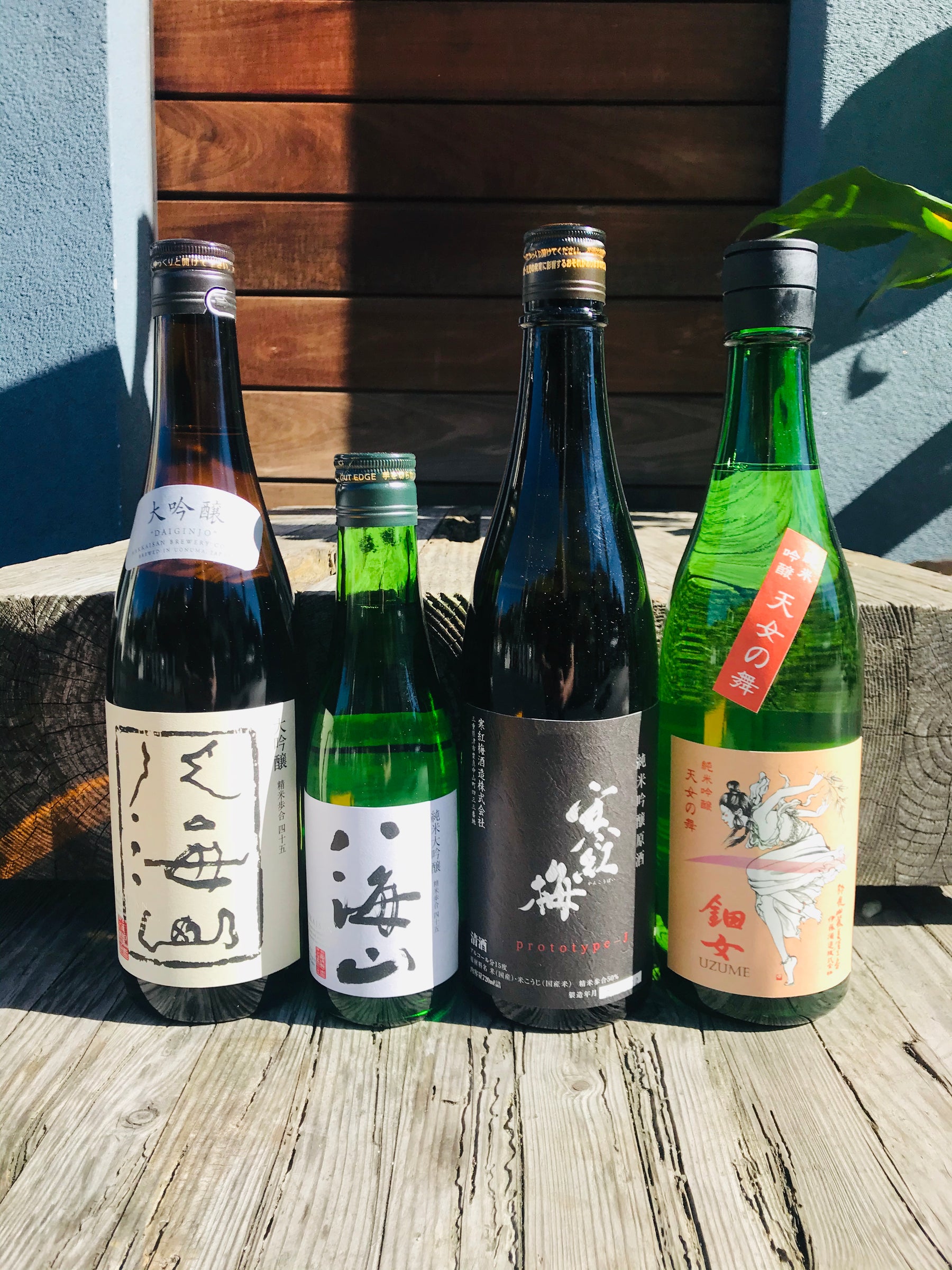 New Store Arrivals – Hakkaisan x 2, Kankoubai, Uzume
From Niigata Prefecture. Daiginjo. SMV: +5 Acidity: 1.2
The nose on this special brew from the powerhouse Hakkaisan brewery is a wonderful collection of melon, white peach, apple, cherry, wheat and steamed rice aromas. From the first glorious sip, you will realize that this is not a pretentious fruit forward Daiginjo that now seems to be the rage in the sake world. This is an elegant brew that drinks more on the savory and rich side than the spastic fruity and floral side. In a word, it is super easy to drink, which is the ultimate end game right? But wait there's more! This sake hides some very unique and tasty flavors such as brown sugar, deep berries, flan, pear compote, kombu, snow melt, sea salt, and lots of rich umami goodness. A larger glass captures more of the flavors, balances the brew, and brings forth a sneaky richness on the smooth and layered fluid. You have to love the no drip pouring bottle top, which comes in handy on your second and maybe even third glass! WORD: Umami WINE: Complex Reds/Flinty Whites BEER: Creamy Belgians FOODS: Sushi, Sashimi, Shellfish, Grilled meats, game, fowl, and fish. 
$33/720ml
From Niigata Prefecture. Junmai Daiginjo. SMV: +4 Acidity: 1.3
The nose on this very intelligent sake from one of the top branded breweries in the sake world, is a very unique collection of pear, honey, kiwi, apple, anise, and rose water aromas. Using three different rice varietals and a special yeast, this Junmai Daiginjo is a breed apart from most of the overly aromatic and fruity brews on the market today. Soft, round, smooth, and rich, this brew drinks more like the pie crust than the fruit filling. There are deep and rich fruit tones of Asian apple pear, apricot, cranberry, and ripe pear, but the strength of this flavor field rests in the other flavors of oatmeal, vanilla beans, grains, breakfast cereal, and pie shell. And there is also a neat little trick to the senses in that the body of this sake is light, but it drinks rich as the flavors stay on the palate as it gently glides through the palate. And best of all Hakkaisan uses a drip free pour bottle top opening so you don't lose a glorious sip. WORD: Smooth WINE: Deep Reds/Earthy Whites BEER: Creamy Ales FOODS: Sushi, sashimi, creamy pastas, salty and savory fare, grilled white fish.  $16/300ml
From Mie Prefecture. Junmai Ginjo Genshu. SMV: NA Acidity: NA 
The nose on this fun "Prototype" sake is a vivid collection of apple, lime, kiwi, sherbet, pineapple, and pear aromas. Pop! Yes, the cap almost popped off when opening, which means that there is a lot of lively action in this sake from Mie. (We don't have a lot of Mie sake so this is a good one to explore). The brewer tried to keep the naturally occurring CO2 in the bottle to give it a "pop." Juicy, bright, tingly, there is an immediate apple presence on a fluid that is slightly effervescent and lively. There are immediate candy tones, with pineapple, cantaloupe, strawberry, blueberry, cucumber, vanilla, mineral, and a very small hint of yuzu kosho. Using a unique brewing yeast called 1401, this is a new-style brewing technique that makes for a great Summery, outdoor sake, and those who cannot obtain unpasteurized sake this brew drinks very much like a Nama. WORD: Lively WINE: Fruity Reds/Lively Whites BEER: Crisp Fruity Ales FOODS: Sushi, sashimi, oysters, shellfish, Champagne fare. 
 $36/720ml
Uzume Tennyo No Mai "Dance of Maiden"
From Mei Prefecture. Junmai Ginjo. SMV: -3 Acidity: 1.4
The nose on this very interesting sake is a unique collection of cocoa, rice cereal, honey, banana, and cream aromas. Some sakes just feel good in the palate! This is one of those brews that is round, lush, velvety, chewy, and smooth. It has some weight to it, which means long legs in the wine vernacular. Made with an ancient varietal of rice called Kamino oh and milled to 60% this brew has a lower alcohol content of 14%, which is surprising because it does drink so rich and full with loads of umami in each sip. Look for hints of sweet rice, persimmon, sea salt caramel, clementine, pear, apple, and sunflower seeds.  Rich, round, and plump this brew is also good for warming where a lot of cocoa comes forth.
WORD:
Umami
WINE:
Deep Reds/Creamy Whites
BEER:
Creamy Ales
FOODS:
Rich and complex cuisines, pastas, fried foods, meat, and fowl.
$37/720ml