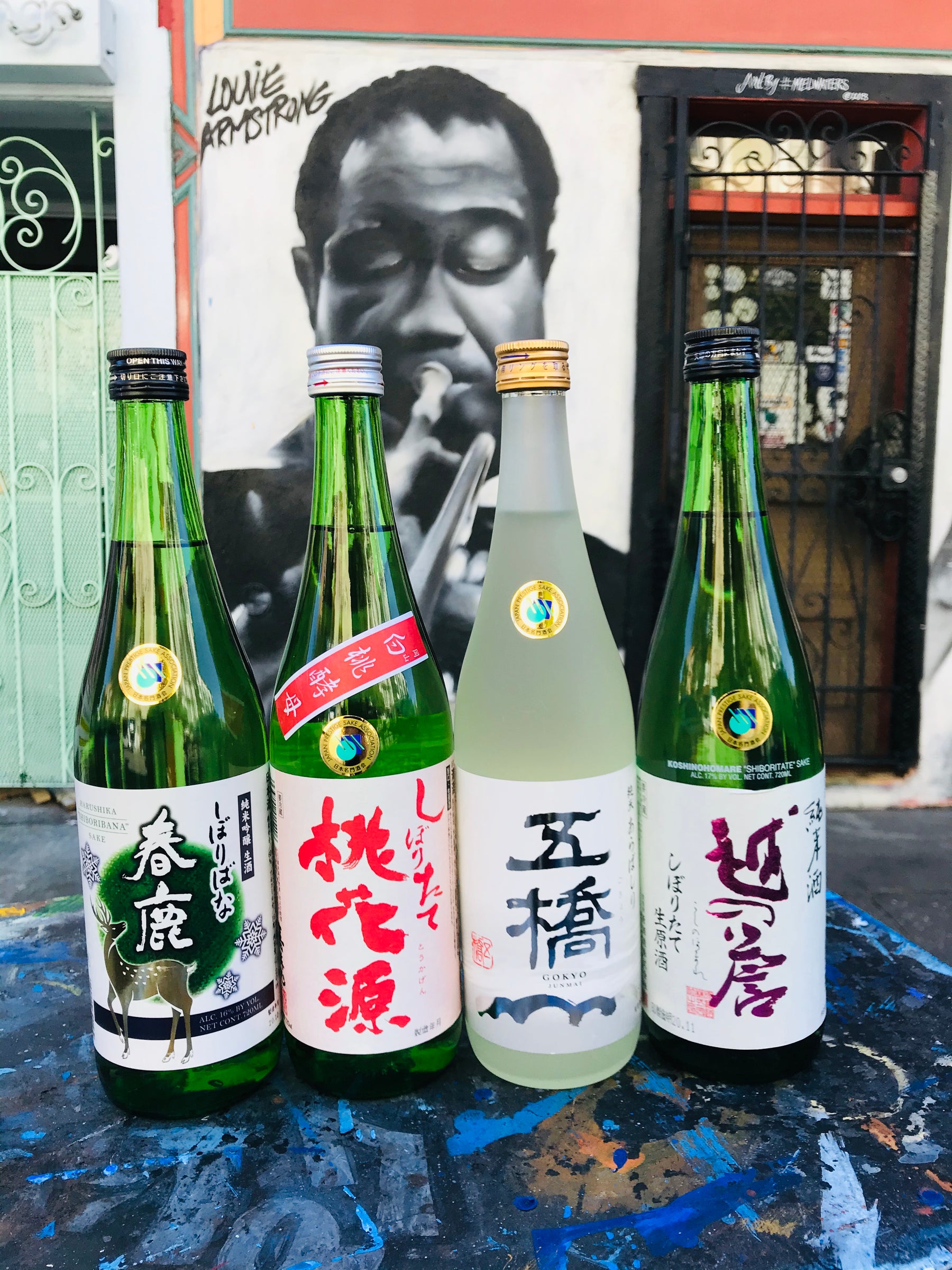 True Spring – Spring Sake Has Sprung 4 Fresh Brews
One "Arabashiri," one "Shiboribana," and two "Shiboritate" brews have sprung onto our shelves and basically they are all saying one thing – Spring Namas have arrived. This means one thing – fresh! This year we see the return of the very popular but was-gone-for-a-long-time, Kamikokoro, which is made with a white peach kobo (Yeast). 
Remember back in the 2000's when we didn't have access to too many Namas? Now the seasonal releases of unpasteurized brews is almost second nature, but let's remember that fresh is fun and it's a great expression of sake. 
From Nara Prefecture. Junmai Ginjo Nama. SMV: -4 Acidity: 1.9
The nose on this unpasteurized spring released Nama is a gentle collection of peach, grape, papaya, cucumber, and melon aromas. The Deer is back! Fleshy, rich, round, and generous. This brew has a 1.9 acidity level, but you could never tell and that's what makes this sake speak to wine drinkers. Soft and gentle without the jagged Nama edges. Look for grape, apple, melon, and juicy pear flavors that slide smoothly across the palate. Just think of fruity Junmai Ginjo but with some weight to the fluid, and a lot of chewiness. A very controlled and solid Nama that screams "pair me with food now!" WORD: Juicy WINE: Fat Reds/Fruity Whites BEER: Creamy Ales FOODS: Sushi, sashimi, shellfish, salty and savory things on a stick. $36/720ml
Kamikokoro Toukagen Shiboritate 2021 
From Okayama Prefecture. Tokubetsu Junmai Nama Genshu. SMV: -8 Acidity: 1.5 
The nose on this unpasteurized spring released Nama is a gentle collection of plum, peach, mineral, powder sugar, honey, and white chocolate aromas. The "Heart of God" is back! After not being released in the US for over 6 years, now is your chance to try a sake that is made using a white peach yeast for fermentation. Wait what? Yes, the brewers use the yeast found on the skins of these famous Okayama peaches to create a sake that tastes a little like – wait for it – peaches! But unlike versions of the past this year's brew is much different without the jagged edges and brashness and more on the soft and smooth side. It is a good brew to taste the water in a sake, which actually makes up 80% of the final product. Look for a slipperiness or watery-like characteristic that holds flavors such as peach, pear, honeydew melon, ripe tangerine, and watermelon water. This brew is relaxed and very easy. WORD: Smooth WINE: Soft Reds/Gentle Whites BEER: Light Beer FOODS: Sushi, sashimi, tofu dishes, steamed white fish, sole with butter. $39/720ml 
From Yamaguchi Prefecture. Junmai Nama Genshu. SMV: +1 Acidity: 1.8
The nose on this very popular spring released unpasteurized sake has a gentle collection of apple, peach, vanilla, banana custard, and cotton candy aromas. Namazake are supposed to be lively and this Gokyo is very spritzy, tingly, zesty, and lively. This brew is a great expression of "fruit tones" working with an elevated acidity to create a mouth full of balanced fun. Look for hints of melon, green apple, peach, strawberry, and pear flavors that ping around on the palate with a little shibumi (astringency) to boot. A tantalizing sake that is fun to drink as it has a vein of effervescence that brings out the feelings and flavors. WORD: Lively WINE: Zesty Reds/Crisp Whites BEER: Zesty Ales FOODS: Sushi, Sashimi, Shellfish, Oysters, Ceviche, grilled white fish and chicken. $39/720ml 
Koshinohomare Shiboritate 2021
From Niigata Prefecture. Junmai Ginjo Nama Genshu. SMV: +3 Acidity: 1.6
The nose on this unpasteurized spring released sake is an amazing and baffling collection of butter, blueberry, apple, yogurt, powder sugar, and whipping cream aromas. Sake is supposed to be fun right? Well, get ready for a roller coaster ride that is soft, fresh, silky, round, fleshy and fruity that drinks like a whisper and a holler! This is a fluffy Nama that rolls through the palate with slippery goodness and carries flavors such as watermelon, pear, apple, guava, papaya, and a bit of candy. With an alc. level of 17% this classifies as a "velvet hammer" sake that appeals to those who enjoy the buzzy factor of a good sake. Lots of umami tones on the overall smoothness, and a good brew to gently warm. WORD: Silky WINE: Soft Reds/Smooth Whites BEER: Creamy Ales FOODS: Sushi, sashimi, skewers, burgers, grilled and pub fare.  $29/720ml