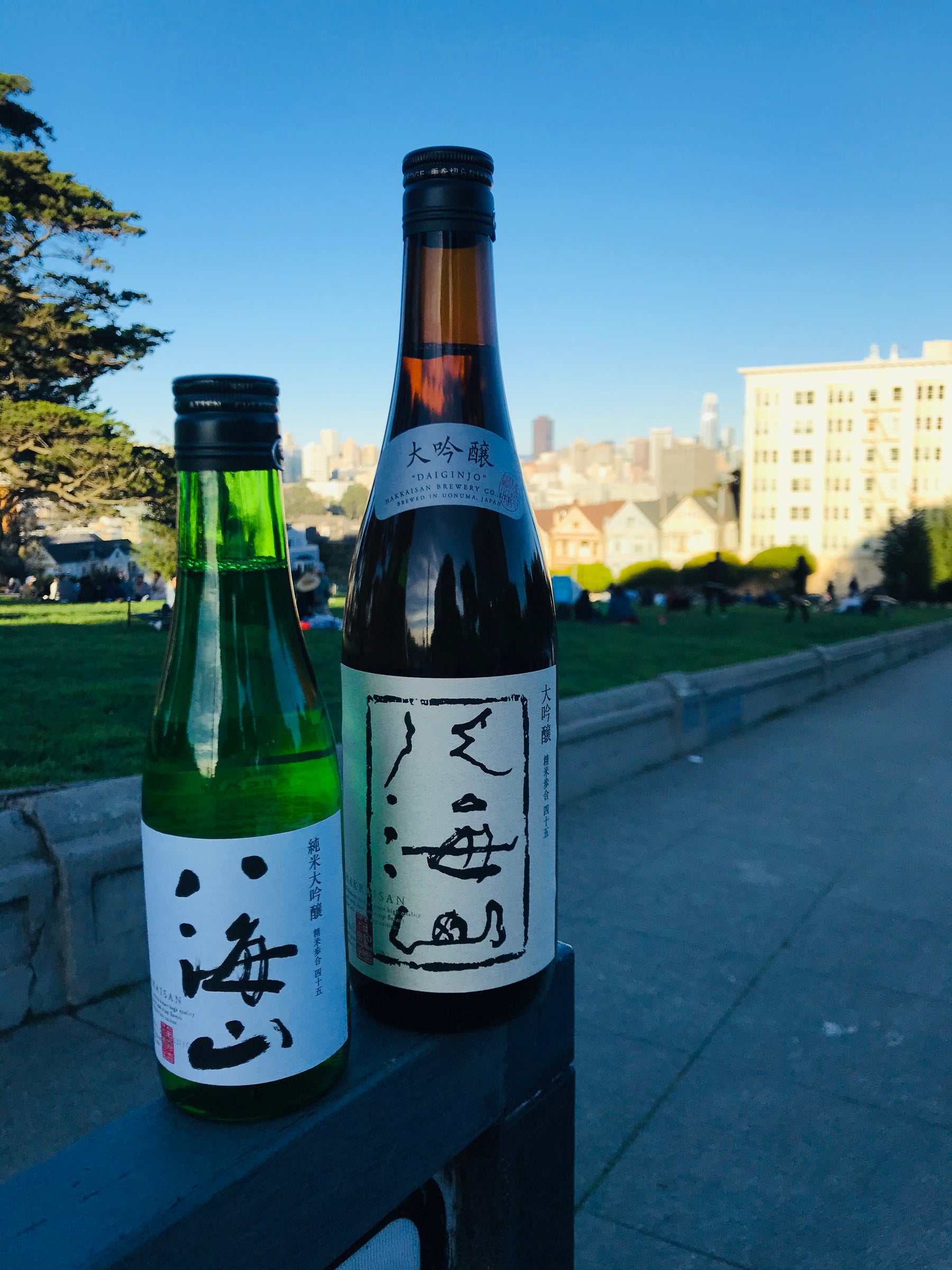 True Trend – Hakkaisan Launches Two New Brews
The great thing about the sake market is that it is evolving at an incredible pace. It's not a new industry, but historically changes have been glacial in nature. There wasn't a lot of movement within a brewery's offerings. But today sake breweries in Japan and around the world are flying! They are creating new products and new brands at warp speeds. And this is not a bad thing. In fact, it's a great thing. It's sake being sake. One of the powerhouse Niigata sake brands called Hakkaisan has joined the fray with two new products that are smart, solid, and very fun to drink. When we tasted these two brews as a team, we noticed that they were constructed very purposefully. What does that mean? Well, it means that these brews were brewed to fit a space in the market. That is why they are smart. They are also very tasty, which is always the end game. But, as a tasting team, we felt that they were crafted and marketed as a response to another brand of sake that have become a global sensation. And this is awesome! 
To dig deeper into these two new offerings, we reached out to Timothy Sullivan, who is the Global Brand Manager for Hakkaisan and founder of Urban Sake. Herewith is his introduction for these two new Hakkaisan products: 
Hakkaisan's Two New Brews!
I've been a fan of Hakkaisan since the first day of my sake journey, and it's not everyday that a beloved brand releases a new sake - let alone two!  Hitting our shores right now, we have two new super premium sake to explore: a Hakkaisan Junmai Daiginjo and a Hakkaisan Daiginjo.
Why release new sake now? As more and more people discover sake, super premium brews will be more and more in demand.  Customers are often wow'ed when they try their first Junmai Daiginjo - I know I was!  The classic characteristics of these luxurious sake are to be rich, quite fruity and often very aromatic.
Hakkaisan wanted to release sake that were premium and elegant but in the classic Hakkaisan style.  As one of the best known breweries in Niigata prefecture, Hakkaisan is really a poster child for the Niigata regional characteristics...  that is what they call "tanrei karakuchi" or crisp, clean and dry. While other breweries may introduce super premium sakes that are delicious, many lean towards being more noticeably fruity, floral and perfumed.  Introducing a new dimension to the super premium Daiginjo/Junmai Daiginjo grades, Hakkaisan brings a smooth texture but a real restrained elegance to their new sakes.  Well balanced and silky smooth, these new sakes have a drier edge to what you might expect from a premium sake.
Let's take a look at the two new Hakkaisan sake in detail:
Hakkaisan Junmai Daiginjo:
| | |
| --- | --- |
| Alcohol | 15.5% |
| sake meter value | +4.0 |
| acidity | 1.3 |
| | |
| koji rice used | Yamadanishiki |
| brewing rice used | Yamadanishiki, Miyamanishiki, Gohyakumangoku |
| rice-polishing ratio | 45% |
| yeast | Akitakonno No. 2 |
By using Yamadanishiki, Gohyakumangoku and Miyamanishiki sake rice – all polished down to 45% remaining – this Junmai Daiginjo reflects Hakkaisan's classic crisp and clean style, and leaves your palate engaged and refreshed.  This refined sake meant to pair with food and it has a pronounced clarity and a clean taste which will enhance the flavor of any cuisine.
Hakkaisan Daiginjo:
| | |
| --- | --- |
| Alcohol | 15.5% |
| sake meter value | +5.0 |
| acidity | 1.2 |
| | |
| koji rice used | Yamadanishiki |
| brewing rice used | Yamadanishiki, Gohyakumangoku |
| rice-polishing ratio | 45% |
| yeast | Kyokai No. 901 |
With a luxurious 45% rice milling rate, the Hakkaisan Daiginjo is very smooth, with a noticeably elegant texture.  Round and clean, this sake has a low acidity and a crisp clean finish.  Food friendly and approachable, you can pair this Daiginjo with a wide range of foods.
With both the Hakkaisan Junmai Daiginjo and Daiginjo being less fruity and less intensely aromatic, one exciting possibility is experimenting with what we call premium "okan" or warm sake.  Believe it or not, warming the proper style of super premium sake can produce delicious results.  The smooth textures become even more velvety and rich.  The umami flavors in the sake are also enhanced.  It is a new frontier for premium sakes! So with a wide range of food pairing options and a flexible serving temperature, we hope you'll give these new Hakkaisan sakes a try!  
Tim Sullivan – tim@hakkaisan.com 
But wait there's more! To help Tim and Hakkaisan introduce their two new brews to the market we would like to offer you an "Introductory Promotional Discount"
CODE: Hakkaisan45 to lower the already very affordable price of these special sake. I'll repeat that these brews are extremely well priced to begin with, so this discount is like a cherry on top of those 8 Mountains.  
*limited 1 use per person. Valid until 03/08/2021