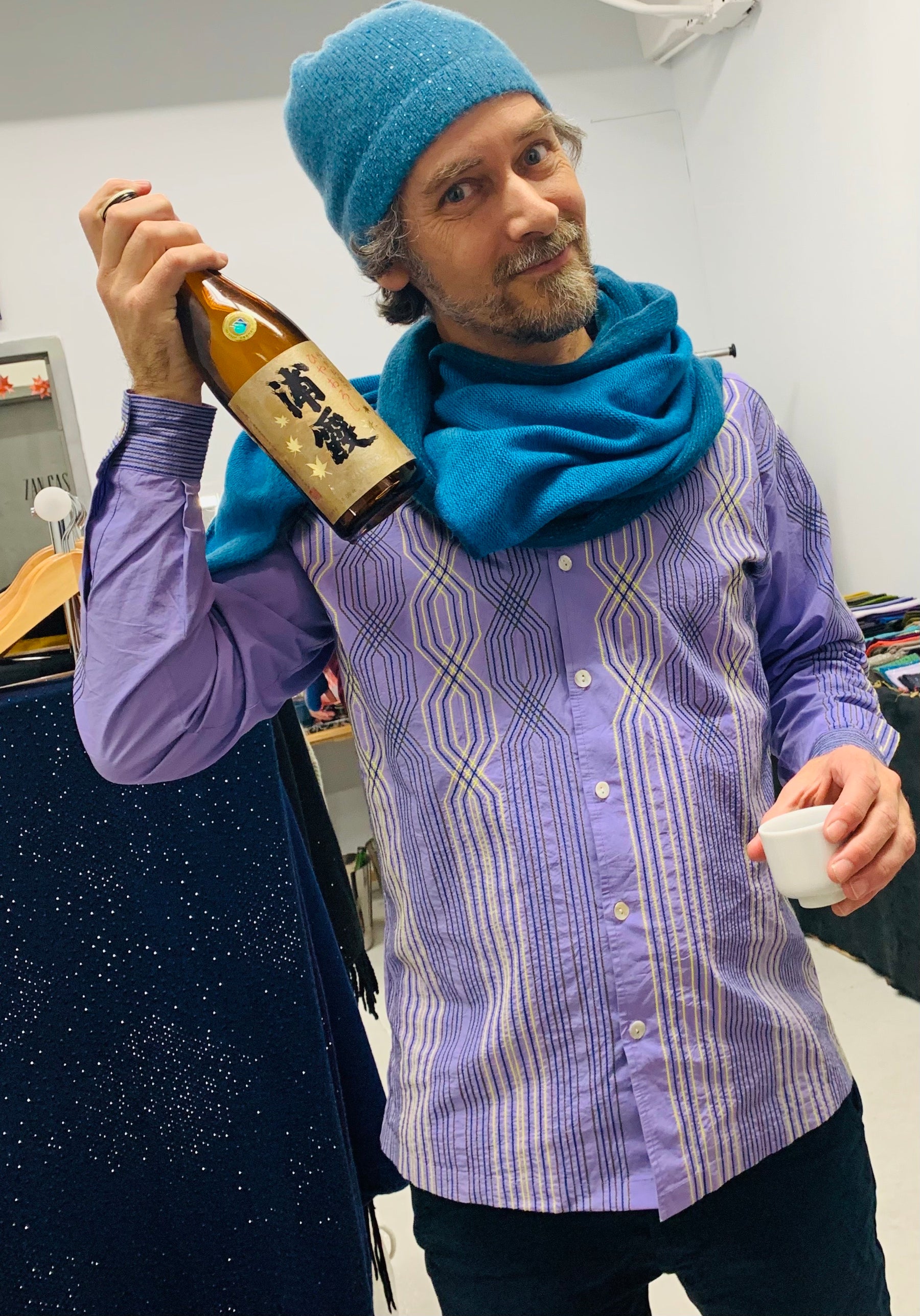 Sake People – Mateo "Sake Guy" Miller Talking Sake In New Mexico
Sake isn't just about rice, water, koji, and kobo only – the most important ingredient of sake is people! Whether you're making it, selling it, drinking it, or worshiping it, the success of sake is profoundly dependent on the people of the sake world.
At True Sake and at SAKE DAY, we come across many sake people who rock, and it reminds us that we should celebrate these awesome folks more. So at the last SAKE DAY I got to say hello to Mateo Miller, who was visiting from his home in Santa Fe, New Mexico. He tends at a bar in Izanami Restaurant and tends life with Deborah Fleig and Duke at Ten Thousand Waves Japanese Spa (Floating World Sake).
We follow Mateo at his awesomely named Mucho Arigatos Instagram account and after seeing him at the store before SAKE DAY, I thought that he'd be a cool person to write a little bit about the New Mexico sake scene and to talk about a few brews that he enjoys.
In his words, please say hello to Mateo Miller aka Mucho Arigatos and by all means click on the links of the sakes he likes that we carry:
"A lot of people around Santa Fe know me as Mateo the Sake guy up at Izanami, or by my instagram handle, Muchos Arigatos.
Coming from Wine country on the central coast of California with a background in Zymurgy (beer brewing science), I suppose it was a matter of time before I was introduced to sake. My career at Izanami (the Izakaya restaurant in the mountains of Santa Fe, New Mexico at 'Ten Thousand Waves' resort and spa) started over 7 years ago. On my first day, I was introduced to the sake of the week, which was a lovely junmai ginjo from Okayama prefecture. I was an immediate convert once I finally had something of quality.
When I was younger, I thought I didn't like sake, because I had only tried one that was probably coming out of a 5 gallon box. Not only is the restaurant known for having one of the best sake list within a thousand miles, but is also co-owned by one of the owners from Floating World Sake Imports. The sake education program at the restaurant is mandatory and quite extensive. Through the years, they have brought in other educators including a sake sommelier from NYC to teach about the wonders of hot sake, Kansake, a Toji (a sake brewmaster, but also the name of my dog) from Yamagata to host a dinner, and even the vice president from a Sake brewery in Akita to MC the ever popular 'Wine vs Sake' dinner.
The vision and dedication of the owners has included sending some of us lucky ones on trips to Japan to deepen our understanding of Japanese culture. I was also grateful to be sent to Toronto to study sake with John Gauntner in 2015. Like many restaurants, ours had to undergo the many challenges of the pandemic. Izanami has gone above and beyond any other in the area to provide the safest dining experiences. I was thankful that the pandemic made a lot more of the education available online, so I did three more certifications in sake studying under Michael Tremblay and Timothy Sullivan. Ten Thousand Waves has been a Japanese style spa for over 40 years and has continued evolving into one of the best spas in the world. The education of the staff on such things as sake, has in turn, been passed on to locals and tourists alike. It's also no surprise that I am now finding quality sake at other favorite restaurants in town, such as Sweetwater, Joseph, and Tune-Up that are not even close to Japanese cuisine.
Some of the sake I've noticed a lot of customers enjoy recently, are what Izanami is most known for, which is the unpasteurized Namesake. It's always what I look for when I am out enjoying a new Japanese restaurant, in part because they are hard to come by. 'Kaze No Mori' is always crowd pleaser from Nara. This Muroka Nama Genshu is unique in that it uses local rice and has a natural effervescence. Another seasonal favorite style at Izanami is hot sake, due to our restaurant being at almost 8000 feet. It's up the mountains, receives snow in the winter and is close to the local ski resort. One of my favorite kan sake or hot sake is 'Great Peaceful Mountain' Junmai Kimoto from the Kodama brewery in Akita. There might be a bit of irony in heating up a sake from the brewery that was the first to showcase cold sake in competition, but this Kimoto, like many others reveals more umami when heated. When customers ask for a lovely Junmai Daiginjo, they are never disappointed with the 'Tenko Junmai Daiginjo' from Kodama Brewery or the Chokaisan Junmai Daiginjo, also from Akita.
As a lover of travel, I frequently recommend restaurants and sake spots to customers and also love to ask for recommendations if I plan on traveling to where they are from. A bittersweet moment for many guests is discovering quality sake for their first time and worrying that there is no possible way they can find it back home. I let people know that they can order a lot of the sake that we carry at True Sake online. I also love to order new ones that we don't have in New Mexico, as well as learn a lot more about what's out there.
Many of us are navigating this pandemic the best we can, whether it's participating in a Zoom virtual sake tour, education, or visiting a Japanese Spa such as Ten Thousand Waves. If you find yourself in Santa Fe be sure to stop by and say "Hi",or better yet, "Kampai!".
-Mateo Miller
mateoconsulting@outlook.com
*Just a little side note, I order Namas to be shipped out-of-state all the time and have never had any trouble with them being unpasteurized and spoiling*"