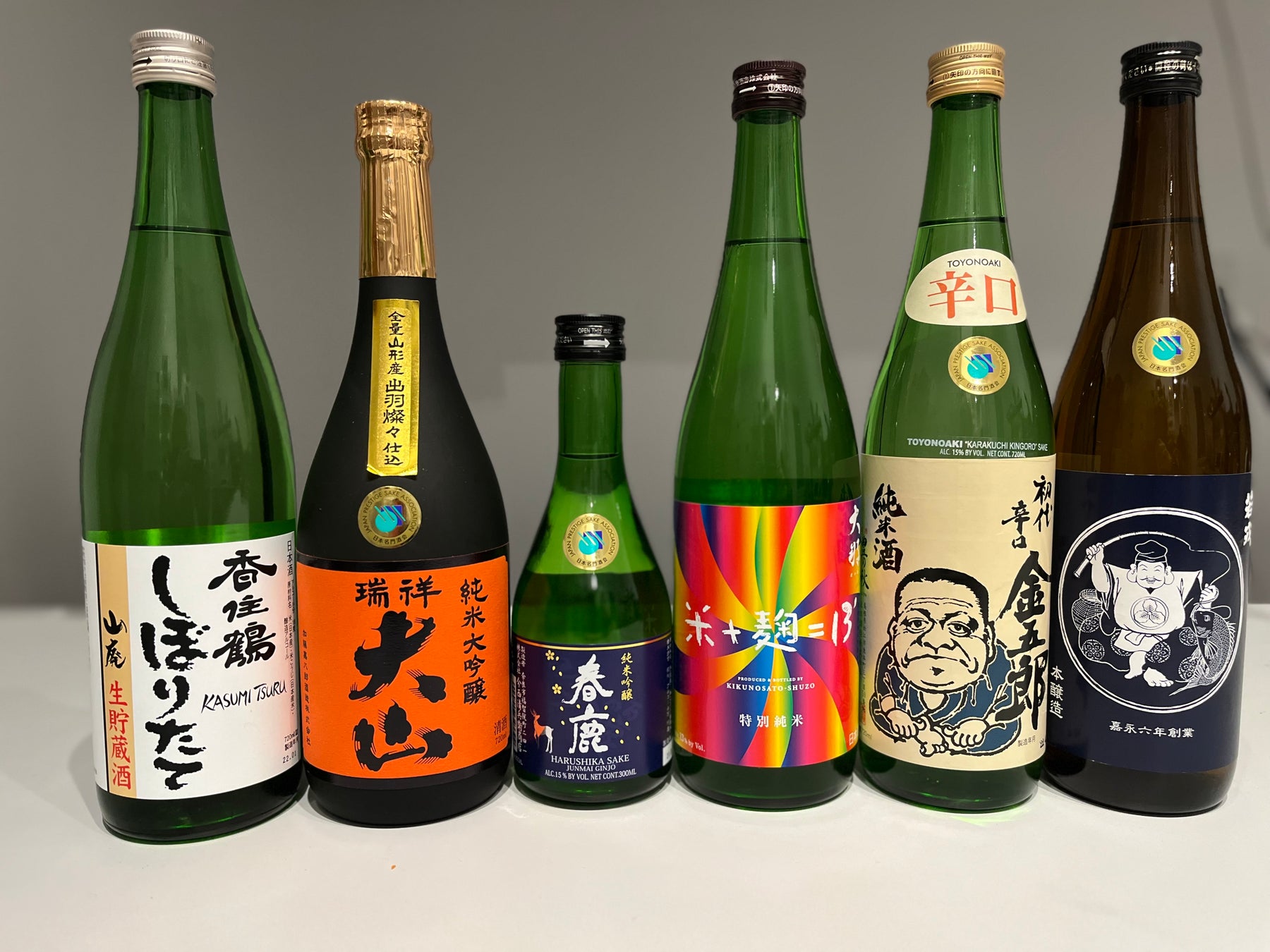 New Store Arrivals – Kasumi Tsuru, Ohyama, Harushika, Daina, Toyonoaki, Wakaebisu
Kasumi Tsuru "Yamahai Shiboritate"
From Hyogo Prefecture. Yamahai Namachozo SMV: +3 Acidity: N/A
The nose on this seasonally released single-pasteurized sake is a cool collection of apple, melon, vanilla, sherbet, oatmeal, and spring water aromas. Smooth, round, chewy, and lively this brew drinks spring fresh with a nice splash of umami goodness. Layered, juicy, velvety there is a peek-a-boo acidity on a plump bright flow. Look for cantaloupe, mochi, lemon, mint, honey, cooked peaches, and creamy flavors that bounce in the viscous sake that does better in a white wine glass. And where did that 18% ABV go? So smooth you just get great sake flavor. WORD: Balanced WINE: Soft Reds/Chewy Whites BEER: Belgian Ales FOODS: Izakaya, Pub, and Yakitori fare.


Ohyama Zuisho
From Yamagata Prefecture. Junmai Daiginjo. SMV: +2 Acidity: 1.8
The nose on this sake that translates to good fortune has a glorious collection of cantaloupe, mango, green papaya, apricot, fuji apple, pastry, and wild flower aromas. Talk about a smooth and uplifting Daiginjo sake that drinks very gently and elegantly. Fresh, soft, and velvety this off-dry brew has lots of body, but drinks light and speaks to drinkers who like nuance in their sake. Look for Asian pear, powdered sugar, citrus, pomegranate, mineral water, and flinty flavors that flow to a quick finish. A great example of premium hand made craft sake that shows you how smooth sake can drink. WORD: Smooth WINE: Off dry reds/Flinty Whites BEER: Light Ales FOODS: Champagne fare, lobster, crab, caviar, sushi, and sashimi.


Harushika "Spring Deer"
From Nara Prefecture. Junmai Ginjo. SMV: -3 Acidity: 1.5
The nose on this classic Junmai Ginjo is a cool collection of white flowers, sweet rice, apple, mango, grape, blueberry, and simple syrup aromas. Fruity, full, round, silky, juicy, and layered this brew drinks with a refreshing tone of spring water with a little minerality. Really the prototypical taste of Ginjo sake with tons of flavors such as fleshy mango, grape, papaya, lychee, honeydew, apple juice, cotton candy, and cooked pears. A feel good sake that reminds you that rice and water can taste like a fruit basket. WORD: Fruity WINE: Juicy Reds/Fruity Whites BEER: Fruity Ales FOODS: Sushi, sashimi, shellfish, cheese and fruit plates.


Kikunosato Daina
From Tochigi Prefecture. Tokubetsu Junmai. SMV: -3 Acidity: 1.8
The nose on this lower alcohol sake is a slick collection of honeydew, candy, tangerine, cherry, and orange aromas. Made with Yamamadanishiki milled to 55%, using yeast #14, and aged for 6 months this gentle Junmai is for those looking for a light and smooth drinking experience. Lively, watery, and slippery there is a tantalizing acidity play that speaks to wine drinkers. With a hint of spritz look for cherry, apricot, peach, white grape, candy, and powder sugar flavors on gentle flow that expands in a white wine glass. WORD: New Style WINE: Crisp reds/Spritzy Whites BEER: Crisp Ales FOODS: Oysters, roasted chicken, shellfish, American sushi, and cheese.


Toyonoaki "Karakuchi Kingoro"
From Shimane Prefecture. Junmai. SMV: +8 Acidity: 1.5
The nose on this dry guy from Shimane has an interesting collection of steamed rice, crushed leaves, rice crackers, and banana bread aromas. Ok, so you want a brew that drinks like its label? Take a look at this dude. That's the owner of the brewery and his wit is dry and that's how this sake rolls. Dry, compact, light, and very quaffable this is one of those bottles that gets emptied way too quickly. It's ricey for sure, but there is this hidden vein of sweetness that sneaks around the umami character. Look for steamed rice, rice cracker, Asian pear, powder sugar, simple syrup, and doughnut flavors with a hint of banana bread and a tantalizing "shibumi." WORD: Dry WINE: Dry Reds/Tight Whites BEER: Dry Ales. FOODS: Izakaya, Pub, and Yakitori fare with salty, greasy, and savory flavors.


Wakaebisu "Seven Gods of Fortune"
From Mie Prefecture. Honjozo. SMV: 1.7 Acidity: 1.5
The nose on this classic honjozo is a slick collection of apple, sweet rice, cream, marshmallow, pear, and mineral water aromas. Smooth, round, soft, and semi dry this brew is silky and very drinkable. It's soft and slippery but there is crispness and lots of umami with a dry tight finish. Look for sweet rice, nougat, marshmallow, powdered sugar, mochi, and caramel flavors that glide through the palate. A very "user friendly" sake that feels good in the mouth and the texture goes down far too easily. And it just tastes darn good. This is a great "gateway" to Honjozo. WORD: Slippery WINE: Soft Reds/Creamy Whites BEER: Soft Ales FOODS: Comfort foods, Izakaya, Pub fare.