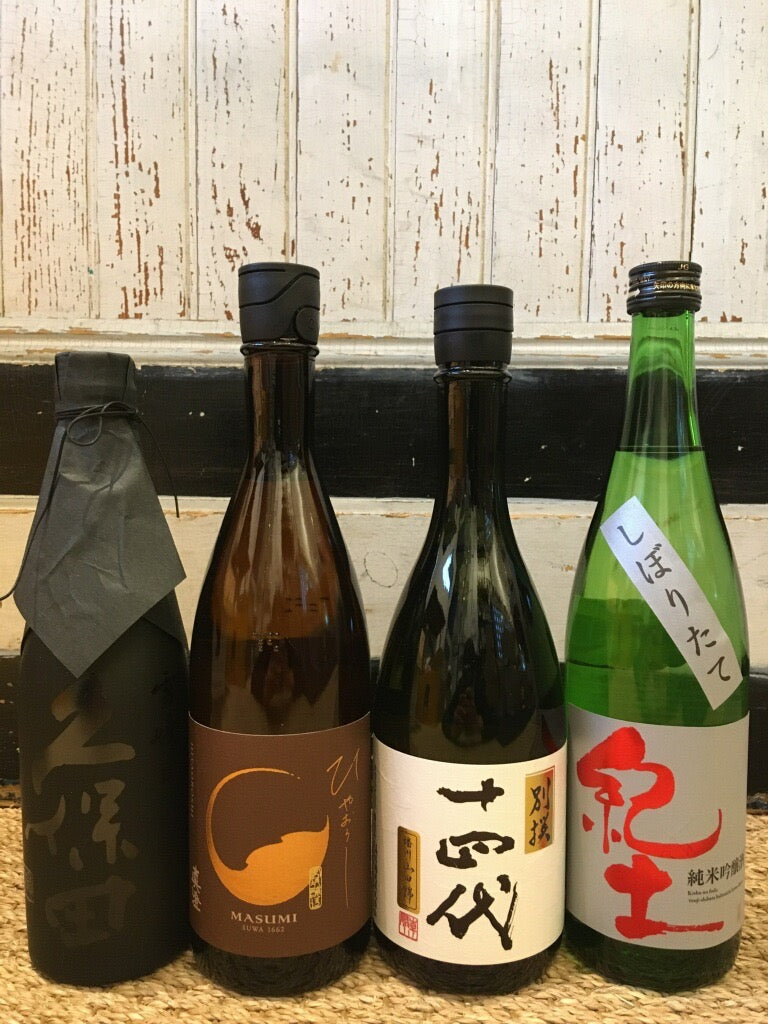 New Store Arrivals – Kubota, Masumi, Juyondai, and Kid Shiboritate
Kubota Seppou "Snow Peak Black"
From Niigata Prefecture. Yamahai Junmai Daiginjo. SMV: +2 Acidity: 1.4
The nose on this collaborative sake between outdoor supply company Snow Peak and Niigata Prefecture's Asahi Shuzo is a unique collection of chestnuts, steamed rice, grains, butterscotch, and cereal aromas. This very limited collector's edition sake is a departure from your usual Kubota products, and it's perfect for a campfire and campfire cuisine. Rich, tight, crisp, and smooth with a little bite; this brew drinks very confidently and is on the dry side. Light in body, but with a generous richness and frisky texture. Look for hints of caramel, sweet rice, and nougat. As the brew warms in the glass, a slight peppery and cocoa quality emerges. This is very much a red wine drinker's version of Kubota sake that is edgy and intelligent. The Yamahai brewing technique gives this Junmai Daiginjo attitude that drinks with an elevated acidity level, which means it's great with food. WORD: Unique WINE: Tannic Reds/Crisp Whites BEER: Crisp Ales FOODS: Meat, fowl, game, and everything grilled from burgers to steak.  
$63/500ml
Masumi Hiyaoroshi 2020 "Sleeping Beauty"
From Nagano Prefecture. Junmai Ginjo Namazume. SMV: ±0 Acidity: 1.8
The nose on this seasonally released "Draft Sake" has a gentle nose filled with plum, raisin, grape, cooked pear, and herbaceous aromas. Check out the new label to an old fan favorite Hiyaoroshi! This is another version of a very elegant Namazume that tastes like how it's built – fresh and aged a little to relax the fluid, and increase the richness and body. Round, smooth, rich, and light, with a quick finish that has a very nice velvety quality that feels great on the palate. Exceptionally balanced, look for rich fruit tones of raisin, cooked pear, apple pie crust, persimmon, pomegranate, cranberry, and cooked stone fruit flavors. This brew lends itself to warming as it stays soft. Warm oatmeal and breakfast flavors emerge, with a touch of ricey sweetness. WORD: Balanced WINE: Rich Reds/Fat Whites BEER: Belgian Ales FOODS: Fall cooked meats and fowl, grilled fish, smoked meats and fish, soups and stews. $41/720ml
Juyondai Bottle Aged 2019.06 "14th Generation"
From Yamagata prefecture. Junmai Ginjo. SMV: +2 Acidity: 1.3
True Sake was able to source 12 bottles of this Juyondai dated 2019.06, which has been bottle aging for 18 months. This is considered leaving its prime tasting form, but we as a group, all agreed that this sake still drinks very much like how the toji intended it to taste. By purchasing this sake you accept the conditions that it is as is! So what is it? The nose on this extremely sought after Junmai Ginjo is a gentle collection of berry, cantaloupe, pear, sweet rice, and apple aromas. Juyondai is known for impact on first sip, and this brew is exactly that – pure impact. It is lively, effervescent, bright, fleshy, and very fruit-forward. Look for a large flavor field of apple, cooked pear, ripe cantaloupe, mango, strawberry, honey, and a hint of fennel. Basically, this is world-class sake that everybody wants to taste and for good reason. A great example of a fruity and balanced sake that excels in a wine glass. If you have ever wanted to taste a brew from the fabled Juyondai brewery, this might be your best shot, and we feel it's worth that shot! WORD: Legendary WINE: Fruity Reds/Bright Whites BEER: Fruity Ales FOODS: Sushi, sashimi, shellfish, oysters, Champagne fare. $200/720ml BOTTLE IS AVAILABLE BY PHONE ORDER ONLY
Heiwa Shuzo KID Shiboritate 2020
From Wakayama Prefecture. Junmai Ginjo Nama. SMV: +1 Acidity: 2.0
The nose on this specially released winter unpasteurized sake, has a gentle collection of green apple, peach, grape, and mineral aromas. Say hello to the first edition of KID "Shiboritate" that is new to the US market. This is a unique sake that is very elegant and easy in the palate. Fresh and light, it carries gentle flavors like green apple, kiwi, young strawberry, apricot, and fresh pear notes with a crisp flow. And let's talk about the flavor of water in this Junmai Ginjo that is subtle, soft, and has a twinkle of minerals. For you professional sake drinkers, try to process the acidity level of 2.0 in this elegant brew. It's a phantom acidity that plays like a whisper, and makes the sake balanced and elegant. Enjoy fresh sake at its freshest. WORD: Elegant WINE: Soft Reds/Crisp Whites BEER: Crisp Ales FOODS: Sashimi, tofu, grilled chicken, oysters, shellfish. $39/720ml