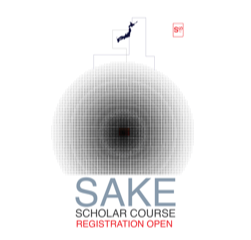 Sake Events – The Sake Scholar Course Is Holding Another Session
The below invitation was sent to us by Michael Tremblay, who is the founder and head "scholar" at the extremely important Sake Scholar Course. If you are looking at a deep dive in understanding the elements of sake, this course is for you. This by far is the most in-depth and focused sake education course out there right now, and it is an incredible feather in your sake education cap. And Michael is one hell of a nice guy!
SAKE SCHOLAR COURSE - REGISTRATION IS OPEN FOR THE FEBRUARY 2021 EDITION!
Registration is open for the next version of the Sake Scholar Course, a course dedicated to exploring the many sake regions of Japan.  This advanced course is the next level in sake education and is geared for sake experts and professionals alike.  It tells sake's story through a variety of narratives, notably through case studies and tastings of sake and shochu from many of Japan's 47 prefectures.  Students will feel like they have travelled the sake world by the end of the course, and have a solid understanding of Japan's fascinating sake corners.  
"If you want to be the best sake expert, sommelier, or importer in your field, you really need to know the nuances and personality of the region."
This online course begins on February 23 and is comprised of six 3-hour classes held weekly that tackle all 47 (yes, all 47!) prefectures.  
For more information, check out sakescholar.com.