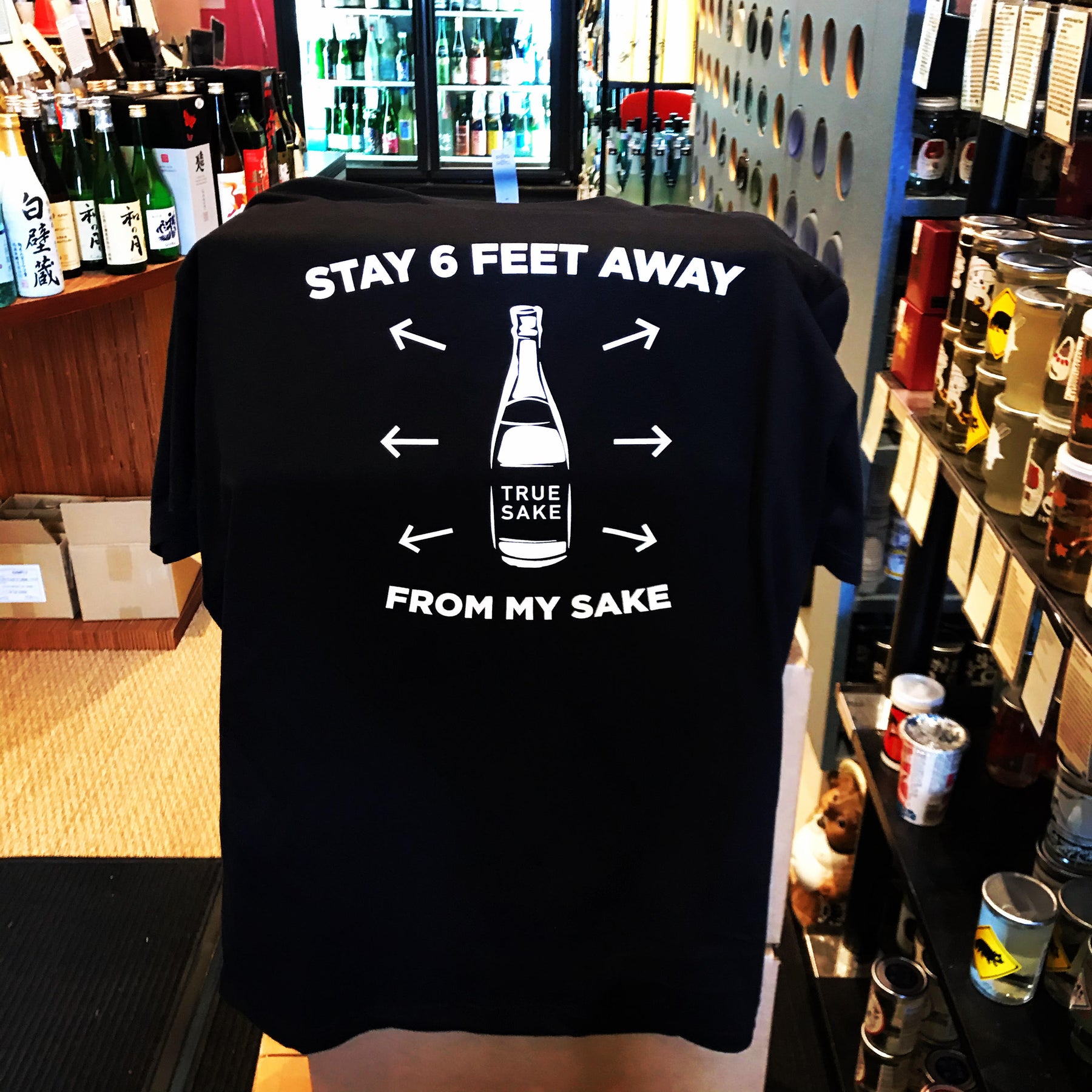 Sake Looks – "Stay 6 Feet Away From My Sake" T-shirts
We aren't the best swag company! Which is odd, because I love swag and enjoy wearing hats and T-Shirts from other "cult" businesses that are cool. We just haven't done much merchandising historically, and I think it's a testament to the fact that we just focus on what we do well – sell sake. But! (there's that but again) But it is cool to have fun stuff. Mei and the team have designed and sold a few T-shirts before, but never really actively online. That's about to change.
I was taking a pandemic stroll with my face mask on, my gloves on, my hand sanitizer in my pocket, and a Hula Hoop around my body hopefully projecting an image that I wanted "infected" people to take a wide berth around my walking path. (This is not true – well most of it's not true) When it dawned on me that people should stay 6 feet away from my sake! I thought it was a cool idea, made a quick design, and sent it to my renaissance man printer Jake Savas @wishingwellsf.
The T-shirt is the product of the times, and we gave them to each team member, local past team members (sorry Lynette – Just remembered), and certain friends in the industry who have been a part of the True Sake legacy. And there's that but, we received so many requests to purchase the T-shirt that we knew we had to add it to our family. So our thought process was to do an initial pre-order to help us with the count before we placed the bigger order. And since it is a product if the times, the back of the T-Shirt reads #SAKEISESSENTIAL.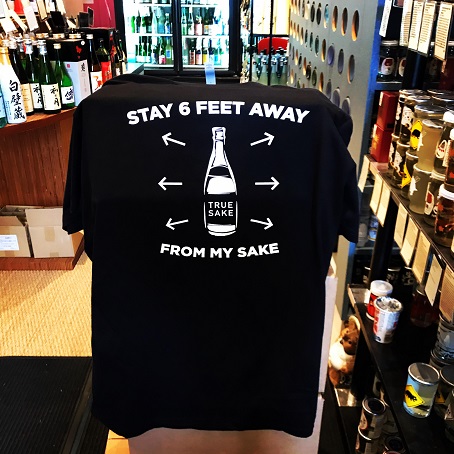 The T-shirts are very comfortable. We have both women's and men's cuts from Next Level Apparel. We will reach out to all of those on social media, who inquired, and we are telling you now that we need your help determining the second print run.
If you are interested in purchasing a T-Shirt please click on the button below where you can place a pre-order for your shirt.
To keep matters simple we will charge $28(excluding tax for CA) for the shirt, shipping, and packaging. We are not making money on these, nor do we want to! What we want is to see you peeps sporting our colors! The first run will be open until July 31st. Get them while you can! 
Thanks so much and stay 6-feet away from my sake!