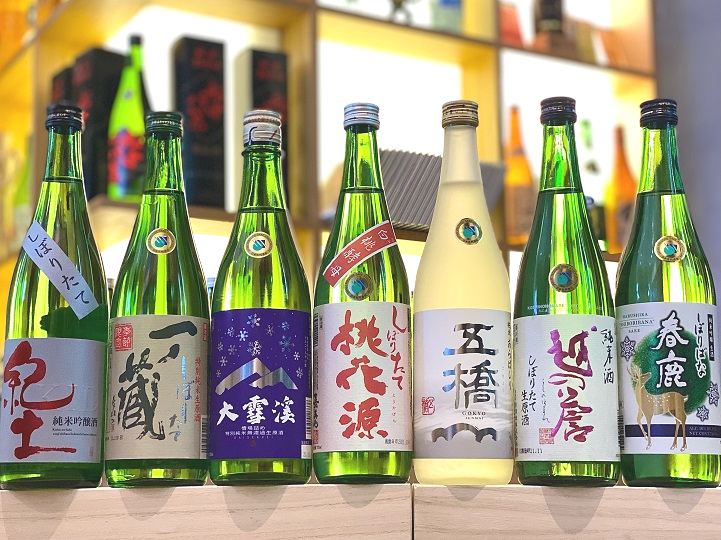 Sake Season – 1st Flight of Spring Namas Drop
We all have a favorite sake season, but most folks love the Spring Nama! Why? These freshly made wonders represent the first sake offerings of each particular brewing year "BY." And quite frankly they are fresh, brash, lively, and are like drinking fresh pressed sake right out of the vat. How cool is that?
This year could be a record year for Spring Nams as we are hearing that a ton of different labels are either here or will be arriving soon. We have two new unpasteurized brews in this first flight – Ichinokura's Shiboritate and from Nagano Prefecture our first time offering Daisekkei's Tokubetsu Muroka Nama Genshu. And much to Mei's delight, the Komikokoro Toukagen Shiboritate from Okayama made using a peach kobo (yeast) is back on the shelf!
Also in this flight, take note of Heiwa Shuzo's KID Shiboritate, Gokyo's Arabashiri,  Harushika's Shiboribana, and Koshinhomare's Shiboritate. All bright and lively brews that focus on fresh feelings and fresh flavors. These brews are great for pairing with all kinds of cuisines including spicy foods and anything out of the ocean.
And for those of you who do all of the Spring Nama we salute you! We know this is your favorite time of the year, almost like Fresh Rice Christmas. So enjoy yourself, and for those who have never tried a Spring Nama why not give living sake a try? If you're planning to ship your Spring Nama bottles, now is the time! It is still cooler out and now is the best time to do it before Summer rolls around. If you have any questions about shipping or handling these unpasteurized brews give us a call, we've been selling and shipping Nama sake for almost twenty years and nobody in the industry has more offerings and more experience at the best price!
We are True Nama Sake and yes it is our business and not a side gig!
Heiwa Shuzo KID Shiboritate 2022
From Wakayama Prefecture. Junmai Ginjo Nama. SMV: +1 Acidity: 2.0
The nose on this freshly pressed unpasteurized Junmai Ginjo is a gentle collection of grape, berry, pear, peach, pineapple, and floral aromas. Bright, light, zesty, juicy, crisp, brash, and very lively. This edgy and super fresh sake is fruity and frisky. Look for peach, young pear, crisp apple, grapefruit, tangerine, sweet tomato, and young strawberry flavors that jump in a wine-sized glass. Fresh and fun this elegant brew is purely lively and purely impactful in flavor and feeling. Get frisky and get your Nama on. WORD: Lively WINE: Zesty Reds/Crisp Whites BEER: Crisp Ales FOODS: Sushi and sashimi, white fish, shellfish, crab and lobster, oysters, and Champagne fare.
From Miyagi Prefecture. Tokubetsu Junmai Nama Genshu. SMV: -2 Acidity: 1.7
The nose on this new-to-the-store seasonal unpasteurized brew is a very unique collection of berry, honey, pear, mint, melon, and sweet rice aromas. Soft, round, smooth, and lush. This juicy Nama is a really interesting brew that has shape shifting flavors that roll on a fleshy and buoyant fluid with an elegant mineral finish. Look for layers of flavors such as honeydew melon, cooked pear, Fuji apple, rich honey, fruit compote, Bit-O-Honey candy, dark chocolate, and cocoa nibs.  That's a lot of flavor action, which is pretty cool because this brew drinks rich light with a fun feeling that isn't like your typical Nama Genshu sake. And as a bonus this is one of those Nama that is actually good to warm to get a rich, savory, and honey goodness. WORD: Rich WINE: Deep Reds/Fat Whites BEER: Belgian Ales FOODS: Full-Bodied fare, complex cuisines, salty and savory, International spice.


From Nagano Prefecture. Tokubetsu Junmai Muroka Nama Genshu. SMV: +4 Acidity: 1.8
The nose on this unpasteurized seasonally released brew is a cool collection of cherry, apple, blackberry, pear, and grape aromas. Are you ready to be liquidly transported to a sake brewery in Japan? This Nama drinks exactly like dipping a cup into a vat of freshly pressed sake. It is that lively, and that flavorful. Zesty, frisky, edgy, bright, brash, and quick. This brew drinks so lively and tingly that it's like liquid laughter in the palate. Look for crisp apple, young pear, green grape, Sweet Tart candy, persimmon, tangerine, cotton candy with a flinty dry finish. Brash and quick, lively and drying, zesty and palate cleansing this fresh sake is loaded with layers of flavors ending in a quick finish. With an ABV of 17% it's time to get your Nama on. WORD: Lively WINE: Zesty Reds/Crisp Whites BEER: Crisp Ales FOODS: Shellfish, oysters, sashimi, fruit plates, cheese plates, lively cuisines.  
Kamikokoro Toukagen Shiboritate 2022
From Okayama Prefecture. Junmai Ginjo Nama Genshu. SMV: -8 Acidity: 1.5
The nose on this seasonally released unpasteurized and undiluted (Genshu) sake has a terrific nose filled with apple, berry, lychee, nectarine, grape, strawberry, mineral, and powder sugar aromas. Say hello to a plump and chewy sake that is made using a peach yeast (Kobo) that makes this brew a fan favorite for those who like living sake with body and great texture. Smooth, round, full, lush, juicy, fat, and viscous. This brew has buckets full of juicy and rich flavors that are semi-sweet with a confident apple finish that speaks to Nigori drinkers who like a rush of amazing flavors. Look for fruit basket flavors such as rich ripe pear, apple, watermelon, papaya, grape, dried mango, honey, sweet rice, and snow-cone flavors that are smooth, even and very relaxed. WORD: Fruity WINE: Soft Reds/Chewy Whites BEER: Fruity Ales FOODS: American sushi rolls, spicy fare, crab, lobster, fruit and cheese plates, pates, foie gras, ankimo.
From Yamaguchi Prefecture. Junmai Nama Genshu. SMV: +1 Acidity: 1.8
The nose on this seasonally released unpasteurized "free run" sake is a unique collection of steamed rice, cream, hay bale, butter, wheat, and marshmallow aromas. If you like your sake lively and dry then this Gokyo is your brew! Lively, tingly, spritzy, zesty, crisp and dry this Junmai that is actually milled to 60% is a palate tickling bright brew that drinks light and fresh. Look for crisp apple, young pear, persimmon, dried fruit trail mix, white peach, kiwi, dried rice, and hints of cream flavors that drink with a tannin-like dryness and have a little snap in the palate. For those who like a little hint of alcohol on a light and bright crisp brew then it's time to get your freshness on Yamaguchi-style. WORD: Crisp WINE: Dry Reds/Crisp Whites BEER: Crisp Ales FOODS: Salty and savory Izakaya fare, grilled anything, fried anything.  
Koshinohomare Shiboritate 2022
From Niigata Prefecture. Junmai Nama Genshu. SMV: +3 Acidity: 1.6
The nose on this seasonally released "Nama" or unpasteurized sake is a mild collection of whipping cream, grape, blueberry, banana bread, and rice pudding aromas. Smooth with a tingle, rich, round, fleshy and zesty. This brew drinks lively and "brash-light" and is "smooth with action" like a really good billiards shot that is smooth then in the pocket. There is a tip of the tongue tingle that is lively, fun, and makes the flavors jump around a little. Look for berry, dates, persimmon, honeydew melon, nougat, marshmallow, and Easter "Peep" flavors that echo with a very nice umami tingle. Lush and lively, plush and smooth, fun and textural this brew moves better in a larger glass. WORD: Smooth Tingle WINE: Zesty Reds/Fat Whites BEER: Crisp Ales FOODS: American Sushi, international spice, tacos, grilled meats, fried chicken.
From Nara Prefecture. Junmai Ginjo Nama. SMV: -4 Acidity: 1.9
The nose on this fan favorite seasonally released unpasteurized sake is a mild collection of green apple, Asian pear, honeydew melon, sweet rice, mineral, and Sweet Pea floral aromas. Smooth, round, juicy, velvety, fleshy, and relaxed. This Ginjo slides across the palate in a smooth and balanced flow. Many customers ask for "something that is cold and smooth," and this brew is for you. Look for rich fruity flavors of pear, apple, green grape, and melon mixed with gentle licks of powder sugar and rock candy. This is a "slick" sake that is juicy and lively with a tingle finish and has a relaxed astringency (Shibumi) that speaks to white wine drinkers. WORD: Smooth WINE: Soft Reds/Fruity Whites BEER: Fruity Ales FOODS: Sushi, sashimi, shellfish, crab, grilled fish and chicken, fruit and cheese plates.