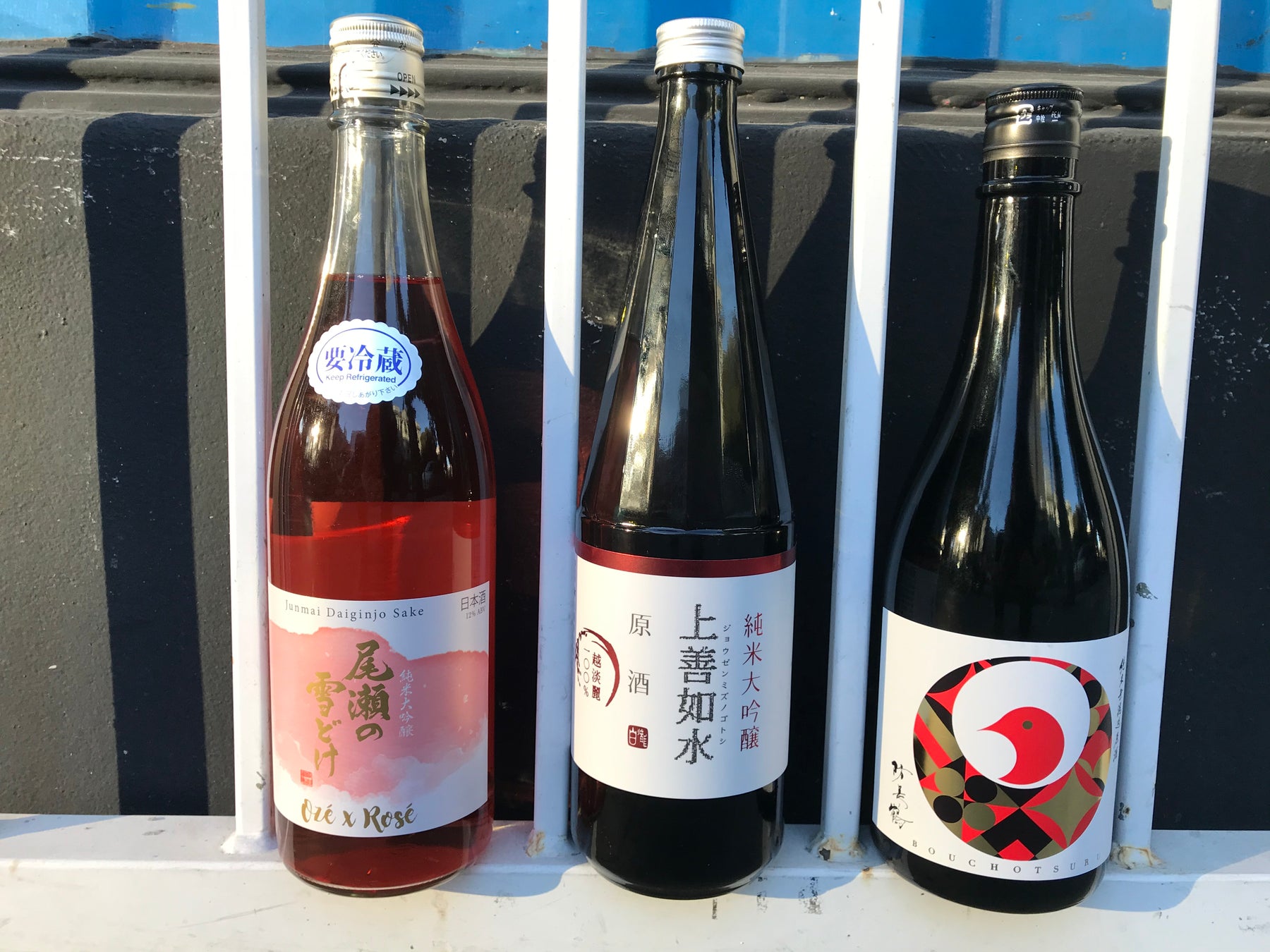 New Store Arrivals – Ozé x Rosé, Jozen Red, and Bouchou Tsuru
From Gunma Prefecture. Junmai Daiginjo Genshu. SMV: -33 Acidity: 3.3 
The nose on this very unique sake is a cool collection of grapefruit, cranberry, tomato water, grass, Sherry, and yeasty aromas. Say hello to a sexy and wonderfully delicious Junmai Daiginjo that drinks as great as it looks. It is juicy but dry, crisp and a little tart, sweet but not too sweet. Basically it is a ballroom dance in a glass with hidden layers of flavors that taste differently with your eyes closed. Yup the color can trick the palate. With eyes open taste the plum, cranberries, and crisp red tart apples, and with the eyes closed taste the sweet rice, orange, and apricot flavors that all dance on smooth fluid that ends with a SweetTart finish. Wait! What about the color? The brewers were the first to use a red colored yeast called "Sekishoku Kobo" that gives this brew its great looks and unique flavors. With a lower alcohol content of 12% this Genshu drinks better in a larger glass. WORD: Unique WINE: Tart Reds/Crisp Dry Whites BEER: Crisp Ales FOODS: Champagne fare, fresh seafood, oysters, shellfish. $32/720ml 
From Niigata Prefecture. Junmai Daiginjo Genshu. SMV: -2 Acidity:1.3
The nose on this seasonally released celebration sake is a wonderful collection of cherry, melon, straw, and steamed rice aromas. Say hello to a smooth and round sake that is like clean richness in a glass. Jozen is known for their clean and dry sakes, and this special brew has that and then some. Plump and viscous it is chewy and very lush. Look for powder sugar, sweet rice, nougat, white chocolate and deep rich flavors on a body that keeps on going and going. This is one of the best "feeling" sakes in the business and the balance is world class. Smooth and rich sakes are great, but they tend to be bulky. This Niigata masterpiece drinks clean and feels delightful. WORD: Clean Richness WINE: Pinot Noir/Fat Whites BEER: Fat Ales FOODS: Complex fare, deep and rich cuisines with body. $61/720ml
Boucho Tsuru "Legendary Crane"
 From Yamaguchi Prefecture. Junmai Muroka Genshu. SMV: +4 Acidity: 1.4
The nose on this new style Junmai is an interesting collection of sweet corn, melon, apple pie, sweet peas, and honey tea aromas. Say hello to a very modern sake that is expressive, expansive, and very lively in the palate with a rich tingle that is refreshing and bright. Talk about a wide flavor field! There is so much going on in each sip with peach and ripe persimmon here, cantaloupe and apple there, blackberry and champagne grapes here, and veggie and herbaceous licks there. A sliver of bitterness dances with the acidity and the higher alcohol content (17%) to produce a unique liveliness that is very enjoyable on the palate. It's hard to say that a Junmai sake can be "refreshing," but this new world effort is all that!
WORD:
Expressive
WINE:
Zesty Reds/Crisp Whites
BEER:
Crisp Ales FOODS: Sushi, sashimi, shellfish, oysters, grilled salty and savory fare.
$34/720ml