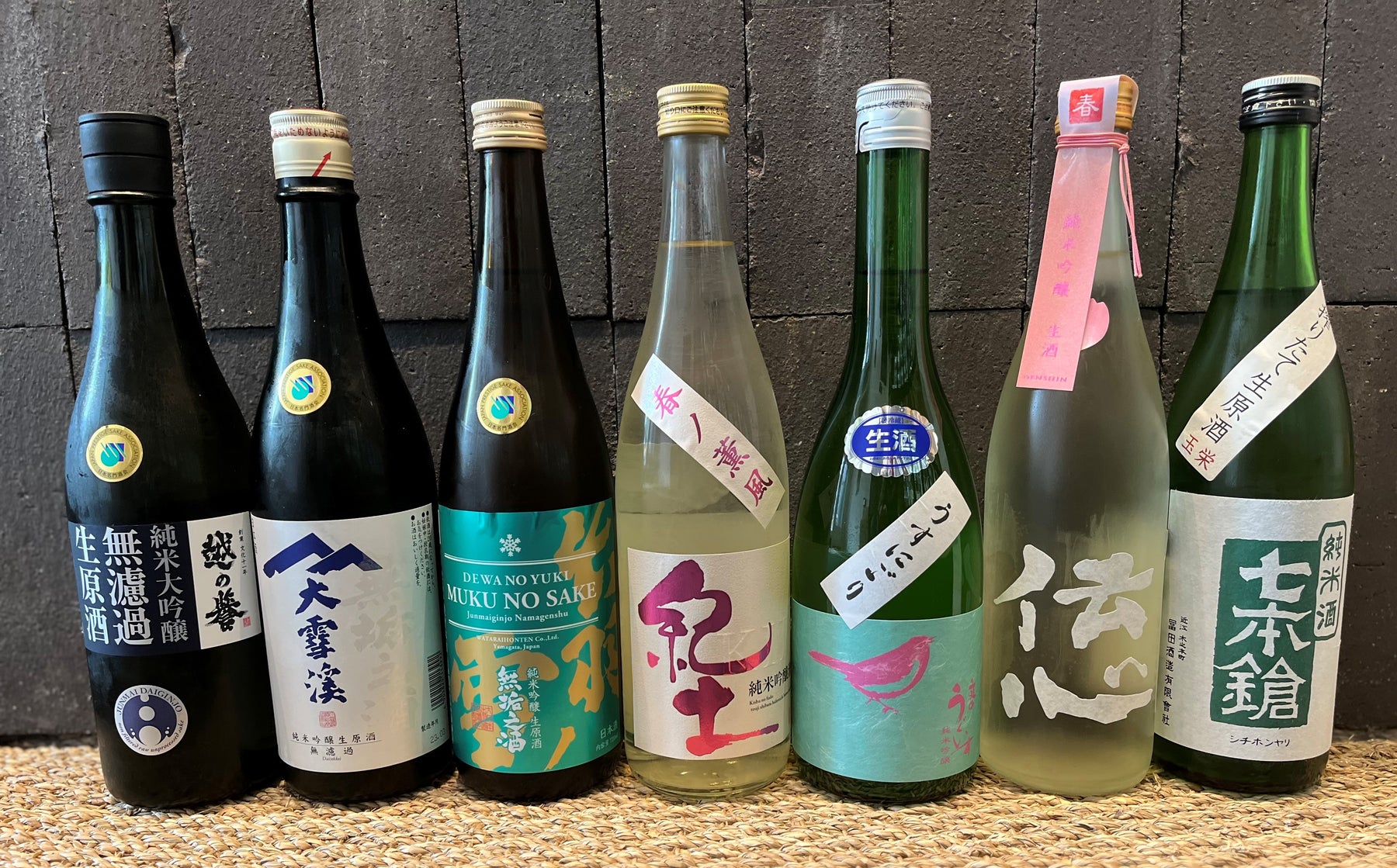 Nama Drop - Another Flight Of Amazing Seasonally Released Unpasteurized Brews
We are not lucky! We aren't lucky to have so many unpasteurized seasonally released sake, because we have worked so hard for 20 years to get our importers to feature more of these exciting and flavorful brews. It's been hard work, but the market now demands these unique and timely sakes. 

And here is another "Nama Drop" to float your boat on the seas of freshly made and quickly released sake. They are raw, vivid, and very lively. And if you have never tried a sake that hasn't been pasteurized the typical 2 times, then this is your chance to get wicked! 
Koshi no Homare "Kura no Homare" 2023
From Niigata Prefecture. Muroka Junmai Daiginjo Nama Genshu. SMV: +3 Acidity: 1.8
The nose on this seasonally released Nama Junmai Daiginjo (not a lot of those) is a great collection of pineapple, strawberry, pomelo, rock sugar, blueberry, fresh grasses, and cherry aromas. Snap! A raw premium sake that is undiluted (17%) and unfiltered (no not nigori, but rather not charcoal filtered) that drinks with tingly and fresh elegance. Light, bright, crisp, silky, off-dry, and a little thin, this is a fruity zesty teaser that is refreshing and has a nice astringency with a mineral finish. Look for pineapple, pear, crisp apple, honeydew, strawberry, Whopper, marshmallow, snowmelt, and ricey flavors on an edgy flow. Fresh and high-end sake that is great for your sushi bar pairings. WORD: Bright WINE: Zesty Reds/Crisp Whites BEER: Crisp Ales FOODS: Sushi, sashimi, shellfish, shrimp, citrus based fare, fruit and cheese plates. 
Daisekkei Muku no Sake 2023
From Nagano Prefecture.
Muroka Junmai Ginjo Nama Genshu.
SMV: +2 Acidity: 1.6
The nose on this seasonally released unpasteurized sake is a lively "Nama" nose filled with cranberry, strawberry, green grasses, green apple, sweet rice, kiwi, and lime aromas. This is a two-fer Nama that is bright and zesty upfront then morphs into a creamy and round brew in the glass and that is pretty damn cool! Light, clean, crisp, soft, and tingly with a touch of shibumi (astringency) the flow is fresh and fun. Look for mango, cream, powder sugar, Key lime pie, peach syrup, cocoa, cereal milk, and sweet rice flavors that drink softer as the fluid warms in the glass. A very interesting Spring Nama that drinks to the season.
WORD:
Round
WORD:
Soft Reds/Creamy Whites
BEER:
Creamy Ales
FOODS
: Pub fare, grilled, salty and savory cuisine. 
Dewanoyuki Muku no Sake 2023 
From Yamagata Prefecture. Junmai Ginjo Nama Genshu. SMV: -1.5 Acidity: 1.3
The nose on this seasonally released unpasteurized and undiluted sake is a mild collection of sourdough, pretzel, salt water, butter, puffed rice, marshmallow, banana, and rice cracker aromas. Yay! Say hello to a different Spring Nama that isn't a spicy fruit bomb, but rather a rich, round and savory brew that is super smooth and very tasty. Slick, fluffy, grainy, light, and balanced, this brew drinks gentle and easy in the glass with a crisp finish. Look for sourdough, nutty, butter, banana bread, salt water, rum raisin, biscuit, and steamed rice flavors on a smooth flow that gets more savory as it warms. A very fun Nama that isn't like the others and speaks to more round and rich red wine drinkers. WORD: Savory WINE: Smooth Reds/Crisp whites BEER: Creamy Ales FOODS: Izakaya pub fare, salty and savory fare, and greasy comfort foods.  

KID Haru No Kunpu 2023
From Wakayama Prefecture. Nama Junmai Ginjo. SMV:+/-0 Acidity: 1.7
The nose on this seasonally released unpasteurized "Nama" sake is a light collection of cherry, pear, apple, vanilla, and mineral aromas. Named after a gentle spring breeze this brew drinks very much like its name – gentle and light. Made with Gohyakumangoku brewing rice the fluid is light, smooth, fresh, clean and very gentle. Look for Asian pear, peach, raspberry, persimmon, and rose water flavors that wisp through the palate with a dry and crisp finish. This is gentle and refreshing sake at its finest, and would appeal to those who don't like boozy sake. Perfect for warm days and gentle nights. WORD: Light WINE: Gentle Reds/Clean Whites BEER: Light Beer FOODS: Spring vegetable tempura, Spanish mackerel, steamed white fish, grilled chicken, oysters, sushi, sashimi. 

Niwa No Uguisu 
From Fukuoka Prefecture. Nama Junmai Ginjo Usu Nigori SMV: N/A Acidity: N/A
The nose on this seasonally released unpasteurized "misty" or "Usu" unfiltered sake is a terrific collection of pear, honeydew, powder sugar, white blossom, and sweet rice aromas. This is a Nigori drinkers Nama made with Yamadanishiki and Yumeikkon brewing rice milled to 50%. Smooth, rich, round, and fluffy this medium-bodied brew drinks velvety and with a nice weight to it. Look for full and rich flavors such as pear, peach, melon, green apple, sweet rice, and a hint of fennel. It's a refreshing and fun seasonal nama that drinks as cool as the label looks. WORD: Rich WINE: Fat Reds/Fruity Whites BEER: Fruity Ales FOODS: Street fare, tacos, burgers, fried chicken, grilled fish, cheese plates, and pizza. 

Denshin "Haru" 2023
From Fukui Prefecture. Nama Junmai Ginjo. SMV: N/A  Acidity: N/A
The nose on this seasonally released unpasteurized fan favorite brew is a solid collection of cherry, grape, rock sugar, plum, pear, and mineral water aromas. Who doesn't love Denshin seasonal namas? The cool inverted label should remind you that great sake lies within. Best in a wine glass this brew drinks fat, juicy, viscous, rich, wide, and full-bodied. Red wine fans take note of the rich apple pie, black cherry, persimmon, blood orange, nectarine and minty flavors that drink more ricey than fruity. A full and rich nama built for food, but great on its own too. WORD: Full WINE: Rich Reds/Beefy Whites BEER: Belgians Ales FOODS: International spice, beach fare, grilled fare, bar-b-q fare, fatty fish, pasta, smoked meats. 
Shichi Hon Yari Nama 2023
From Shiga Prefecture.
Nama Junmai.
SMV:

N/A 

Acidity: N/A
The nose on this seasonally released unpasteurized sake is a cool collection of sugarcane, grasses, plum, celery, and steamed rice aromas that smell very "Nama Nama." Say hello to a cask strength and a fresh sake that comes from a brewery known for making traditional "old school" Junmai sake. This is like sticking your face in a fermenting tank of sake and tasting fresh and lively sake at its zesty and brash best. This is true Nama Genshu sake with a 18% ABV. Look for dried apple, nuts, lemon, almonds, Lemon Heads, Nectarine, almond, and steamed rice flavors that bounce around on the big and bold fluid.
WORD:
Big Fresh
WINE:
Zesty Reds/Massive Whites
BEER:
Stouts
FOODS
: Big, bold, and beefy fare.