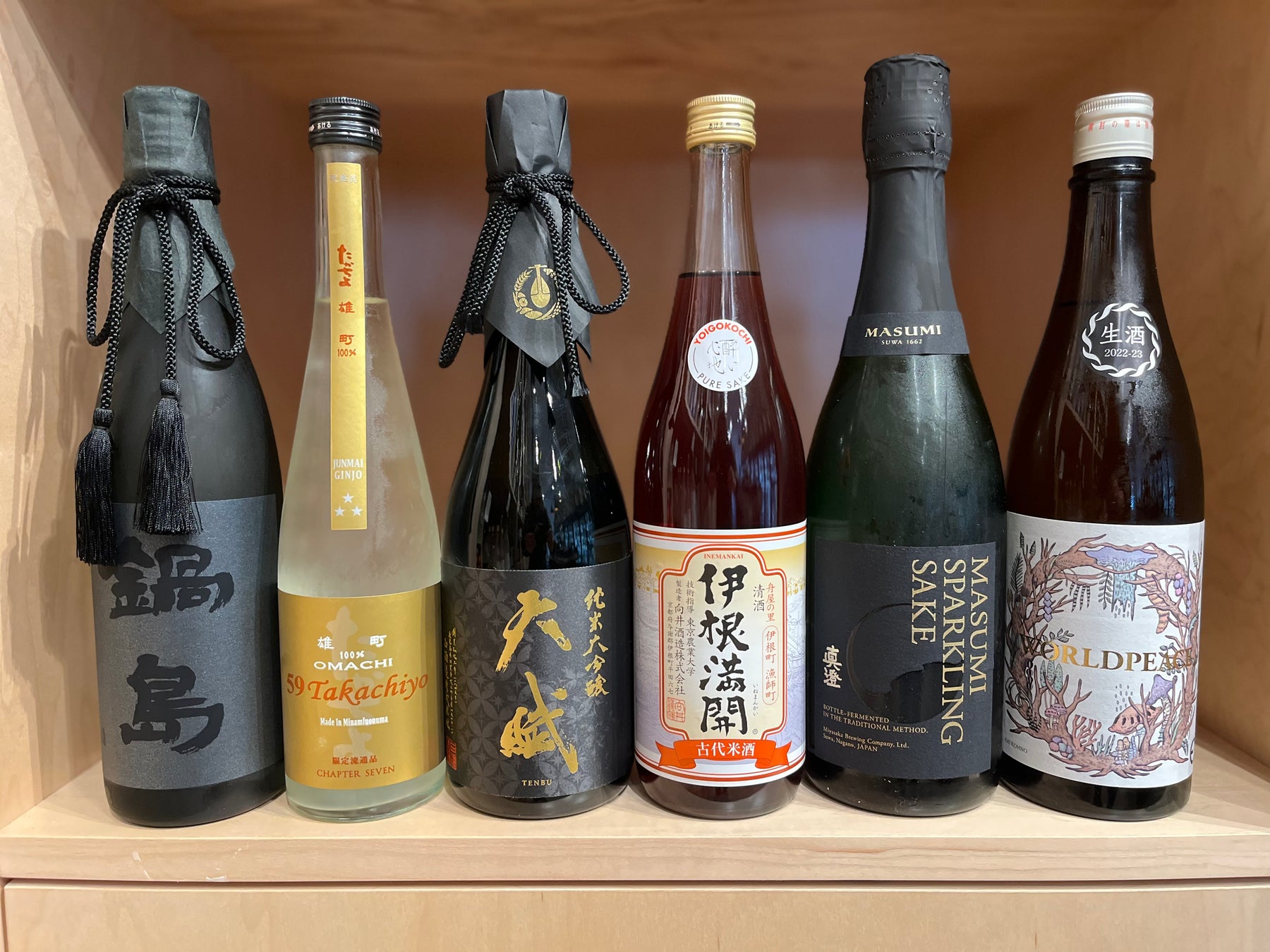 New Store Arrivals: Nabeshima, Takachiyo, Tenbu, Masumi, and more
Nabeshima "Black Label" 
From Saga Prefecture. Junmai Daiginjo. SMV: N/A Acidity: N/A
The nose on this extremely limited masterpiece is a stupendous collection of tropical fruit, white flower, pear, peach, lychee, mint, and mineral water aromas. Say hello to the best of the best from a brewery that has a very distinctive way of making sake. A top of the line offering that is rich and bright, effervescent and elegant, soft and expansive with a signature zesty acidity that drinks crisp with a tantalizing uptick umami finish. Seek out apple, kiwi, papaya, mango, melon, guava, and herbal flavors on an exciting and mouth watering flow. This is A-List sake at its best and you don't need a special occasion to taste perfection in a wine glass. WORD: Masterpiece WINE: Complex Reds/Zesty Whites BEER: Crisp Ales FOODS: Champagne fare, hors d'oeuvres, lobster, crab, and caviar.

Takachiyo 59 Omachi "Chapter Seven"
From Niigata Prefecture. Junmai Ginjo Muroka Nama Genshu. SMV: N/A Acidity: N/A 
The nose on this unpasteurized brew featuring the very tasty "Omachi" rice varietal is a stunning collection of apple, pear, lemon, ginger, white flower, grapefruit, and strawberry aromas. Any Omachi fan needs to try this version of this extraordinarily flavorful brewing rice that has been imparted with the Takachiyo magic. Zesty, bright, spritzy, velvety, tingly, and crisp this is exciting sake that is juicy and expressive. Keep an eye out for tangerine, strawberry, pear, apple, mango, powder sugar, cantaloupe, and pineapple flavors on an effervescent flow with a rewarding acidity play and a sneaky shibumi. Lively and bright sake that speaks to those who like nama. 

Tenbu 
From Kagoshima Prefecture. Junmai Daiginjo. SMV: N/A Acidity: N/A 
The nose on this premium brew is a very cool collection of pear, pineapple, daikon, lychee, mango, raspberry, cut grasses, vanilla, and sweet rice aromas. When a brewery goes from just starting to make sake in a prefecture that isn't known for making nihonshu to "Brewery of the Year," you know they are doing something right. This fantastic Daiginjo is no exception as it drinks light, clean, bright, tingly, with a hint of effervescence and a crisp off-dry finish. Look for Asian pear, young strawberry, melon, cranberry, sweet white bread, mochi, grape, and mint flavors on a wine-drinker's tannin-like dry flow that is crisp and clean. Kagoshima sake at its finest. WORD: Crisp WINE: Tight Reds/Crisp Whites BEER: Crisp Ales FOODS: Sushi, sashimi, crab, shrimp, grilled fish, fruit and cheese plates. 

Ine Mankai "Ine's Full Bloom"
From Kyoto Prefecture. Junmai Genshu. SMV: -40 Acidity: 5.8
The nose on this one-of-a-kind brew is a vast collection of beets, orange, black olive, cherry syrup, prosciutto, kanbu, winter spices, and bone broth aromas. Made by a female toji who likes to make sake her way, this brew is part magic, part ancient red rice varietal (Murasaki Komachi), and part acidity thunderstorm. Put them all together and you get an amazing exploration sake that speaks to enthusiasts and natural wine fans alike. Lighter than previous versions this unique brew is smooth, round, rich, layered, acidic, tart, expansive, aggressive, and loaded with umami and a firm personality. Thick and viscous flavors such as raisin, cranberry, cherries in syrup, cocoa, plantains, smoked meats, chocolate, olive, and pomegranate slowly glide across the palate with a thirsty acidity that elevates everything. An adventure as much as a sake! WORD: Unique WINE: Massive reds/Meaty Whites BEER: Beefy Stouts FOODS: It's a meal in the glass, NorCal cuisine, fresh meats and veggies.

Masumi "Grand Prix" 
From Nagano Prefecture. Sparkling SMV: -49 Acidity: N/A
The nose on this professionally made sparkling sake is a classic collection of pear, honey, grape, raspberry, sour dough, and sweet rice aromas. Are you drinking Champagne? No, and that's the point! This is very well made sparkling rice and water trying to be sparkling sake and not sparkling wine. But they work the same way with lots and lots of bubbles. This Grand Prix is almost foamy with natural fermented bubbles that love a Champagne flute. Hard to open but worth the wait for this crisp, rich, dry, creamy, bright, zesty, elegant, and refreshing sake. Look for grapefruit, crisp apple, honey, almond, Lemon Heads, sourdough, and steamed rice flavors on a tannin-like dry crisp flow that bubbles in the palate. The great thing is the abundance of umami that fills each sip, and is far more real than those who claim it's in sparkling wine. WORD: Bubbly WINE: Sparkling wines BEER: Citrus Ales FOODS: Champagne fare. 

Emishiki "World Peace Nama"
From Shiga Prefecture. Junmai Ginjo Nama. SMV: -7 Acidity: 1.6
The nose on this unpasteurized version of the ever-popular World Peace is a great collection of apple, blueberry, Champagne grape, vanilla, oatmeal, and pie crust aromas. Smooth, round, soft, juicy, and very elegant for a nama this brew is like rich water. Look for alluring flavors such as pear, mango, apple, ripe peach, black cherry, rhubarb, and raisin that float on a silky flow. This is a stellar nama that is 3D awesome with loads of flavor but drinks smooth and silky. A classy Nama that excels in a wine glass. WORD: Smooth WINE: Rich reds/Creamy whites BEER: Creamy ales FOODS: Sushi, sashimi, mackerel steaks, fatty fish, salmon, and grilled veggies.