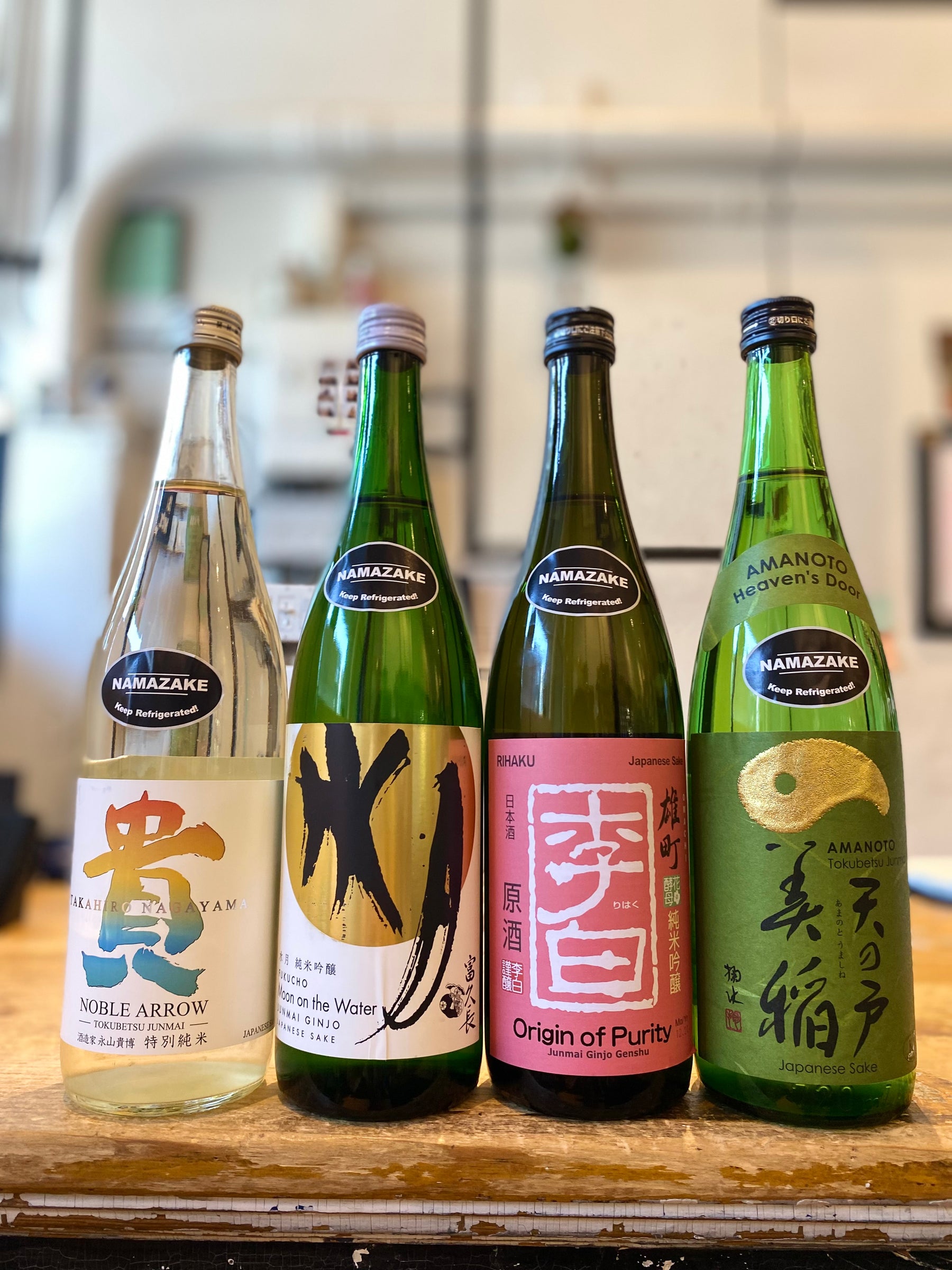 True Nama – It's Raining Namas!

Holy Moly it's raining Nama! Basically this is a record year for spring released seasonal unpasteurized and single-pasteurized brews and nobody is complaining. 
It wasn't that long ago that there were only two or three seasonal sake available in the Spring, and on last count we have 19 different limited released brews that just hit the shelves. And what a treat it is to taste freshly pressed sake that drinks exactly like you're dipping your glass in a freshly fermented tank of sake. 
The cool thing is that along with many fan favorites that have been coming year in and year out. We now have for the first time ever in the US brews that are so flavorful and fun to drink. Go on-line to shop our entire seasonal nama section, and best of luck in not trying them all. 
There are Namazake for everybody from the Honjozo geeks to the Daiginjo sluts and everybody in between. Each offering is a great representation of that brewery's best efforts to capture the flavor of spring in a bottle. And many are Nama Genshu, which means that they are food-pairing wizards. 
Get your Nama on now, because when they are gone they are gone until next year, and who wants to wait for 2023? 
Takahiro Taka Nagayama "Noble Arrow" 2022
From Yamaguchi Prefecture. Tokubetsu Junmai Nama. SMV: +2 Acidity: 1.6 
The nose on this seasonally released unpasteurized sake is a splendid collection of sugar, white grape, green apple, fresh cut grass, peppermint, and kiwi aromas. If you like it dry, zesty, and light, then this poolside brew is the Nama for you! Crisp, vivid, clean, and refreshing, it is quick on the palate with a quick finish. Look for grapefruit, crisp apple, grape, peach, young pear, mint tea, and steamed rice flavors on bright fluid with a cool mineral finish. This is the taste of fresh Yamaguchi just-pressed sake at its liveliest. WORD: Crisp WINE: Zesty Reds/Crisp Whites BEER: Zesty Ales FOODS: Yakitori, salty and savory fare, grilled anything, shellfish.
Fukucho Moon on the Water Nama 2022
From Hiroshima Prefecture. Junmai Ginjo Nama. SMV: +3 Acidity: 1.4
The nose on this fan-favorite unpasteurized seasonally released sake is a powerful collection of papaya, mango, apple juice, pear, pineapple, and other tropical fruity aromas. Winner Winner Chicken Dinner! This season's Moon on the Water drinks like the bomb, a beautiful fruit bomb that is juicy, spritzy, lively, and bright. Talk about elegant brashness. Look for fun lively flavors such as pear, apple, mango, pineapple, citrus, papaya, and pineapple licks on a fleshy fluid with peek-a-boo umami on the finish. So lively, so zesty, this flavor bomb is ready and waiting for your white wine glass and that perfect meal. WORD: Fruity WINE: Plump Reds/Frisky Whites BEER: Fruity Ales FOODS: Lobster, crab, shellfish, cheese and fruit plates, American sushi.
Rihaku "Origin of Purity" 2022
From Shimane Prefecture. Junmai Ginjo Nama Genshu. SMV: +3 Acidity: 1.7
The nose on this freshly released seasonal unpasteurized sake is a cool collection of mineral, burnt sugar, earthy, nutty, fireplace, and butterscotch aromas. Made with Omachi brewing rice, this brew is a big ol' adventure in a rich and full-bodied sake that speaks to those who like their brews bold, ricey, and impressive. Hearty red wine drinkers take note of the large, brash, rich, and vast feelings and flavors in this brew that drinks friendly and tasty. Look for cooked apples, tangerine, tart berries, dark chocolate covered almonds, zesty peach, and sea salt flavors that are bright and lively on the 17% ABV undiluted "genshu" flow with a big mineral finish. There is so much going on that each sip is like a jubilant circus, and each swallow is like turning another page in your favorite book. WORD: Full-Bodied WINE: Deep Reds/Full Whites BEER: Stouts FOODS: The Kitchen Sink! Works well with international spice, street food, and American sushi.
Ama no To "Heaven's Door" 2022
From Akita Prefecture. Tokubetsu Junmai Nama. SMV: +4 Acidity: 1.5
The nose on this limited and specially released seasonal unpasteurized "Nama" is a mild collection of green apple, grape, green grass, and steamed rice aromas. In a word, this "new" or "fresh" sake is bright, crisp, lively, and brash. Heaven's Door is very much in this realm of clean drinking and zesty sake that zips through the palate in a dry and crisp fashion leaving your senses peaked and charged for layers of green flavors such as kiwi, Granny Smith apple, green grape, young melon, and persimmon. There is a little tingle in each sip reminding you that this sake is as fresh as it gets with hints of young pear and a subtle astringent "Shibumi" that speaks to wine drinkers. It's a lively and gripping glimpse into freshly released sake that is made to tingle the senses and hit all of those fresh flavors that only rice and water can achieve. WORD: Fresh WINE: Zesty Reds/Crisp Whites BEER: Crisp Ales FOODS: Oysters, shellfish, Yakitori, grilled anything, salty and savory, American sushi.
Koshi no Homare "Kura no Homare" 2022
From Niigata Prefecture. Junmai Daiginjo Muroka Nama Genshu. SMV: +3 Acidity: 1.6
The nose on this unpasteurized Junmai Daiginjo is a great collection of cherry, pear, apple, white pepper, herbal, wheat, and tropical fruit aromas. Wow! This is a superb fruit-forward Daiginjo that actually drinks more rich than sweet, with layers of spritzy and sexy flavors that float on a fluid that has weight, but drinks light. Stunning stuff that can almost be called "Beefy Elegance." Not your typical high-end sake. It is round, smooth, juicy, fleshy, and viscous, with a spritzy pop. Look for honey, pear compote, mango, honeydew melon, banana bread, and lots of tropical fruit flavors with a tingly grape and mineral finish. This is one of those brews that drinks dryer than you would think, and has a killer body. WORD: Delicious WINE: Fat Reds/Fruity Whites BEER: Fruity Ales FOODS: Champagne fare, lobster, crab, caviar, sushi, sashimi, and cheese plates.
From Miyagi Prefecture. Tokubetsu Junmai Nama. SMV: +1.5 Acidity: 1.6
The nose on this unpasteurized seasonally released brew is a fun collection of berry, purple plum, mineral, corn, hay, cherry, and steamed rice aromas. Yes! An excellent Shiboritate that is calm, controlled, rich, and tasty from one of our favorite brewers. This is NOT a wacky and spastic nama that is all edges and brash, rather it is balanced and very flavorful. Smooth, ripe, clean, crisp with a little tingle, the strength of this sake rests in its rich confidence. Look for cherry, berry, plum, apple, pear, mango, Asian pear, and sweet rice flavors that travel on zesty light flow that is not too aggressive. Velvety with deep cooked fruit tones, this brew is all about the feeling and lovely flavors. WORD: Rich WINE: Deep Reds/Fat Whites BEER: Belgian Ales FOODS: Seafood, sushi, rich fare, meats, grilled fare, oysters.
From Yamagata Prefecture. Tokubetsu Junmai Muroka Nama Genshu. SMV: -8.5 Acidity: 1.9
The nose on this impressive unpasteurized seasonally released sake is a mild collection of pear, plum, snowmelt, and steamed rice aromas. If you like it fat, fun, and juicy, then this Nama is for you. Thick, smooth, round, and very full, this brew is all about body and flavors. Basically, it is ricey sweetness at its best. Throw in an 18% ABV and you're talking about a raw sake that drinks semi-sweet, but not gooey. Look for white chocolate, honey, simple syrup, honeycomb, graham cracker, sweet tomato, and rock candy flavors on a fluid that is vast and very fun. This sake is unlike the other seasonally released brews in that it has a big feeling and equally big flavors that dance on the sweet side, which makes this super user friendly. WORD: Sweet WINE: Fat Reds/Juicy Whites BEER: Fruity Ales FOODS: International spice, street foods, beach tacos, curry, shellfish.
From Shizuoka Prefecture. Tokubetsu Junmai. SMV: +5 Acidity: 1.3
The nose on the spring-released single pasteurized sake from one of our favorite breweries is a very mild collection of cherry, apple, Asian pear, and steamed rice aromas. This lightly pasteurized sake is as clean, light, and gentle as sake can get. It is dry and crisp and very light through the palate. Can sake be refreshing? Well, this brew is and it's elegant as well. Think cherry blossom viewing, think picnics, and think sake by the pool, and you will think Oniotome. Perfect for those warm spring nights chilled in a white wine glass. WORD: Gentle WINE: Soft Reds/Light Whites BEER: Light Beer FOODS: Sushi, sashimi, very light fare, picnic fare.