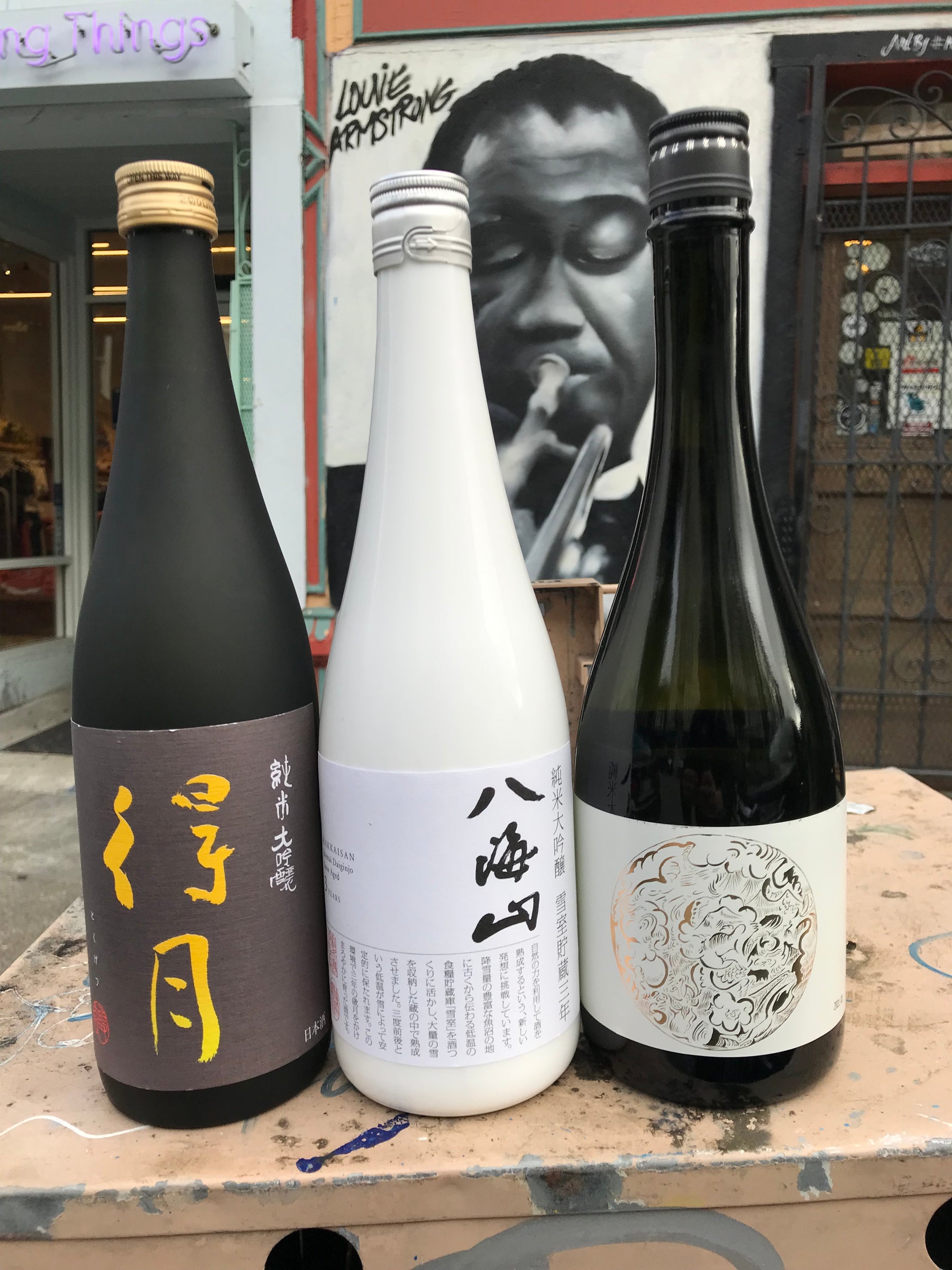 New Store Arrivals – Tokugetsu, Hakkaisan Snow Aged, Kojiyama Cedar Aged
From Niigata Prefecture. Junmai Daiginjo. SMV: +2 Acidity: 1.2 
This seasonally released brew is the "step above" sake from the makers of Manju and Hekiju (Kubota). The nose on this sake is a wonderful collection of apricot, mineral, koji rice, wheat, and nougat aromas. Each grain of the special brewing rice – Yuki no Sei - has been milled to 28%. Tokugetsu is perhaps one of the cleanest, water-like sake on the planet. A "phantom" sake where you do not remember swallowing. The watery feeling and taste is amazing, and deep within there is a layer of fruit tones and a vein of nougat with layers of umami goodness. Asahi-Shuzo only releases this sake in the Fall to celebrate the Harvest Moon, when it's gone you will kick yourself for another year. WORD: Crystal Clean WINE: Soft reds/most whites BEER: Ales FOODS: Oysters, sashimi, shellfish. 
Hakkaisan Yukimuro Snow Aged 3 Year
From Niigata Prefecture. Junmai Daiginjo. SMV: -1 Acidity: 1.5
The nose on this sake that was aged in a traditional cooler that uses snow for year-round temperature control is a chill collection of melon, green apple, powdered sugar, citrus, Asian pear, and floral aromas. Why age sake for three years in a snow box? Why not? This fan favorite sake is back by popular demand, and for good reason. Say hello to a brew that is confident, balanced, and relaxed; and that's why they age it for three years to get that special feeling. Smooth, round, viscous, and chewy, this full-bodied sake is layered, complex, and drinks like an open mouth snowflake catch. Look for lush deep flavors like nougat, cooked apple tart, pear confit, honeydew, and apricot tones. The feeling steals the show, and the snowmelt finish reminds you that this brewery has excellent brewing water from all of that Niigata snowfall. WORD: Smooth WINE: Pinot Noir/White Burgundy BEER: Belgian Ales FOODS: Rich cuisines, full-bodied flavors, grilled everything, salty and savory.
Kojiyama Cedar Barrel Aged "Untitled" 
From Yamagata Prefecture. Blend Junmai Taru. SMV: N/A Acidity: N/A
The nose on this one of a kind sake that is made in one of the oldest breweries in Japan is a slick collection of ash, apple, cedar, candy, citrus, lemon custard, and smoky aromas. Talk about a unique sake. This brew is so unique that it doesn't have a name, but it does have a proprietary brewing style that they call the "Four Step" method that includes brewing old-school Junmai sake in a new way, adding Kijoshu, and aging it in Cedar to make a liquid wonder that creates a totally new sensation in the sake world. Sweet but light! How do they do that? This brew should drink fat and gooey, but no way! At 13% alc it drinks smooth, light, and fluffy. With a little effervescence and some spritzy-light qualities this sake stands alone, because it is buoyant and easy. Look for green apple, cinnamon, orange slice, lemon taffy, mineral, and sweet rice flavors void of cedar or woody notes, which is pretty damn cool. Just like this sake! Tingly, balanced, and so fluffy light this clean brew is truly a work of wonder. WORD: Trend Setter WINE: Zesty Reds/Citrus Whites BEER: Citrus Ales FOODS: Oysters, salads, light cheeses, shellfish.