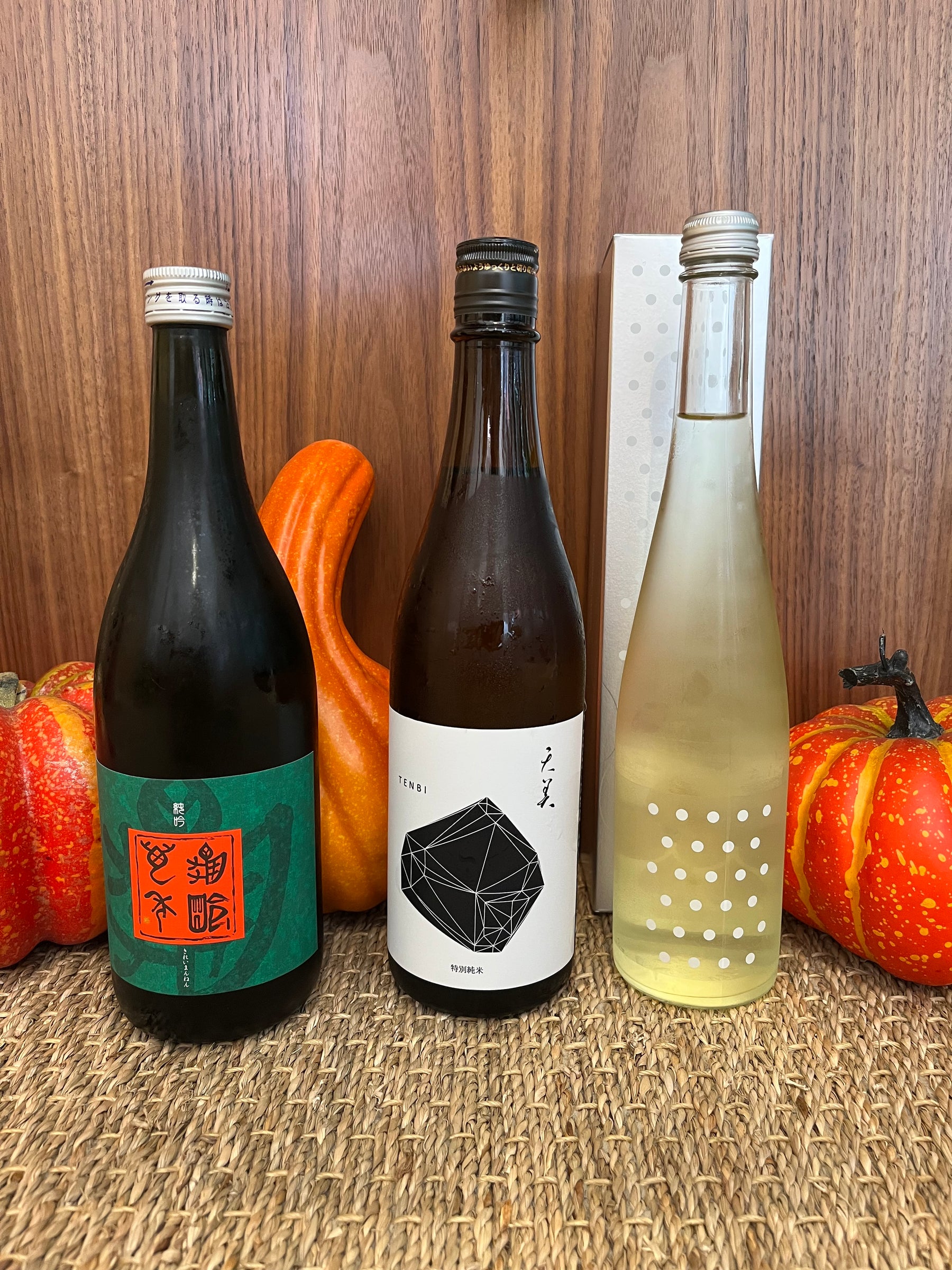 New Store Arrivals - Kirei, Tenbi, Mimurosugi, Otokoyama Sparkling
Kirei "Mannen"
From Hiroshima Prefecture. 
Junmai Daiginjo Nama Genshu.
SMV: N/A Acidity: N/A 
The nose on this unpasteurized Junmai Daiginjo is a unique collection of 
mint, raisin, cotton candy, sunflower seeds, grape, sourdough bread, and 
melon aromas. Complexity in sake is a good thing. Balanced complexity is 
a great thing. Say hello to one of those 
"thinking-while-drinking"
 sake 
experiences. Slippery, silky, rich, round, chewy, juicy, meaty and dry, 
the movement of this sake is a thing to behold. So much flavor with so 
much feeling and a very quick finish for all of that. Look for apple 
pie, cookie dough, dark bread, nectarine, raisin, pear, watermelon, 
mint, crème brulée, and caramelized sugar flavors that jump between 
creamy and savory moods, with a little bit of astringency and 
lots of umami. It sort of sounds like crazy sake, but they called 
Einstein crazy too! This is an extremely popular sake tasting sake, and 
our customers would know. 
WORD:
 Complex 
WINE:
 Beefy Reds/Meaty Whites 
BEER:
 Creamy Ales 
FOODS:
 Almost everything from crabs and fatty tuna to 
yakitori and pork chops.
Tenbi
From Yamaguchi Prefecture. 
Tokubetsu Junmai.
 SMV: N/A Acidity: N/A
The nose on this very popular "new world" 
Junmai
 is a clever collection of 
cherry, kiwi, young melon, raisin, cotton, cucumber, and steamed rice 
aromas. We haven't met Master Brewer Miki Fujioka yet, but when we do we 
will tell her that she makes great sake with such attitude and style 
that "oxidizes" great! Effervescent, zesty, edgy, chippy, and crisp, this 
brew drinks like a fresh tingle factory. That's her style! And to show 
you, check out the gazillion little bubbles that stick to the sides of 
your wine glass. And get a taste of those flavors from pear, apple and 
white crispy grapes, to ginger, kiwi, and steamed rice. This is a "new 
world" Junmai that is frisky and fun, and a bubbly affair that drinks 
great after several days of oxidizing in the fridge. Expressive and 
zesty sake that has a sneaky structure and is solid enough to pair with 
pizza. 
WORD:
 Expressive 
WINE:
 Zesty Reds/Crisp Whites 
BEER:
 Crisp Ales 
FOODS:
 Pizza, comfort foods, izakaya fare, and grilled anything.
Mimurosugi "Yamadanishiki"
From Nara Prefecture. 
Junmai Daiginjo.
 SMV: +1 Acidity: 1.8
The nose on this very popular 
Junmai Daiginjo
 is a wicked collection of Muscat, 
pear, orange, cake frosting, grapefruit, mango, and a touch of cream 
aromas. Rich, bright, crisp and very active, this brew plays on many 
themes of excellent sake-making from a perfect amount of  
astringency, to a kire "quick finish" with lots of tannin-like dryness 
amongst the Yamadanishiki fruit tones. Smooth, light in the palate, and 
a little juicy, look for lychee, strawberry, Asian pear, grape, mango, 
raisin, and a hint of citrus like lemon water. It is both very complex 
and very drinkable. As the fluid warms in a wine glass, more acidic 
attitude presents itself which gives it a very "sushi counter food 
friendly" feel. 
WORD:
 Professional 
WINE:
 Citrus Reds/Crisp Whites 
BEER: 
Very Crisp Ales 
FOODS:
 Sushi, sashimi, clean fare, and Champagne fare.
Otokoyama "Kita no Inaho" Sparkling
From Hokkaido Prefecture.
Sparkling Sake.
SMV: -73 Acidity: 3.7
The nose on this very cool sparkling sake is a gentle collection of potpourri, orange zest, lemon water, peach jam, yogurt, and 7-Up aromas. Say hello to a feel good sparkling sake made with Hokkaido's famous Ginpu rice varietal that drinks creamy, round, and rich but is light and nicely balanced in a Champagne flute. Soft, sticky, and off-sweet there are a ton of citrus flavors with round and creamy bubbles that are chewy and delicious. Look for tangerine, papaya, Lemon Heads, lemon pie, creamsicle, granny smith apple, yuzu, and orange zest flavors that drink bubbly and like a creamy mousse. Low in alcohol at 7% this is an elegant and fun starter sake or an after dinner brew that touches all those sweet spots in a creamy and clever way. 
WORD:
 Citrus 
WINE:
 Sparkling wines 
BEER:
 Citrus Ales 
FOODS:
 Champagne fare, 
foie gras
, oysters, shellfish, citrus based fare, and cheese and fruit plates.