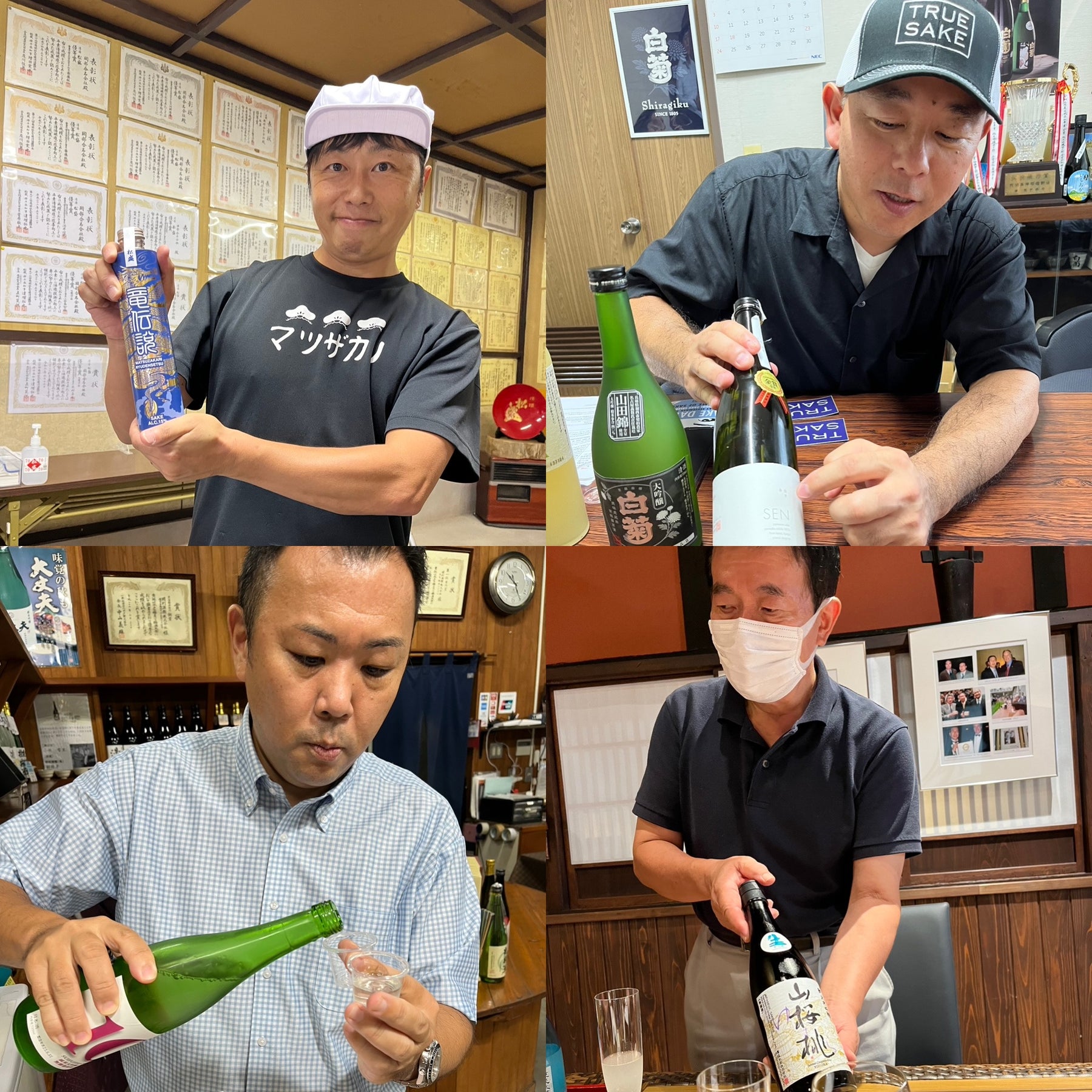 Sake Places – Say Hello To Ibaraki Sake
Have you ever "speed-dated" in Ibaraki Prefecture? I have, and it was sort of awesome. And by speed-dating, I mean a pre-arranged Ibaraki government trip that had me go to eight sake breweries in just over two days. Yup, something I actually loathe doing because you can't really determine the soul of a sake brewery on a sprint through the facility. But we did it, and the "net-net" was a newfound understanding and appreciation for Ibaraki sake.


I have only been to Ibaraki once before, and it was actually traversing the landscape to get to another prefecture. So, what I discovered is a truly amazing prefecture that is rich in many things from culture and landscape, to amazing sake achievements that resonate so well in the sake world, but aren't really known.

This is how it happened. I flew to Japan on a Monday, arrived Tuesday evening, went to three breweries on Wednesday, three breweries on Thursday, two breweries on Friday and flew back to San Francisco getting in on the same Friday. Speed-dating, I told you!

The best way to describe my understanding of Ibaraki sake is to tell you my mindset of going to each brewery, and watching as "mini-themes" kept presenting themselves. And trust me when I say that I always ask, "In your mind, what is the style of Ibaraki sake, and what is the style of your sake?" I really truly looked for themes and characteristics that the consumers can rest their hats on when thinking about a certain prefecture's sake. In some prefectures, it's blatant and very obvious and in others, it's nebulous if any themes or traits exist at all. For example, there is very little theme or characteristics in Tochigi Prefecture sake, as they self-admit, "We all do things differently!"

For the sake of brevity, I will just free flow some thoughts and put down things that impressed me, and that you should explore now or do so when we get these Ibaraki sakes in stock (if that ever happens).
In 1865, the brewery called Tsukinoi commenced making "purely weather fermentation" sake near the oceanside. We've sold their sake for a very long time, and are friends with the family, who firmly believe in all organic sake to the "nth" degree. Their brewery is near the sea, so it never gets extremely cold. In fact, most of the sake is made in warm conditions, which they say gives their brews a firmer structure and perhaps a bit more masculine feeling and flavor. And what's funny is that their sakes change just a little when the weather fluctuates. Their style is very "natural sake that is ingredient and weather driven," and as a gift, they presented me with a bottle of sparkling sake that is meant to be consumed at room temperature or even slightly warmed. And they are starting to use more local rice varietals. Hint!
Next, we visited the way back machine to the absolute oldest sake brewery in Japan, which is not Kenbishi but rather Sudo Honke, with a documented starting date of 1141, and the current owner is a documented 55th generation family member. So, now you know that Ibaraki has the oldest sake brewery in Japan. We used to sell their sakes at True Sake, but they are no longer exporting for a myriad of reasons. I had always wanted to see this
kura
, because I have known Sudo-san for over 20 years, and he used to tell me about the ancient pine trees on his property that protects the brewery from harsh winter winds, and the roots help filter their "magic water" that they use daily. I guess the theme of Sudo Honke sake and Ibaraki sake would be the lineage of Firsts – the first nama, the first hiyaoroshi, etc. We look forward to having this brewery's efforts back in the US soon. 
One of the highlights of the trip was to meet one of my sake heros – Nobuko Inaba, the Owner and Toji of Inaba Shuzo, makers of Stella (which is one of Mei's favorite sake). Talk about a picturesque little brewery with a really cool story. From an office worker, to wanting to go back to her family's brewery to start making sake for the first time, Nobuko has a style and sake magic about her. Along with her husband Yoshitaka, these two have taken small-batch
shizuku
sake to new heights, and they are very in the Ibaraki "theme" vibe using local rice from their valley, and of course Ibaraki kobo (yeast). When I asked what percent of sales went overseas she said 18%. I then asked what about to Tokyo, and Yoshitaka quickly said,
"82% stays in Ibaraki, we don't want our sake in Tokyo."
Awesome! I loved that, it showed local pride and tremendous independence. 
Lastly, Nobuko taught me that the shizuku "drip" sake also has three different grades within each hanging bag. Of course, there is the free run or 
arabashiri
, and then she gathers at two other times for clarity and "more clear taste." In fact, the board on the wall in their small sake shop has each shizuku tank (shikomi) with a number and letter representing where within the shizuku bags you want to taste. Pretty amazing, and that pretty much sums up Inaba Shuzo.
Sadly, we had to literally run through Hirose Sake Company, makers of Shiragiku sake born in 1805. A very cool brewery that makes excellent sake in the hands of owner and toji Keinosuke Hirose, who was so low key and cool that I thought I was just talking to a sake enthusiast. His brewery is very low key as well, but their sake is anything but low key. And Hirose-Toji is all about being a part of the Ibaraki sake theme. This was also a very small brewery with only 3 other kurabito, who all specialized in small batch sake using local ingredients. There is a chance his sake will come to the US, because a very large ramen chain has approached them to export several of their products including "Sen" Junmai Daiginjo that is out of this world. I will work very hard to get this and their other products in store. 
Ibaraki prefecture is lucky to have Kiuchi Brewery! This is a powerhouse brand and they are known the world over for their Hitachino Nest beer, their Gin and Whisky, but the brewery started as a sake brewery first called Kikusakari. I am very lucky to call Toshiyuki Kiuchi a friend and his brews were some of the first sakes sold at True Sake. He is a machine. He is pure fire and enthusiasm and he is all about Ibaraki. The theme of Ibaraki sake can be found at his kura, which uses local ingredients and is very proud to wave the Ibaraki banner. His daughter Megumi will one day take over and continue their very impressive passion for Ibaraki sake and all those other libations. 
En route to the airport we went to two very cool breweries – one very small and the other larger and far more noteworthy for being home to the sake brewing yeast called "Meiri" (M-310) and Association #10 yeast. Again and sadly we really had to fly through these breweries and oh there was a typhoon all day long. So it was a little distracting being in two cool breweries small and large with winds whipping and rain blasting down. 
When I first met Akihiro Okabe, the Toji and owner of Okabe Sake Brewery, makers of the Matsuzakari brand, I knew immediately that I wanted to be his friend. I seriously said that this guy would be fun to know and would be a good drinking buddy. His brewery is small with only 4 kurabito including him and he's the 6th generation owner of the kura founded in 1875. International markets only make up 1-2% of sales and that is why this brewery was on my schedule. And to a word this brewery represents the heart and soul of the majority of Ibaraki breweries that are small and truly focused on using Ibaraki yeast with very local rice and of course water. He is very proud of Ibaraki and he is looking at exporting to the US in the very near future. Akihiro-San is also a bid of a madman as he has a product that is made with river water and then stored in small bottles in the exact river for 6 months to a year. These bottles literally go through seasons underwater in the river, which of course undulates and moves the brew within the bottle in the very cold water. Pretty cool just like him, and I cannot wait for his sake to be in the US.

Lastly and perhaps most importantly, the typhoon and timing of the trip brought me to the very large and very corporate Meiri Shurui Co. Talk about a power house for Ibaraki, this brewer developed two of the most used brewing yeasts in the sake market. The first is the famous Association #10 and the second is the more recent but wildly popular M310 produced for sale in 1995 available via the brewery and the Ibaraki Prefecture Food Research Institute. The IPFRI is a very important player in the Ibaraki sake scene as it helps all the small Ibaraki breweries with their yeast-using techniques and can be considered a very powerful thread in the fabric of Ibaraki sake. My favorite part of the entire trip to Ibaraki was the 20 minutes that I was able to talk with the Chief Yeast Guru at Meiri, who I can best describe as one of the characters in the Big Bang Theory – nerdy but so cool! Meiri sells a few products in the US, but I encouraged them to push a few more our way. They sort of have a branding problem that could use some tweaking to make a bigger distinction and a tighter brand for the hallmark Ibaraki sake. Then we raced to the airport.

If you want a recap and the true "Theme" for Ibaraki sake then come to the store and we will show you!