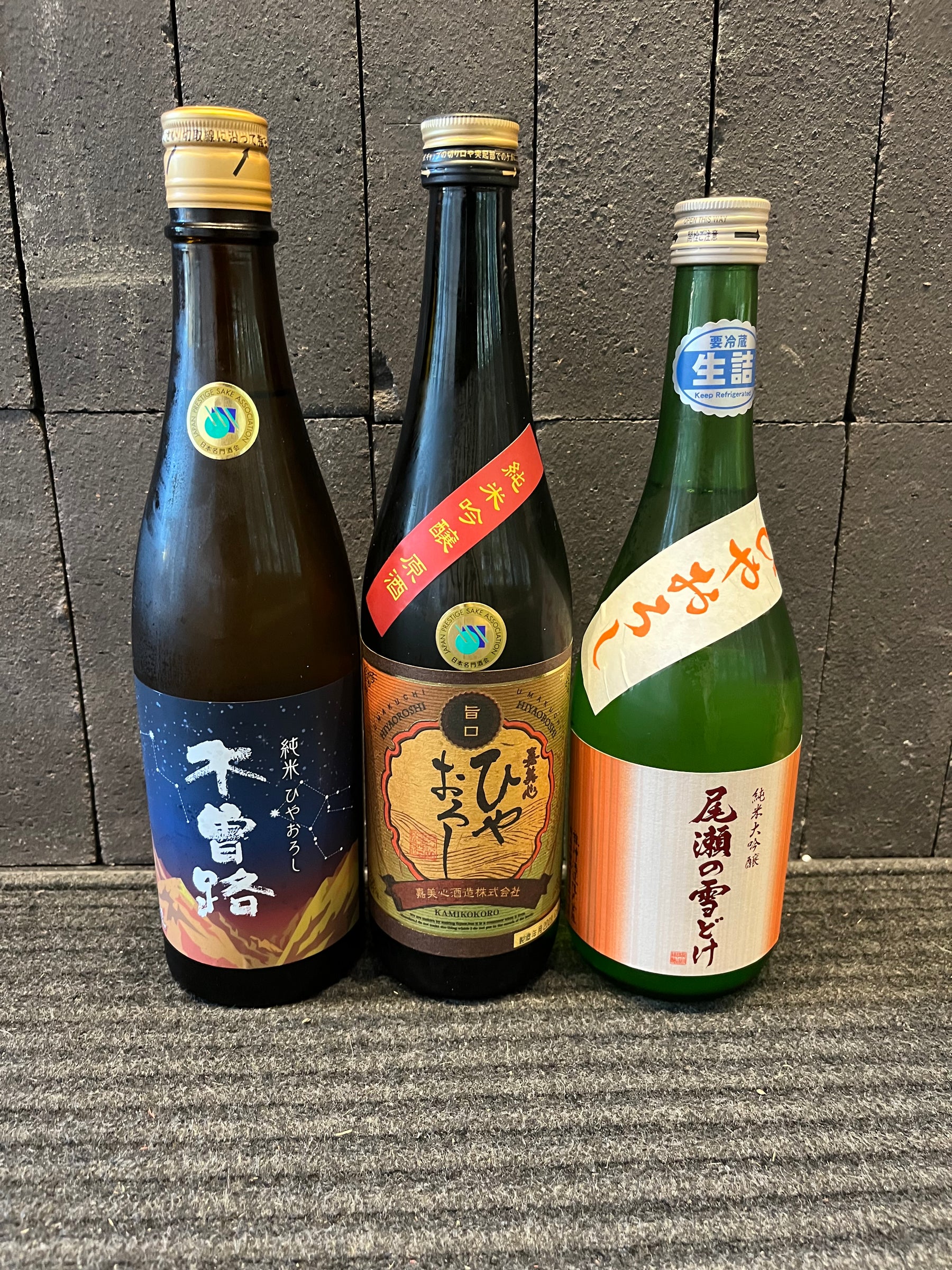 Sake Season – Fall Draft Sake Called "Hiyaoroshi" Beckons
I track how popular sake is becoming in the west by several barometers other than just sales. One way to determine how the west or International sake "gets it" is by how many different seasonally released sakes make it to market each season. Last year, True Sake offered 17 different Hiyaoroshi, or seasonally released single pasteurized brews specifically made for the rich cuisines of autumn. That was a record. And it looks like this year, there will be more. Awesome!
Hiyaoroshi sake is pretty cool, and actually it can be served at three different temperatures in most cases. Traditionally, fall draft sakes were more umami driven with lots of savory characteristics. But some offerings today are bright and fruity, and drink more like a spring nama. Please by all means, give us a call and we can walk you through the wide variety of feelings and flavors. Personally I enjoy smooth, rich, round and savory brews that match deep and rich fish and cuisines of the fall.


Herewith are a few of the first flights of Hiyaoroshi brews to land at True Sake – enjoy!
From Nagano Prefecture. 
Junmai Genshu Namazume.
 SMV: -1.9 Acidity: 1.7
The nose on this seasonally released single-pasteurized sake is an elegant collection of peach, pear, cucumber, cinnamon, and banana bread aromas. The first of the Fall Draft sakes is a very frisky Hiyaoroshi brew that is lively and very bright in the glass with a fruit forward personality and a tannin-like dryness that would appeal to wine drinkers. Look for peach and other stone fruit flavors with underlying elements of Asian pear, ginger, cinnamon, blueberry, and a hint of umami on a zesty and lively flow that is brisk and refreshing. This is very bright and flavorful seasonal sake that would love your favorite fall flavors including pumpkin pie. 
WORD:
 Lively 
WINE:
 Zesty Reds/Crisp Whites 
BEER:
 Crisp Ales 
FOODS:
 Grilled chicken and fish, rich sweet fare, Fall salumi and cheese plates, and ponzu or vinegar dishes. 
Kamikokoro Umakuchi Hiyaoroshi 2023
From Okayama Prefecture.
 Junmai Ginjo Genshu Namazume.
 SMV: -5.5 Acidity: 1.5
The nose on this seasonally released single-pasteurized brew is an awesome collection of raisin, cream, corn bread, fig, sweet corn, berry, and toasted rice aromas. Bingo! This is a jamming Hiyaoroshi sake that is super layered, round, rich and savory with a full-bodied attitude but drinks light and semi-creamy. Think of a more traditional Namazume that is umami driven with lots of creamy and savory tones and appeals to deep red wine drinkers that love complexity in a round and soft brew. Look for oatmeal, honey, molasses, Hawaiian sweet bun, zucchini bread, doughnut, and maple syrup flavors that glide through the palate with a ripe persimmon finish that is quick and tasty. 
WORD:
 Savory 
WINE:
 Pinot Noir/White Burgundy 
BEER:
 Creamy Belgians 
FOODS:
 Salty, savory, oily, grilled, fried everything, comfort foods, and seasonal turkey dinners. 
Oze no Yukidoki Hiyaoroshi 2023
From Gunma Prefecture. 
Junmai Daiginjo Namazume
. SMV: ±0 Acidity: 1.5
The nose on this single-pasteurized seasonally released brew from one of our favorite breweries is a cool collection of peach, citrus, pear, ginger, grape, and mineral water aromas. Say hello to a fall favorite sake that is all things fruity, bright, and lively. This Hiyaoroshi drinks on the refreshing side that is silky, medium-body, expressive, and a little watery in texture with a very short finish. Look for peach, cotton candy, grapefruit, rock sugar, apple, dark chocolate, nectarine, and sweet rice flavors that jump and jive in a wine glass. This is a great example of a fruity sake that doesn't drink sweet, and it is a great way to ring in the fall. 
WORD:
 Silky 
WINE:
 Fruity Reds/Silky Whites 
BEER:
 Clean Ales 
FOODS:
 Champagne fare, shellfish, seasonal crab, fatty white fish, grilled chicken and trout, and smoked white fish.