SAKE DAY – Help A Special Brewery For SAKE DAY (UPDATE)
In the last Newsletter we had the following article talking about the best way to find a little happiness on October 1st since we had to cancel SAKE DAY. Essentially we gave you a code to get 20% off our products from the Takenotsuyu Sake Brewery in Yamagata Prefecture. Let's just say that a lot of you SAKE DAY fans took advantage of this offer, as a lot of Takenotsuyu has been flying out the door.
When we told Masao Aisawa from Takenotsuyu he sent us a thank you video standing in one of his rice fields. Click the link to watch the video, and by all means take advantage of this awesome discount. It will be a good thing to drink good sake with good virtual friends on SAKE DAY.
And then stay tuned for SAKE DAY 2021 by saving the date!  
Since we had to cancel SAKE DAY'20 it doesn't mean you can't do something a little special for "Nihonshu no Hi" the day of sake.  Remember that every October 1st in Japan breweries recognize this day as the beginning of the brewing season and hold little celebrations honoring sake and the job at hand.
Over a decade ago we decided to honor this day as well and we created SAKE DAY, which is the longest standing celebration of this special day and quite frankly one of the largest as well! (Even in Japan)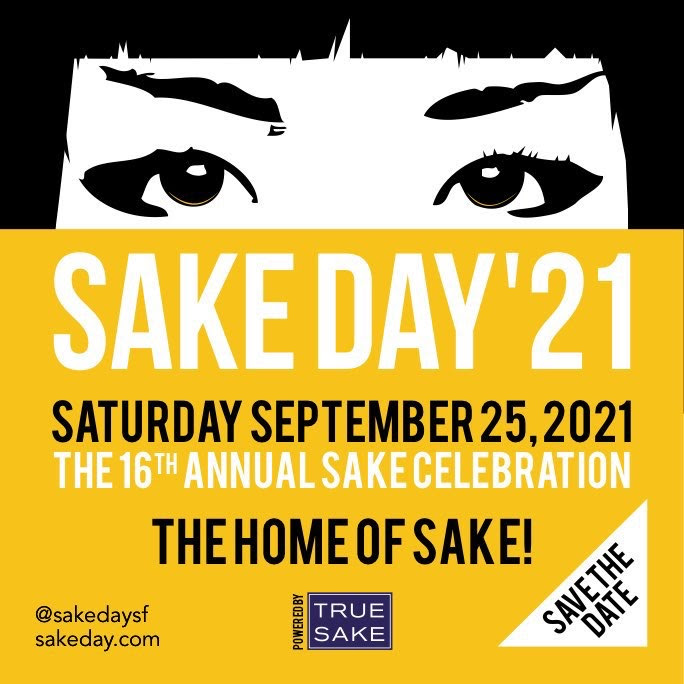 This year we had to cancel our 15th Anniversary of SAKE DAY, but let's keep the magic alive. Even if you are sheltering in place - in quarantine - in a mask you can still celebrate this special day!
In honor of October 1st during this horrible pandemic we wanted to pick one brewery that epitomized the SAKE DAY "Spirit!" And that Kura is Yamagata Prefecture's Takenotsuyu Sake Brewery.
At one of my first events in the sake business I met the man who loves promoting sake. I saw him at a food and beverage show in Sacramento 17 years ago and he stood out as a totally passionate sake man. His booth was superb. He was wearing full kimono gear, had a great line-up of his sakes, he even had samples of his brewery's amazing brewing water, and he was smiling!
President Masao Aisawa has been one of the longest standing brewery attendees to SAKE DAY and we are proud to honor his excellent brewery on October 1st. Masao-San embodies all aspects of the goal of SAKE DAY to educate, fascinate, promote, and enjoy sake on all levels!
To this day Masao-San brings that passion and respect for Nihonshu to every SAKE DAY, and for that we feel it would be awesome to promote his brewery as a SAKE DAY pandemic special, so you can enjoy his fabulous sake on October 1st.
From now until September 30th you have a chance to purchase Takenotsuyu products for 20% off using a special code. When checking out of truesake.com use the code and then be certain to drink Takenotsuyu sake on October 1st to honor SAKE DAY and the very hard working sake breweries that are struggling during these difficult times. (The code is SAKEDAY. Extended! Valid until 09/26/2020!)
Thank you for your support of Masao and Takenotsuyu and thank you for keeping the spirit and passion of SAKE DAY alive during this canceled event. And please be certain to check out Instagram @sakedaysf as we change logos and prepare for SAKE DAY'21!