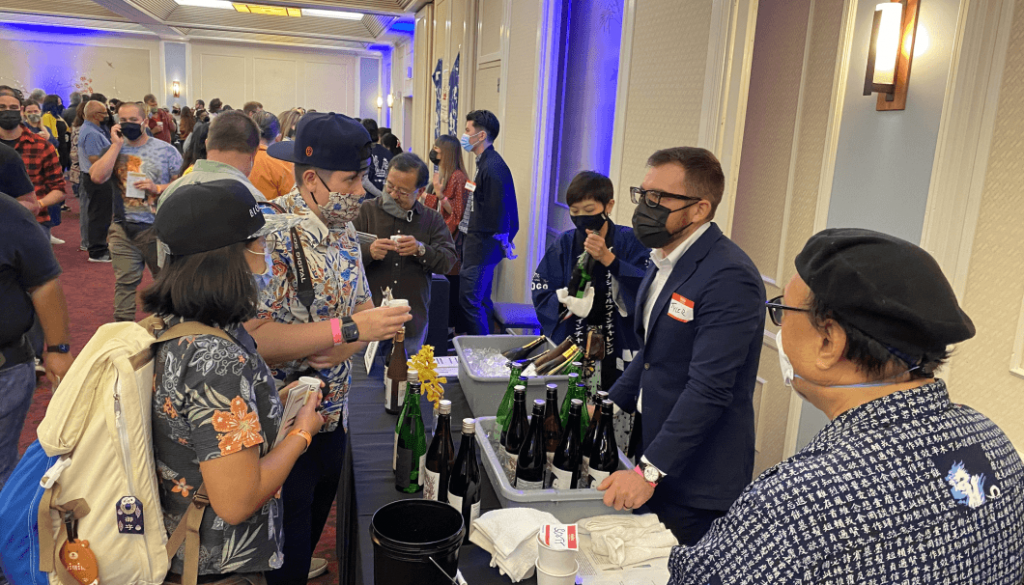 SAKE DAY 2022 – Last Call For Alcohol
Hey Dear True Sake Newsletter Readers this is our classic warning that tickets are almost SOLD OUT and we want you to have the best look at SAKE DAY 2022 – the 17th Anniversary of the best day in sake! You know what it is, after all of these years attending and reading about it here. BUT, sometimes some of you hesitate purchasing tickets and then you call, fax, email, smoke signal us begging and pleading when it is SOLD OUT. We can't make exceptions, even for you awesome folks. 
So, don't forget! Do it now. Heck, if you can't attend then send a friend as a present or gift! Gift somebody an outstanding sake tasting that plugs them directly into the freshest, largest, and most passionate sake event where they can order whatever they like for FREE DELIVERY IN CALIFORNIA!
And we have more insight as to what awesome brewers, importers, distributors are throwing down: 
East West Wine (Sake) with Satoshi Tanaka and Eduardo Dingler will be hosting two tables this year. The first will be loaded with Ima Tsukasa, Benten Sawane, Harada, and Takachiyo (One of our favorite breweries that launched at SAKE DAY) The second table will feature two owners of sake breweries in Niigata Minakata and Katafune.  Minakata-san has been to two SAKE DAYs and will be pouring three of his brews, and Takeda-san from Katafune is a SAKE DAY Superstar veteran, who also is the top brewer in IWC Trophy History, and will be pouring 4 or his brews including his new Junmai Ginjo 13. 
Jesse Pugach from Fifth Taste is not only a veteran attendee, volunteer, and true friend of SAKE DAY, he is also distributing sake now, and will host the most tables at SAKE DAY '22. Yay Jesse! His table in 2021 was the most popular. With Six tables featuring Heiwa Shuzo (Kid), Kuheiji, Matsunotsukasa, Kodama (Tenko), Floating World (Importer), and Sake Suki (Importer) this station is not to be missed! You actually may want to start here, hint hint. 
Sake Tengoku with Julie Bath will be throwing down one of the most unique sake at SAKE DAY, Tsuji Zenbei, which is made with wine yeast. They also will feature Jozen Hiyaoroshi "Fall Draft" sake, Gunma Izumi, Aizu Chujo, and Sawahime winners of the IWC Grand Champion Trophy in 2022. 
There will also be several new Prefectural tables that will feature sake from Akita, Hyogo, and Kobe specifically. 
Japan Prestige will host a table that has some killer brews including Kikuhime's three year aged Daiginjo KuroGin and the new to the US Daruma Masamune 2014 Koshu from the brewers who are called the best aged sake makers in the business. 
And. Wait for it! There will be one very off the radar table called New Trend Sake that will feature some of the hottest cult labels in Japan that are not currently exported to the US. This table will rock. 
We will also honor Tamiko Ishidate as the 2022 International Sake Soul of the Year. Tamiko has left an indelible mark on the sake scene in the Bay Area and the US, and she has been such an important partner with SAKE DAY going back to our humble beginnings.
And so it is a humble award for our most humble friend. Way to go Tamiko!
Lastly, we will also pay tribute to Mr. Ataru Kobayashi who passed away this year. Ataru epitomized SAKE DAY to its essence. He was SAKE DAY. All who he spoke to and poured for at SAKE DAY felt his enthusiasm and passion for sake. And we absolutely know that you would recognize our dear friend who was small in stature but HUGE in love for all things sake. When you are at SAKE DAY or at home don't forget to take a picture of sake with the hashtag #toast2Ataru