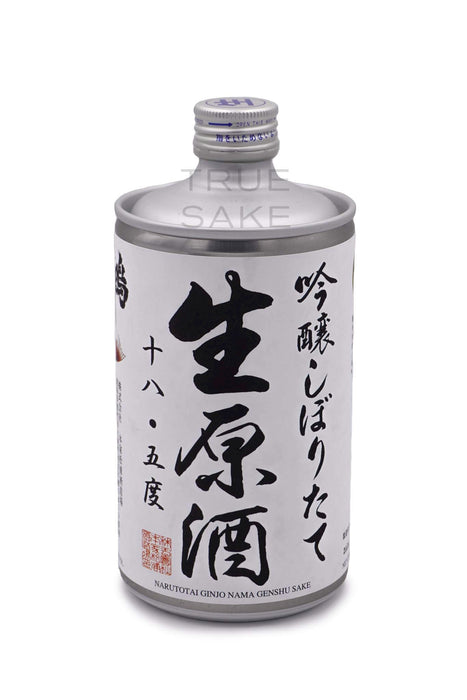 Narutotai Ginjo Nama Genshu "Red Snapper"
Original price
$39.00
-
Original price
$39.00
*NOTE: This sake is unpasteurized. We can ship unpasteurized sake, however it is at the customer's discretion. It's best to avoid shipping unpasteurized sake during extremely hot summers or freezing cold winters. When completing a purchase of unpasteurized sake from True Sake, you are giving us the OK to ship unpasteurized sake to you. Feel free to call or email us if you have more questions.
We used to refer to this wonderful can as "Beau-shu" because the owner, Beau Timken, discovered this sake on a trip to Tokushima Prefecture to visit this brewery. It was an exclusive sake at True Sake for the the first year in the United States, but we wanted everybody to enjoy this super special sake. Today, it is one of the top imported unpasteurized sake. It is a signature Genshu or undiluted (18.5% ABV) sake with fruity licks, but dry tricks. The perfect "semi" sake that is semi-dry, semi-sweet, semi-bold, semi-thick, and semi-rich, but fully fun!  Round and tingly, this sake has deep rich pear, white grape, and melon tones, with a hint of citrus and rock candy. Lively, brisk and zesty, "Red Snapper" drinks with a crisp attitude that appeals to all wine lovers. Truly one of the best selling sake in True Sake history! It was the first brew that we simply could not keep on the shelf! If you see a can, you should grab it quickly. WORD: Superb WINE: Zesty Dry Reds/Crisp Whites BEER: Crisp Ales FOODS: The kitchen sink! Super food friendly. Updated 2019/02
~!~!~!~!~!~!~!~!~!~!~!~!~!~!~!~!~!~ 
Vivid, voluptuous and vibrant sake... in a can? You bet! This exclusive unpasteurized brew is Beau Timken's prized sake offering for True Sake customers. With a nose of strawberry, watermelon, sweet rice, and cinnamon, this undiluted sake (18.5% ABV) is fat, happy, bright and chewy. Fruity, but not overly sweet. Think big thoughts when tasting this velvety Nama that is pure pleasure in a can. Yes, cans keep sake colder longer! This abundantly flavored sake is available only at True Sake! WORD: Jolly WINE: Cabernet/Non-Oaky Chardonnay BEER: Belgian Ales FOODS: If it's on a plate or in a bowl, it works!