Sake Joy – Joy of Sake Hits Las Vegas September 19th Don't Miss It!
We received an email from World Sake Imports' Chris Pearce reminding us of another amazing sake tasting – the first ultra sake tasting in the US which is older than Sake Day – called the Joy of Sake, which is taking the show on the road to the show capital of Las Vegas.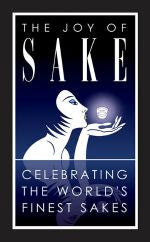 This very large tasting has been exposing westerners to amazing sakes for over a decade and makes for a wonderful night of great sakes and equally stellar food. So think about it! Two amazing destination wrapped up into one very fun event!
This is from Chris's Press Release:
HONOLULU—The Joy of Sake, the world's largest sake sampling festival outside Japan, celebrates its 15th year in style with its first-ever stop in Las Vegas. Sake aficionados will taste a record 391 premium sakes from 167 breweries across Japan and the U.S. at the event at Caesars Palace on September 19 from 7 p.m. to 10 p.m.
"The Joy of Sake has been held for the last fifteen years in Honolulu, San Francisco and New York," said event organizer Chris Pearce. "We thought it was about time to give sake fans from other parts of the country a chance to enjoy the world's best sakes in peak condition. It's easy to get to Las Vegas from anywhere and the Caesars Palace venue is stunning."
The Joy of Sake is the public tasting event that follows the U.S. National Sake Appraisal, which takes place in Honolulu each summer. Ten judges from Japan and the U.S. blind-taste each sake, recognizing exceptional labels with gold and silver awards. Fresh bottles of all 391 sakes are then opened for guests' tasting pleasure at The Joy of Sake.
The Joy of Sake is a 501(c)3 non-profit organization. A portion of event proceeds will be donated to the Cleveland Clinic Lou Ruvo Center for Brain Health.
Tickets are $75 for general admission from 6:30 p.m., $125 for early access from 5:30 p.m. and can be purchased online at https://joyofsakelasvegas.eventbrite.com.
WHEN: September 19th From 7-10PM
WHERE: Caesars Palace Las Vegas
WHAT: 391 Sakes and 14 Restaurants!
WHY: Do you even need to ask?
If my calendar would suddenly clear I would be at this amazing event in a heartbeat!