Sake Expressions – More Segments From KanpaiEDU
KanpaiEDU is a brand new Youtube channel created to educate all of you nihonshu fans out there! Alex, the new guy here at True Sake has done a fantastic job spearheading this endeavor and is making it a reality with the help of our veteran colleague, Shinsuke.
Shinsuke and Alex took a little road trip out to Den Sake Brewery across the bridge in West Oakland. Part 1 is an interview with the founder and Toji Yoshihiro Sako. Part 2 is an exclusive tour of his brewery and a sneak peak at freshly pressed Batch #4. As you all may know, Yoshi and Lani San have a small operation, and they work tirelessly around the clock to produce one batch at a time. Click on the links below and enjoy an in-depth look at the life of a sake producer. Enjoy!!! Also, be on the lookout for future videos with local sake breweries in the upcoming year.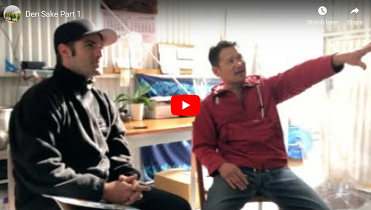 Follow KanpaiEDU here on Instagram!