Power 5 Challenge – Five Gohyakumangoku Rice Sakes To Explore
In this Power 5 Challenge, we look at sakes made with the very popular but difficult to say Gohyakumangoku rice varietal that has a great history and a very defined lineage. When you think of Gohyakumangoku you automatically think of Niigata Prefecture rightfully so. It is and has been widely used for over the past 75 years in Niigata and is the number one brewing rice crop there. It's middle of the road expense-wise, which is also why it is so popular, and recently more and more breweries in other prefectures are starting to use this almost perfect brewing rice on account of its hard outside (good for milling) and it's soft and absorbent inside (good for fermentation). 
I have selected three Niigata brews and one from Ishikawa and Fukui to show the diversity of the use of Gohyakumangoku. My goal was to start with a light Junmai (Kirin Koshi no Takumi) that displays the depth of the rice in rich flavors followed by a hallmark Daiginjo (Kubota) that extols the best characteristics of the milling ability, lightness, and dryness known as "Tanrei Karakuchi" (light and dry) of Gohyakumangoku. Next comes the balance of this rice varietal that is a cross-bred wonder between two local historical Niigata strains called Kikusui and Shin-200-Go. The third brew is a Yamahai Junmai Ginjo milled to 55% from Kiminoi that gets the full ricy flavor of Gohyakumangoku and is balanced so very well. Then we move to territories outside of Niigata to show a different reflection of the depth and richness of Gohyakumangoku. The first is a super rich, velvety, and creamy Junmai Ginjo from Kokuryu in Fukui, and the second is a monster Yamahai Junmai from the very famous Tengumai brand in Ishikawa. 
A typical characteristic of Gohyakumangoku is a clear and sharp taste due in large part to the slower "dissolve" of the rice. But there have been so many permutations of water and yeasts used when fermenting Gohyakumangoku that you cannot pigeon hole one distinct flavor characteristics. Hopefully this Power 5 Challenge will allow you to see a synergy in five unique brews, but also show new shades of the future of Gohyakumangoku.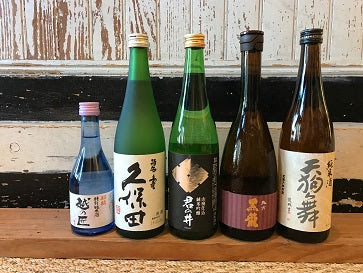 1) Kirin Koshi No Takumi Tokubesu "Sake Specialist" 
From Niigata Prefecture. Tokubetsu Junmai. SMV: +4 Acidity: 1.4
This Junmai has nose of mushrooms and minerals, very earthy. A very light beginning warms up into a thinly rich middle mouth and ends with a nice slide down the back of the throat. It has a rich and creamy earthy pull that goes thinly through the mouth, and has a very subtle sweetness near the back of the mouth. This Junmai is a great "comparison" sake to that of a sweet floral type. It is a subtle opposite to a "fruity sake" and yet it drinks lighter than a deep rich sake. A compact flavor that is secretive and inviting. WORD: Mushroom WINE:Shiraz/Zins/Sauvignon Blancs BEER: Earthy Pilsners FOODS: Hamburgers, Fried pork, salmon sautéed with butter. $11/300ml
2) Kubota Hekiju "100 Ostentatious-nesses"
From Niigata Prefecture. Yamahai Junmai Daiginjo. SMV: +3 Acidity: 1.3
This Daiginjo is the perfect example of a Niigata style sake known as tanrei karakuchi or light and dry. Hekijyu has a nutmeg and pear nose. This Yamahai is as smooth and clean as they come, and subtle flavors of ripe pears and grapes pervade the middle mouth. The ending is anything but, as you will not remember swallowing. This is an ultra-popular sake in Japan and should be tasted by all sake connoisseurs. WORD: Stellar WINE: Dry crisp whites BEER:Light Ales FOODS: Seafood pate, ankimo, cold lobster, seared albacore, and white fish sashimi. $54/720ml
From Niigata Prefecture. Yamahai Junmai Ginjo. SMV: +/-0 Acidity: 1.4
Say hello to a newer version of this outstanding sake with new packaging, all-new flavors, and feelings. The nose on this Yamahai is mild collection of cream, nougat, rice candy, and steamed rice aromas. Smooth, light, with a nice body and a gentle acidity. This new Kiminoi is rich but not heavy, and superbly balanced. It is an elegant brew that celebrates the flavor of Gohyakumangoku brewing rice that is now milled to 55%. Look for hints of roasted rice, caramel, nougat, and rice pudding flavors that move along on a smooth and evenly balanced flow. A larger glass makes this drink more elegant and mid-sized glass is best for a solid feeling to flavor connection. WORD: Elegant WINE: Rich reds/Dry whites BEER: Crisp Ales FOODS: Smoked fish, fowl, and cheese, salty and savory things on a stick. $44/720ml
From Fukui Prefecture. Junmai Ginjo. SMV: +3 Acidity: 1.4
A tantalizing nose filled with hints of roasted coffee, mint, salt water taffy, tropical flowers, grapes and honey. This extremely well balanced sake achieves the near impossible of being both expansive in character and clean feeling. There hints of fruits, minerals, and caramel but also peek-a-boo layers of grains and umami. Almost sweet and savory at once with a dry quick finish. WORD: Big Clean WINE: Merlot/Pinot Noir/Sauvignon Blanc BEER: Blond Ales/Hefeweizen FOODS: Anything Grilled! $43/720ml
5) Tengumai "Dance of the Demon" 
From Ishikawa Prefecture. Yamahai Junmai. SMV: +4 Acidity: 1.8 
Tengumai is another of the "to do" sakes on your list, as it is ultra-popular in Japan for good reason. This Junmai is constructed the traditional way using the Yamahai method and easing on the carbon filtration thus leaving a gamey and syrupy amber nectar that is best served room temperature. It has a full nutty and earthy nose that smells slightly astringent. What comes next is a flavor forward rush of butterscotch and walnuts nestled in a solid acidity that brings a warm and thick texture to all the recesses of the mouth. This Junmai shimmers and plays very round in the corners of your mouth, and leaves a lasting and splendid tail that is thicker than sizzle. WORD: Amber WINE: Thick Reds/Chewy Whites BEER: Ambers/Honey Stouts FOODS: simmered seasoned fish, salmon teriyaki, yakitori with sauce, ginger pork and chicken. $30/720ml
A bonus question for the sake geeks in the house: why do you think three of these selected brews are made using the Yamahai brewing process with Gohyakumangoku?