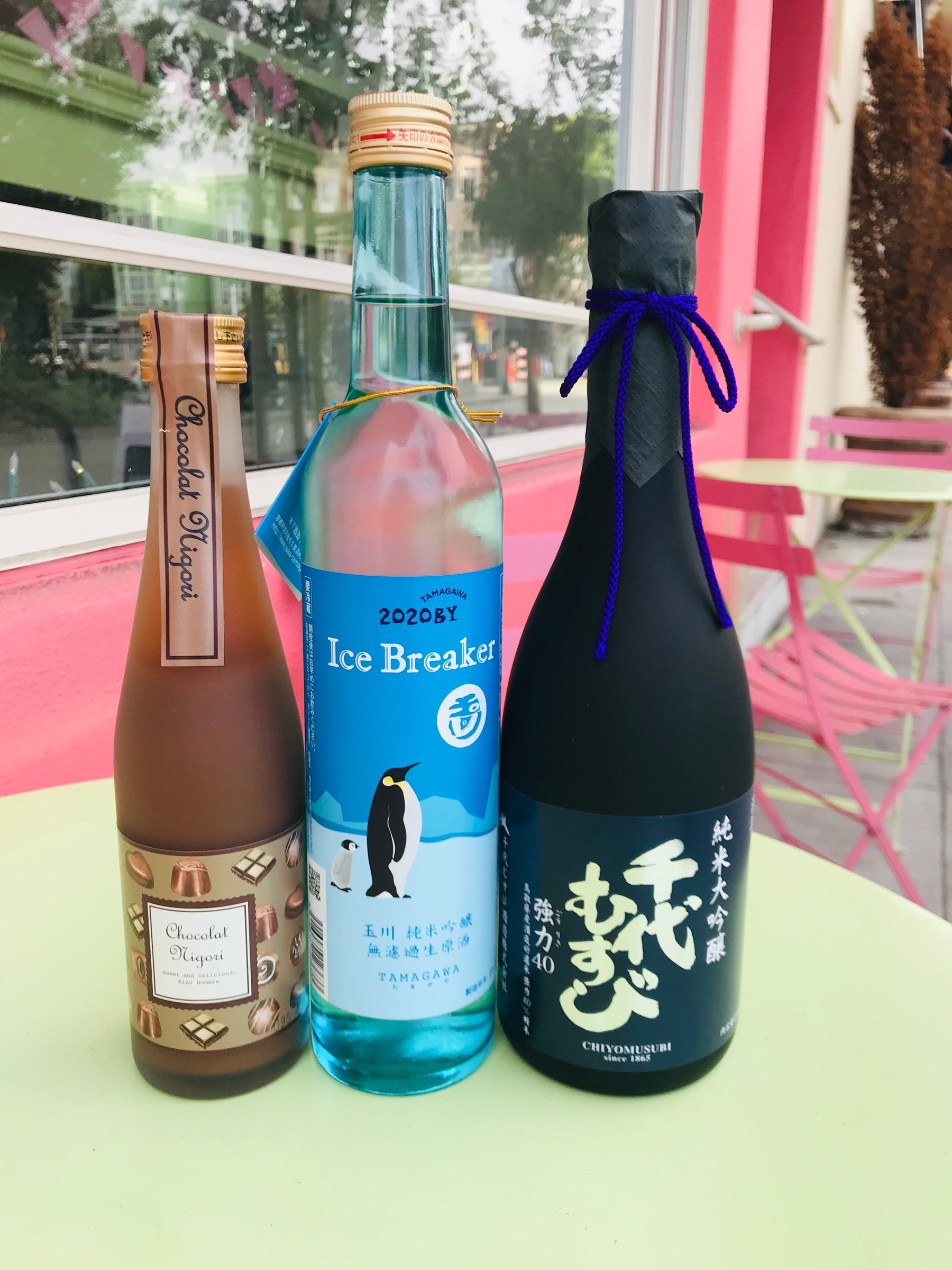 New Store Arrivals – Chocolat Nigori, 500ml Ice Breaker, Chiyomusubi 40
From Fukushima Prefecture. Nigori. SMV: -92 Acidity: N/A
The nose on this sister sake to the extremely popular Homare Strawberry Nigori is a collection of sweet, cocoa, hot chocolate, and chocolate powder drink aromas. You asked for it and Aizu Homare answered your call. Behold a chocolate nigori that drinks pretty much like chocolate milk, but with 10% alcohol to move things along. Made like a traditional Nigori (Coarsely Filtered) with added chocolate flavoring, this brew should be slightly shaken and served chilled. Yes, the flavor profile matches the wonderful fluid that has chocolaty bits floating amongst the very cocoa and chocolate flavors. It is what it is! And there is no right or wrong with anything as long as you like it! Think of the best breakfast sake ever, think of a perfect gateway sake to bring folks to the Nigori table, or just think liquid crack! This brew should be at your next party, and talk about dessert sake. WORD: Chocolate WINE: nope BEER: nope FOODS: Fruit plates, dessert plates, Halloween. $10/300ml
From Kyoto Prefecture. Junmai Ginjo Muroka Nama Genshu. SMV: N/A Acidity: N/A 
The nose on this very talked about sake is a cool collection of cocoa, wet wood, cream, and nut aromas. Another liquid adventure from Philip Harper. This sake is round, chewy and drinks like a liquid Bazaar. With so many odd shapes, colors, and flavors that forms a tasty tapestry that is so unique and delicious. This is one of those sakes where it is fun to exhale after you sip! Why? Because there are so many different things in a wonderfully balanced fluid that feels great in the mouth. Thick, fat, chewy, and solid. It drinks smooth and fleshy with a subtle citrus tingle and a splash of minerals. Round and viscous there is a grittiness and a flinty character that is so intriguing. Sort of like taking a bite out of a tightly packed snowball. The best balance for this brew is found in a mid-sized cup, which produces hints of maple syrup and ash with a touch of powdered sugar. A wine glass produces a long tail, and an ochoko makes the brew smooth and beefy. They recommend drinking this on the rocks and if you do I recommend distilled water ice cubes. WORD: Ice WINE: Vast reds/Flinty whites BEER: Mineral ales FOODS: International spice from curry to tacos and everything in between. $32/500ml
From Tottori Prefecture. Junmai Daiginjo. SMV: +1 Acidity: 1.2
The nose on this brew that is made using the Goriki brewing rice varietal has a nice collection of berry, melon, grape, strawberry, and Gardenia aromas.  Take a bite out of this bright, expansive, tingly, and crisp sake and be rewarded with a fruit basket full of flavors. Hints of apple, sweet melon, and berries come first then look for the sugar tones like rock candy, sugar cubes, and powdered sugar on strawberries. The excellent acidity vividness offsets the sweet flavors to create a very energetic and bright sake drinking experience. Full-bodied and chewy, it is a viscous sake that is considered an "Ultra" Daiginjo because it's been milled to 40%. Another one of those sakes that makes you think how can rice and water taste like fruit and sugar goodness! A solid brew that is a good gift-giving sake appealing to most! 
WORD:
 Bright 
WINE:
 Full-Bodied Reds/Fruity Whites 
BEER:
 Fruity ales 
FOODS:
 Sushi, sashimi, shellfish, oysters, cheese and fruit plates.
$62/720ml