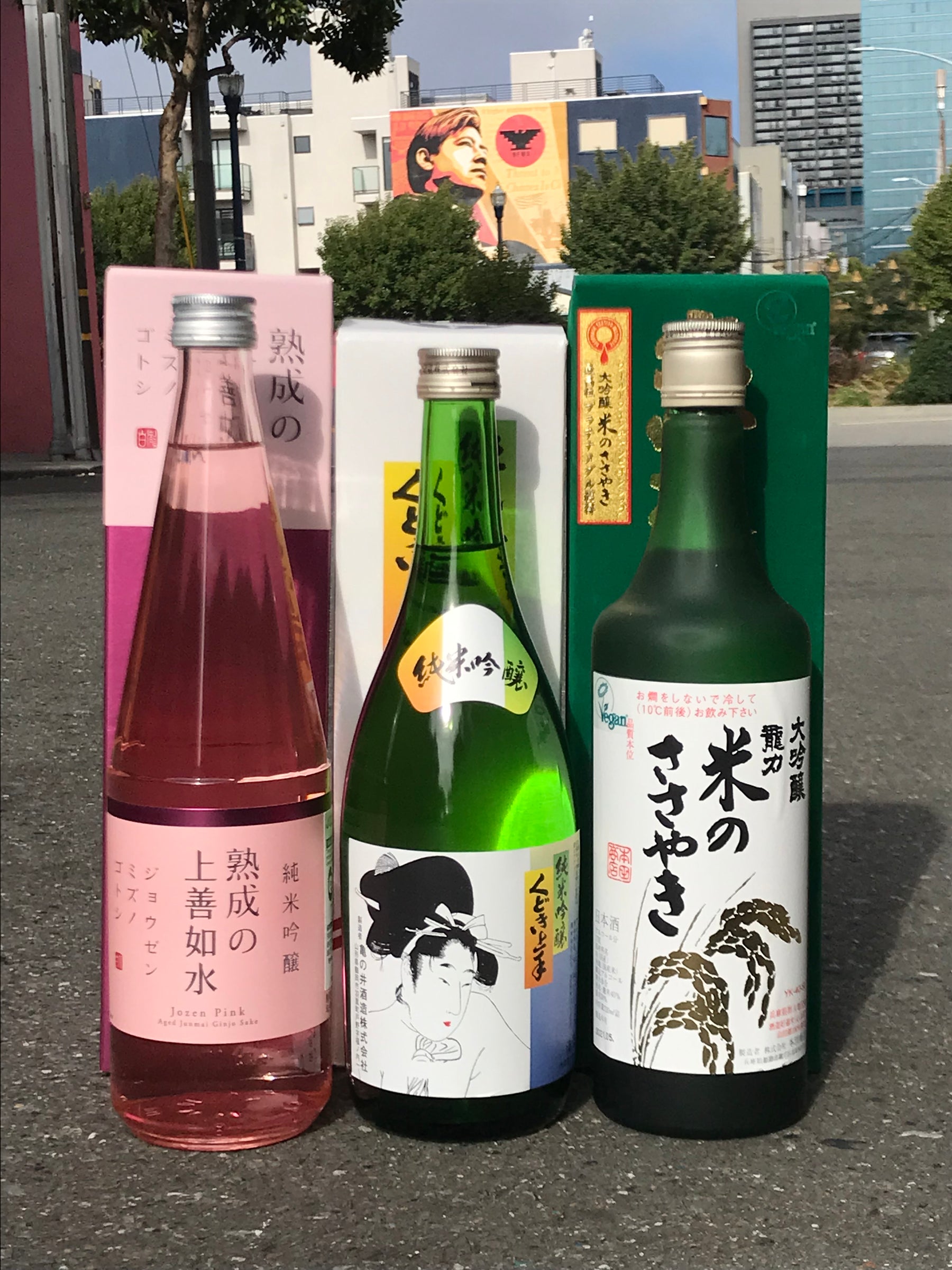 Back In Stock – Jozen Pink, Kudoki Jozu, Tatsuriki
This is a new and hopefully temporary section in the Newsletter. Basically because of COVID the supply chain for sake exporting experienced several hiccups this past year. As a direct result, several sake just vanished off of our radar, because they couldn't get to us. They simply vanished and due in large part to the container supply issue we didn't have them in our inventory for what seemed like ages. They were out of sight and out of mind, which hurts because they are killer brews. So for a limited time (again hopefully) we will have a section in the Newsletter to remind you that certain brews are back and ready for you to explore and enjoy once again.
From Niigata prefecture. Jukusei Junmai Ginjo. SMV: +3 Acidity: 1.4
The "Upgrade" on one of the most drinkable sake in Japan resulted in a more full-bodied version of its former self. With a nose of plums, strawberries, cherries, white raisins, straw and steamed rice this brew, which used to be matured for 6 months now gets aged for a full year to bring out more smoothness and body. Behold a wider, fatter, and more dry sake than its previous incarnation. Round and smooth dried fruit flavors are well balanced with an elevated acidity level creating another great version of a Niigata dry and clean sake that has both body and flavor in a pristine package. WORD: Smooth WINE: Pinot Noir/White Burgundy BEER: Ales FOODS: Shellfish, sushi, sashimi, grilled fish and chicken.
$25/720ml $10/300ml
Kudoki Jozu "The Pick-Up Artist" 
From Yamagata Prefecture. Junmai Ginjo. SMV: +1 Acidity: 1.2
Great name and a great nose on this sake with hints of pear, apple, and purple plum aromas. Ahhhhh! A brew that gets it. A terrific feeling sake that fills the mouth with fat and gooey flavors but stays super smooth. The brilliant acidity-balancing act takes the sweetness out of the gambit of fruit flavors including pineapple and mango. Plump and complex this "sexy beast" is layered and luxurious with attitude and swagger. Drink closer to room temp if you want even more fruit tones, but chilled is happening. WORD: Vivacious WINE: French Pinot Noir/French Chardonnay BEER: Deep Belgians FOODS: Oily and grilled fare, sushi, shellfish.
$36/720ml $13/300ml

Tatsuriki Kome no Sasayaki Daiginjo "Whisper Of Rice"
From Hyogo Prefecture. Daiginjo. SMV: +3 Acidity: 1.4
The nose on this sake from a brewery that is famed for using the best brewing rice in Japan is a gathering of pear, melon, sweet rice, and mango aromas. Come on! A green velvet box? You bet, and this sake drinks as cool as it looks and of course the label has a rice stalk that announces the amazing Yamadanishiki brewing rice within. Round, smooth, and tropical. This brew drinks fleshy and fun, and is dramatically tasty! Guess that has something to do with the prized brewing rice that they grow. There are elevator floors of flavors, strawberry here, mango there, and white grape up there. And talk about elegant, not only does the sake drink charmed but the long neck of the bottle makes for a very sweet pouring sound that is pure elegance. Velvety, balanced, and very approachable. This is a perfect gifting sake that can't miss! WORD: Tropical WINE: Fruity reds/bright whites BEER: Fruity ales FOODS: Steamed and grilled everything.
$84/720ml