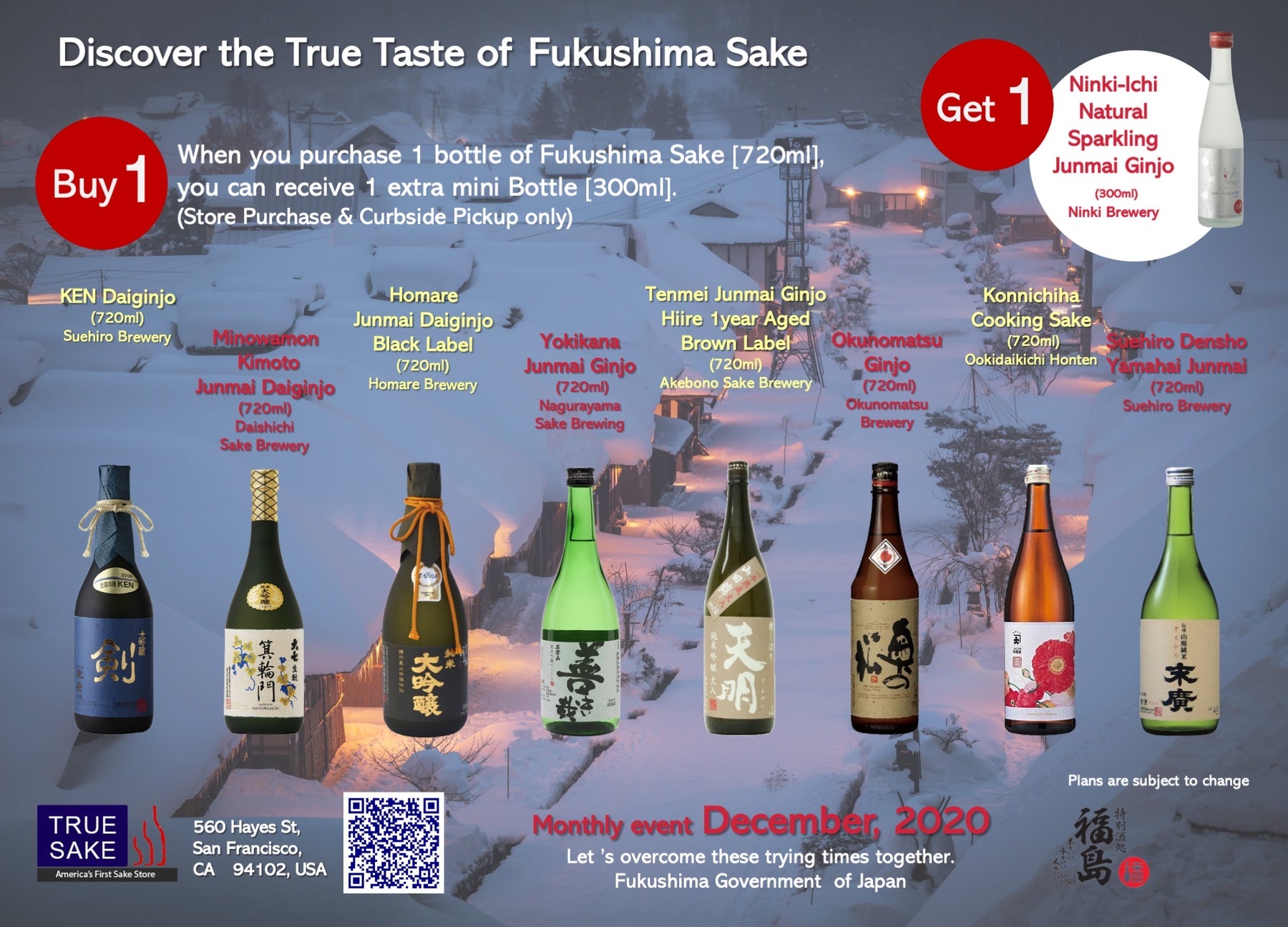 Sake Power – Fukushima Sake Is Awesome PART II
Welcome to Part II of the great Fukushima Sake Promotional Give Away!
For the month of December if you purchase for store Pick-Up, Delivery or Door Purchase any bottle of Fukushima Sake you will receive a super sake tote bag and a terrific 300ml bottle of sparkling sake from Ninki Ichi!
How cool is that?
Herewith is a little blurb we wrote last month about Fukushima Sake:
"I can really say this about all Prefectures' sake – that they are awesome, but when it comes to winning national and international sake competitions Fukushima has been on quite a winning streak. They truly are awesome. And the secret is out!"
"I've written extensively in past issues about my trip to Fukushima last summer, and how I was totally blown away by the fact that this prefecture actively tries to cultivate Gold Medals for the prefecture itself. It's sort of like a collective effort. They are in it to "steal Golds" as one piece of internal-brewery-only literature stated."
"It's pretty amazing to think about 9 years ago when Fukushima was sadly thought of as being a radioactive prefecture after the terrible Tohoku earthquake and tsunami. To go from Ground Zero to winning the Japanese National Sake Competition a record 7 years in a row is truly unbelievable. It's actually remarkable. In 2018 Fukushima won 22 Gold Medals in the century-old competition, which became the all-time record in sake making history. How? "The combination of Fukushima sake's high quality, sake brewer's expert skill, and unending passion together are an example of 'Fukushima Pride,'" wrote Fukushima's Governor Uchibori."
"And now Fukushima wants you to feel Fukushima Pride, by hosting a free sake and sake tote bag give-away at True Sake. Starting December 1st  if you purchase any of a number of Fukushima sakes from our inventory we will include a 300ml bottle of another Fukushima sake from a brewery called Ninki Ichi. Along with this gift bottle you will also receive a cool tote bag bragging about Fukushima sake."
Remember this promotion is only for Door Purchase, Delivery, and Pick-Up services.
We highly recommend that you visit the Fukushima on-line websites listed on their promotional post card to get the longer version of this incredible story, and then maybe organize a trip of your own to go visit the extremely beautiful Fukushima Prefecture.