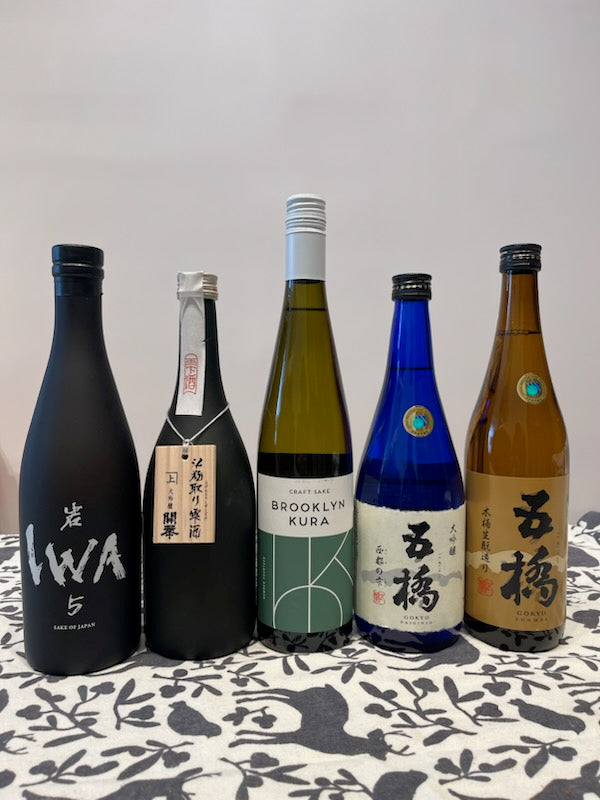 New Store Arrivals – IWA 5, Nabeshima, Kaika, Brooklyn Kura, Gokyo x2
Say hello and goodbye to the third and final flight of seasonally released single pasteurized sakes that are officially called "Namazume" but go by the colloquial name "Fall Draft" sakes. Aged for roughly six months, these brews are structured, released, and are best enjoyed with the flavors of autumn and early winter. From fatty fish and fowl, to rich stews and roasts, they can stand up to most rich fare including your Christmas dinner. We had a record number of brews this year, and the quality was superb. If you didn't get to try one, then this is pretty much your last chance to taste the sake flavors of the season. 
From Toyama Prefecture. Junmai Daiginjo. SMV: +1.5 Acidity: 2.6
The nose on this one of a kind sake is a vivid collection of white grape, melon, rosemary, lychee, mineral, mint, and honey aromas. The sake industry is constantly evolving, and new versions and expressions come forth daily. This expressive and dynamic brew is the quintessential example of the new frontiers of sake that are now very intertwined in the wine world. Made by the former Master Brewer of Dom Pérignon, this sake is "orchestrated" with 3 different rice varietals and 5 different brewing yeasts including 2 wine yeasts. Richard Geoffroy loves sake and this is his thumbprint on the history of this amazing rice and water libation. Get ready to be blown away. Expansive and weighty, this brew starts slick and slippery then a dazzling acidity play turns the sip into a very wine-like experience.  There is width, depth, and bulk to this sake with umami complexity and a whole host of flavors such as pear, mint, lemon zest, almond, herbs, tea, apple, burnt honey, woody, and cheesy hints that dance on a 2.6 acidity level. Some sake are made and some sake are constructed. This IS and it is NOT Junmai Daiginjo sake, which means, it is unlike any JDG that you've ever tried! But you will never know until you try it. WORD: Complex WINE: Chablis/Blanc de Blanc BEER: Crisp Ales FOODS: Wine fare, meats, game, shellfish, grilled fish and chicken, vinegar based dishes. 
From Saga Prefecture. Junmai Daiginjo. SMV: -6 Acidity: 1.6
The nose on this New World style sake is a lively collection of strawberry, peach, honey, tangerine, nectarine, and mineral water aromas. Say hello to an extremely popular new-age sake that drinks similar to how the label looks - spritzy, tingly, silky, expressive, lively, and juicy. Talk about exciting sake, this brew literally dances in the glass with a wide flavor field including berries, rock sugar, peach, mango, passion fruit, white raisin, strawberry Pixy Stix, and guava hints. Fun and crisp, this Daiginjo made with the very pricey Aiyama rice varietal is a great brew to share with somebody who is new to sake and with those who want to see the new players in the industry. WORD: Fun WINE: Zesty Reds/Spritzy Whites BEER: Crisp Ales FOODS: Sushi, sashimi, Champagne fare, crab, lobster, caviar. 
From Tochigi Prefecture. Daiginjo Shizuku. SMV: +1 Acidity: 1.2
The nose on this natural drip sake is a great collection of honeydew, vanilla, sugar cane, mint, cotton candy, and honey aromas. Say hello to a "feeling" sake that is built to drink smooth and round. Using the Shizuku "Drip" technique for not pressing the sake this brew is all about being viscous, chewy, slippery, graceful, and very soft. The amino acids in the sake are very low (0.7) which makes this brew really glide through the palate with a ton of ripe fruit tones and lots of confectionery sugar elements as well. Look for powdered sugar, pear, vanilla, cream, sweet peach, anise, tangerine, persimmon, and sweet rice flavors in each sip. There is some astringency that lifts the flavors up and keeps the fluid clean and not too sweet. Made with Yamadanishiki milled to 35% this is a very high-end Daiginjo that speaks to those who like a semi-sweet smooth sake that feels great in the mouth. WORD: Luscious WINE: Fat reds/Velvety Whites BEER: Creamy Ales FOODS: American sushi, shellfish, pates, shrimp, Champagne fare, luscious cuisines. 
From Brooklyn, New York. Junmai Ginjo Nama. SMV: ±0 Acidity: 1.6
The nose on this American craft sake is a cool collection of pear, melon, honey, strawberry, and white flower aromas. Say hello to our first craft offering from The Other Coast. Brooklyn Kura has been making some great sake and now it's available at True Sake. Smooth, round, soft, chewy, viscous, and clean, this unpasteurized brew is gentle and easy. It drinks semi-dry and semi-rich and appeals to a large swath of sake drinkers. Look for apple, Muscat, strawberry, melon, sugar cane, vanilla, and a tingle of umami, on a flow that feels great and finishes even better. Made with Yamadanishiki and Calrose rice varietals from the US and with American-made hands, this brew is a great international sake and should not be missed. WORD: Balanced WINE: Gentle Reds/Round Whites BEER: Fruity Ales FOODS: Sushi, sashimi, grilled fish and chicken, shellfish, Nathan's Hotdogs. 
From Yamaguchi Prefecture. Daiginjo Shizuku. SMV: +2 Acidity: 1.6
The nose on this elegant sake that is made using the labor intensive drip-method style of brewing is a glorious collection of Fuji apple, powder sugar, pear, papaya, sugar cookie, strawberry, white grape, and white floral aromas. This excellent sake makes your senses come alive. Smooth, round, rich, velvety, lush, and luxurious, this sake is a perfect feel-good/taste-good brew that celebrates the highest form of sake making. There are loads of flavors such as powdered sugar, honeydew, pear, white cake, vanilla, herbal, citrus, minty, and minerally flavors, that roll through the palate on a thick and viscous flow, ending with a minty exhale. Semi-sweet, lively, and bright, this high-end sake drinks with a mineral tickle that speaks to flinty wine lovers. A great gift-giving sake that would also make a great gift for yourself. WORD: Luxurious WINE: Impact Reds/Rich Whites BEERS: Crisp Ales FOODS: Lobster, crab, sushi, sashimi, Champagne fare, caviar, pates, and fancy fare. 
From Yamaguchi Prefecture. Kimoto Junmai. SMV: ±0 Acidity: 2.1
The nose on this traditionally made sake is a vast collection of black cherry, vanilla, cedar, spices, corn, graham cracker, and honey aromas. Typically most sake is fermented in stainless steel or enamel brewing vats. Kioke sake is a throwback technique to ferment in wooden vats. Said to be more difficult to get even fermentation in wooden vats, these type of sake offer different flavors and feelings with this "less control." Say hello to this very light Kioke with hints of gentle sweetness and a slippery flow. Smooth, light, silky, juicy and wet, this brew drinks water like. Look for apple pie, raisin, sweet nuts, black pepper, cream, spiced rum, and a vein of cedar flavors on a slippery fluid. This is a great sake to learn the Kioke way! WORD: Woody WINE: Light Reds/Spicy Whites BEER: Belgian Ales FOODS: Chicken, burgers, cooked fish, and Izakaya fare.