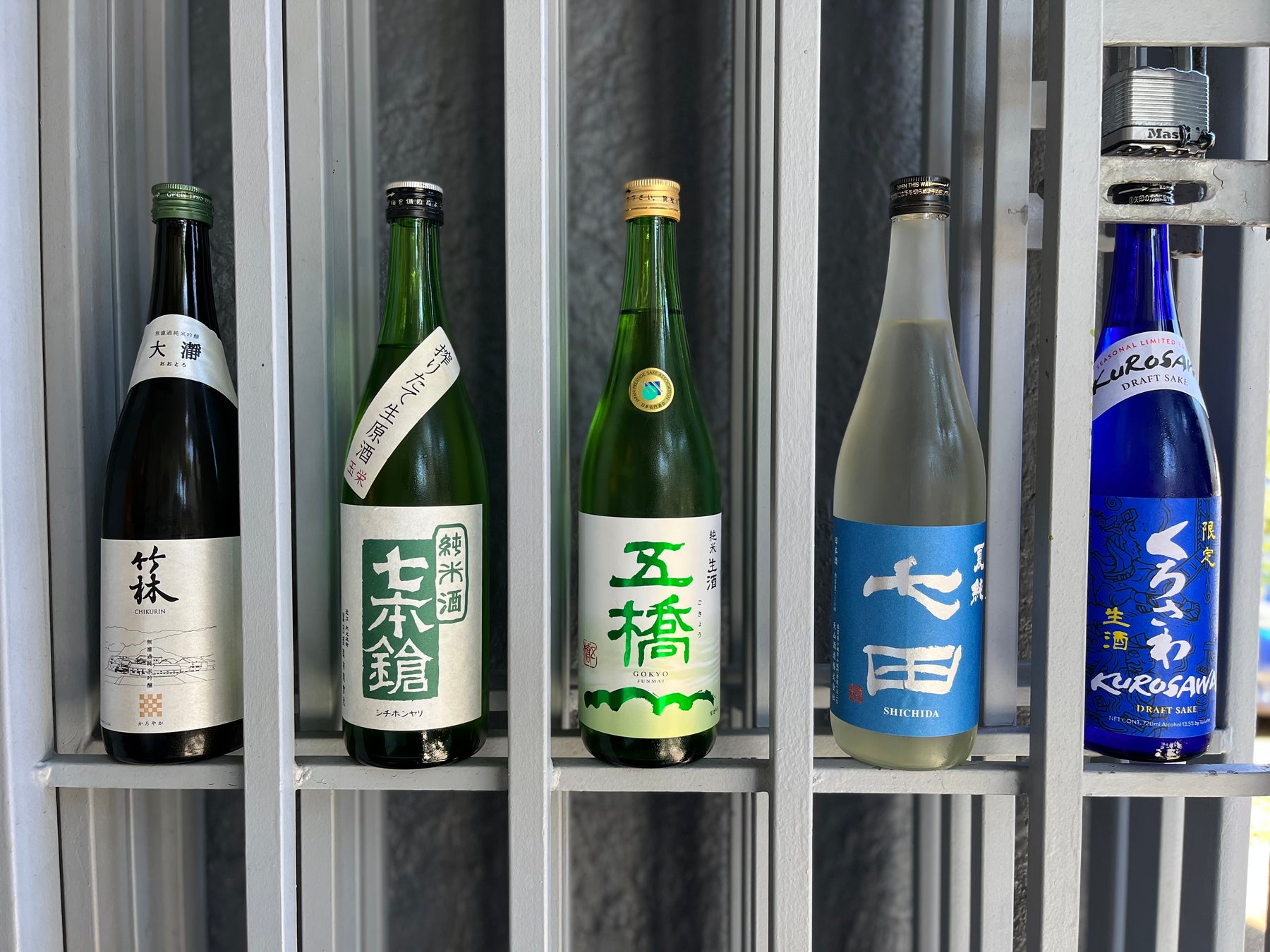 Nama Explosion – Another Nama Drop of Spring/Summer Brews
From Okayama Prefecture. Junmai Ginjo Nama. SMV: N/A Acidity: N/A
The nose on this seasonally released unpasteurized sake is a nice collection of cherry, strawberry shortcake, whip cream, spearmint, and steamed apple aromas. Say hello to an elegant Nama that drinks more expensive than the price. Fleshy, juicy, round with a little zest, and crisp this brew is velvety with a nice ripe richness. Look for honeydew, pear, strawberry, cotton candy, and crème brulee flavors that drink wide and active in a wine glass. A nama tuxedo that drinks velvety and rich. WORD: Juicy WINE: Smooth Reds/Fat Whites BEER: Creamy Ales FOODS: Sushi, sashimi, crab, lobster, oysters, grilled fish, and cheese plates. $40/720ml
Shichi Hon Yari "The Seven Spearsmen" 2022
From Shiga Prefecture. Junmai Nama. SMV: +6 Acidity: 1.6
The nose on this seasonally released unpasteurized sake is a clever collection of citrus, pineapple, apple, pear compote, banana, watermelon, and rice cracker aromas. This year's Seven Spearsmen is a little leaner with more flavor and fun. Zesty, spritzy, yeasty, lively, and brisk say hello to living sake that is expansive and very vivid. Enjoy that fresh sake feeling and flavor in this generous Nama that is solid and giving. Look for young pear, apple and pineapple, citrus, raisin, white peach, Champagne grape, and mineral flavors with some gentle astringency (shibumi) on the finish. It's a big but calm Nama that drinks great chilled and coming into room temperature. WORD: Lively WINE: Crisp Reds/Brisk Whites BEER: Crisp Ales FOODS: International Spice, street foods, beach tacos, grilled shrimp and fish. $37/720ml
Gokyo Summer Nama 2022
From Yamaguchi Prefecture. Junmai Nama. SMV: +1 Acidity: 1.8
The nose on this seasonally released unpasteurized sake is a great collection of pear, peach, rock sugar, grape, pineapple, and sugar cookie aromas. Talk about a welcoming and refreshing summer brew. This Gokyo is zesty, crisp, bright, and very fun and lively. There are layers of exciting flavors like young pear, apple, peach, grapefruit, and lemon with a gentle acidity that awakens the summer senses and are perfect for beside the pool or at the picnic. Basically this a brew that drinks summery and delicious with a quick finish and no attitude whatsoever. WORD: Refreshing WINE: Beaujolais/Fruity Whites BEER: Fruity Ales FOODS: Poolside fare, picnic fare, party fare, shellfish, and oysters. $34/720ml

Shichida Natsu Jun Summer 2022
From Saga Prefecture. Junmai Namazume. SMV: +2 Acidity: 1.4
The nose on this single-pasteurized summer sake is a gentle collection of cucumber, melon rind, vanilla, cotton, tofu, and steamed rice aromas. This is a summer sake all day long. Built to be light, dry, and very gentle it's perfect for the poolside and hot summer evening parties. Smooth, watery, silky, and low in alcohol at 14%. There is a tannin-like dryness on the very quick finish that has a peek-a-boo white peppery goodbye. Look for cucumber, iceberg lettuce, green apple, Asian pear, potato, mochi, melon, and citrus flavors that slide through the palate. A very light and enjoyable sake that is really made for summer and it drinks that way. WORD: Light WINE: Dry Reds/Gentle Whites BEER: Light Beer FOODS: Poolside fare, picnic fare, party fare, gentle flavors. $41/720ml
From Nagano Prefecture. Kimoto Junmai Nama. SMV: +2 Acidity: 1.6 
The nose on this seasonally released unpasteurized sake is a cool collection of blueberry, honeydew, stone fruits, sweet veggies, and orange peel aromas. If your jam is "cold and smooth" sakes then behold this Nagano superstar. There are very few Kimoto
Nama
sake on the market. Round, soft, and silky look for hints of Asian pear, apple, kiwi, steamed rice, and plum flavors.  A superbly user-friendly sake that is great to gift or bring to a party.
WORD:
Smooth
WINE:
Soft reds/Dry Whites
BEER
: Light Beer
FOODS:
Sushi, sashimi, grilled fare, crab, and French fries. 
$34/720ml