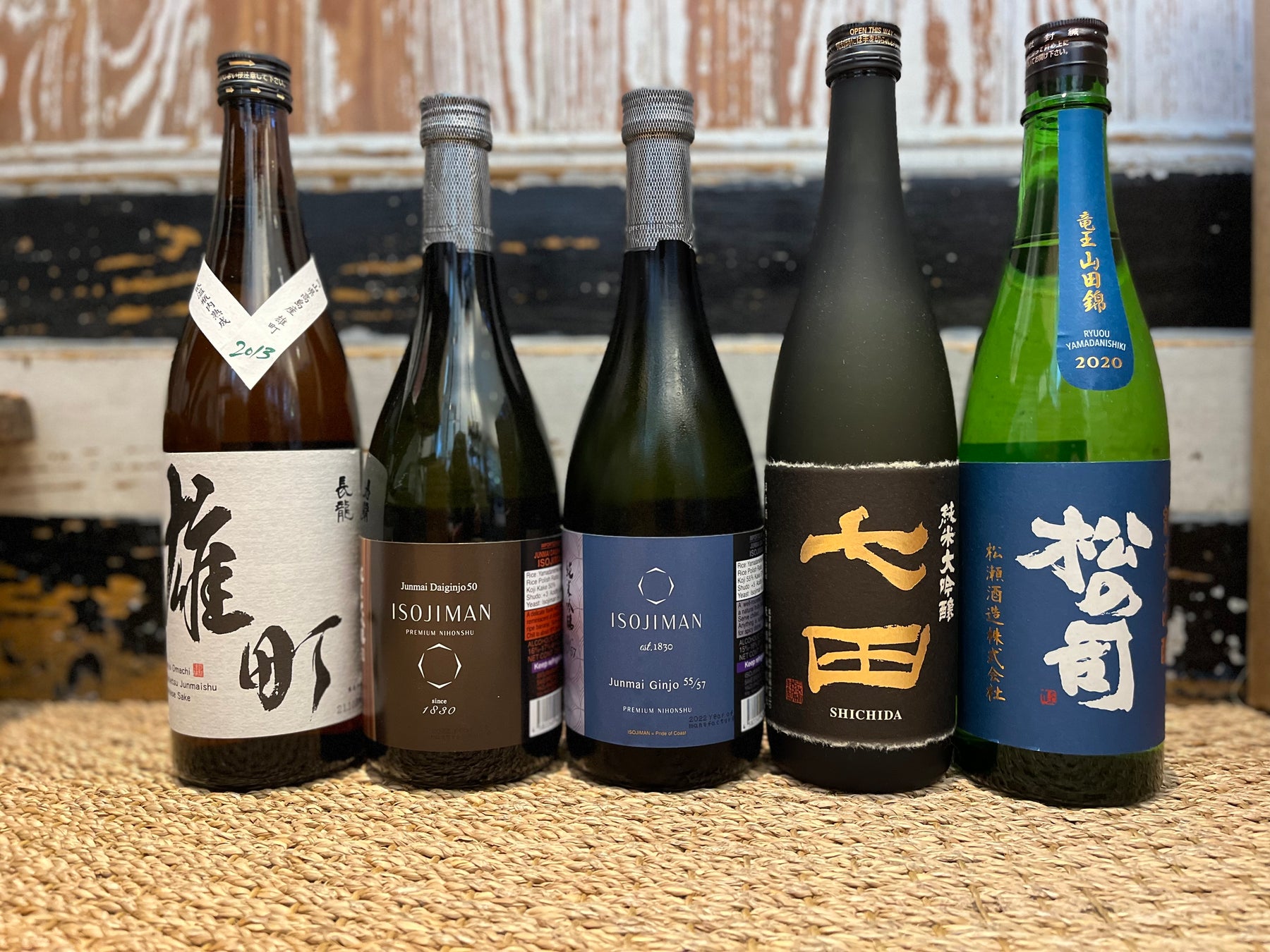 New Store Arrivals – Choryo, Isojiman, Shichida, & Matsunotsukasa
From Nara Prefecture. Aged Tokubetsu Junmai. SMV: +2.5 Acidity: 1.4
The nose on this special "one of those sakes" is a killer collection of cocoa, butter, salt water, earthy, nutty, leather and hot chocolate aromas. The cool thing about a Sake Bucket List is that the brews that you should taste are usually really tasty. And so too is this interesting brew that uses the very flavorful Omachi rice varietal milled to 68% (What? Yup! 68%) that drinks round, soft, and extremely flavorful. It dances in the funk zone, but it's not too funky and really moves with a rich, full-bodied, and smooth flow probably because it has been cold aged since 2013. It's big but easy and there are creamy and soft layers of flavors such as honey, cocoa, rice, grains, pancake and syrup, nougat, molasses, and a ton of umami fluffiness. Full-bodied with half the weight! Say hello to smoothness in a glass that is great at three temperatures. WORD: Smooth WINE: Round Reds/Fat Whites BEER: Creamy Ales FOODS: Pub fare, Izakaya cuisines, grilled and smoked foods. $21/720ml
From Shizuoka Prefecture. Junmai Daiginjo. SMV: +3 Acidity: 1.3 
The nose on this sake from one of the great Japanese breweries is a fantastic collection of powdered sugar, pear, cherry popsicle, cream, banana bread, cereal, and melon aromas. Using AAA Yamadanishiki milled to 50% this is a professional's Junmai Daiginjo that has the Isojiman touch. Smooth, rich, layered, round, and full this brew drinks lush, juicy, and expansive with a velvety flow and a mineral peppery finish. Look for melon, cherry, pear compote, breakfast cereal, apple pie, and oatmeal flavors that open up as the fluid warms in the glass. This is liquid richness and complexity at its finest. WORD: Professional WINE: Rich Reds/Creamy Whites BEER: Creamy Ales FOODS: Champagne fare, complex and rich cuisines, shellfish, sushi and sashimi. $87/720ml
From Shizuoka Prefecture. Junmai Ginjo. SMV: +5 Acidity: 1.2
The nose on this Junmai Ginjo from the legendary Isojiman brewery is a tantalizing nose filled with grapefruit, apricot, pear, tropical fruits, cereal, peach, nectarine, and ocean foam aromas. Built to pair with seafood, this killer brew is a different kind of Junmai Ginjo that isn't all fruity and aromatic, rather it is smooth, round, semi-rich, soft, and extremely drinkable. A store favorite that dances the umami dance with a quick finish that appeals to both the dry and "doesn't have to be dry dry" crowd. This is a performance brew that shows how well a balanced sake can drink. Look for jam, nectarine, persimmon, honeydew, sugar, nougat, young pear and peach, caramel, and mineral flavors that drinks with a salinity that is so appealing and unique. This "Seashore Pride" is not to be missed! WORD: Balanced WINE: Dry Reds/Flinty Whites BEER: Belgian Ales FOODS: Anything from the ocean in any form. $42/720ml
From Saga Prefecture. Junmai Daiginjo. SMV: +2 Acidity: 1.5
The nose on this IWC Gold Medal brew is a wonderful collection of pear, apple, pineapple, honey, mineral water, and melon aromas. Talk about a bright and exciting Junmai Daiginjo. This superstar is ripe, juicy, zesty, fruity, semi-sweet, and has a dry quick finish. Balanced and vivid look for crisp apple, tangerine, papaya, ripe persimmon, honeycomb, and mango flavors that dance on bright fluid that drinks with impact. And who doesn't like impact from their sake? A killer brewery that makes extremely well balanced sake that is user friendly and a true fan favorite. WORD: Gold Medal WINE: Zesty Reds/Crisp Whites BEER: Crisp Ales FOODS: Sushi, sashimi, shellfish, oysters, lobster, and cheese plates. $77/720ml
From Shiga Prefecture. Junmai Daiginjo. SMV: ±0 Acidity: 1.3
The nose on this lush sake is a mild collection of vanilla, rice, young peach, and pear aromas. This is a plump and smooth JDG that has body and brains. It's layers on top of layers of flavors with a profound feeling that is viscous and welcoming. Wide body and juicy. How cool is that? A very weighty brew that is expansively fruity with lots of umami and a quick finish. Look for strawberry, pear juice, ripe papaya, pound cake, banana bread, and fruit custard flavors on a pure velvet flow. This is one of those must try sakes that is a great example of a feeling and flavor brew.
WORD:
Smooth
WINE:
Fat Reds/Thick Whites
BEER:
Creamy Ales
FOODS:
Anything salty and savory, grilled, fried, and greasy good. 
$58/720ml