Sake Importers – Suzuki-Marketing
We are fortunate to have some good sake importers in the Bay Area, and one of our favorites is an importing company that is becoming a "jack-of-all-trades" importer called Suzuki-Marketing. Run by a husband-and-wife team (Richard and Yuko) and focusing on Japanese specialties, they have really made a name for themselves in the sake space. And they just signed on three more sake breweries that all rock! This is good for the breweries and great for sake lovers! And for sure they will be participating at SAKE DAY '23 where you can taste their wares and meet one of their new brewers – Watanabe Shuzo! Suzuki-Marketing will also be pouring several of their sakes at True Sake for an In-Store Saturday Tasting on July 8th. Herewith is Richard Bischoff introducing their sake importing business: 
When Suzuki-Marketing began to import Japanese sake in 2021, we never dreamed we'd be on the shelves at True Sake, never mind writing an article for the True Sake Newsletter. As I type these words, I hope this is not a decision that the good folks at True Sake come to regret! 
Here's the roundabout story about how Suzuki-Marketing became an importer of tasty sake, because why tell a story in a linear fashion, when you can veer off into tangents?  
Way back in the waning years of the 20th Century, Yuko Suzuki, who hails from Oshu-shi, Iwate, Japan, was the Asia-Pacific marketing director of a small family winery based in Modesto, called Gallo. In addition to being an MBA, she's also a certified wine advisor via the Japan Sommelier Association, a WSET Level 3 award winner in Wine, a Certified Specialist of Wine from the Society of Wine Educators, and a WSET Diploma Candidate. She's due to take her WSET Level 3 Award in Sake Test in the very near future. The reason I write this is to establish the fact that she has bona fides in business and in the business of tasty adult beverages.
Yuko founded Suzuki-Marketing in 2004, in order to export fine, mostly American, wines to Asia-Pacific, with the main focus on Japan. Coincidentally, this is the year she met the author of this article, who at the time was a lover of adult beverages, a semi-starving actor, marketing communications freelancer, and autism resource specialist in the San Francisco school system — all very good prerequisites for a life in the world of adult beverages. The fact that the author has the physique of a gorilla, and has a great deal of experience lugging things, made him a great candidate as a life partner, because he would willingly carry many cases of wine for a home cooked meal. This led to marriage and parenthood, and many trips to Japan, where he, not surprisingly, developed a love of sake. 
Oshu-no-Ryu, the first sake imported by Suzuki-Marketing, comes from Iwate Meijo Sake Brewery in Oshu-shi, Yuko's hometown. We were introduced to them by her brother Masahiko, whose passion as a city councilor was and is to promote all things Oshu-shi-related. Over 150 years old, Iwate Meijo truly represents the best of Iwate's ancient sake heritage. When we tried their sake, it was "game over." We just had to have this stuff!
We brought in their "Oshu-no-Ryu" (Dragon of Oshu) Tokubetsu Junmai, Junmai Ginjo and Junmai Daiginjo (aka "Midnight Dragon") three years ago. We're happy to say that the good folks at True Sake really like it. Even better: all three of these sakes medaled at the 2021 San Francisco International Wine Competition, with the Midnight Dragon getting Double Gold!  
The Oshu-no-Ryu "Midnight Dragon" Junmai Daiginjo is brewed with Iwate's native Yuinoka rice, developed as Iwate's answer to Yamadanishiki, which doesn't grow well in Iwate's cold climate. 
This sake's polished to 40% and is simply amazing. Clear aromas of apple, pear, and citrus blossoms with a bright, flavorful taste of cool weather fruits and a wee bit of dairy. The SMV of this sake is -1, so it's just a tad sweet, and it's perfect with sushi or on its own, but definitely served chilled.
One of the nice things about exporting fine wines and importing fine sake is that you can develop great relationships with interesting business partners. A few years ago, Yuko got a call from a friend at a leading winery with an international reputation. They wanted a new distributor in Japan. Yuko connected them with Japan Airlines Luxury Group (JALUX), and a beautiful friendship was born. Well, our friends at JALUX introduced us to their friends at Watanabe Sake Brewery.  Watanabe, founded in 1870, is located in the historic town of Hida Furukawa in Gifu.
This referral from JALUX to Wantanabe led us to tasting, falling in love with, and importing their amazing W-Series sake. We're featuring the W Underground Junmai Muroka Genshu and the W Aiyama Junmai Muroka Genshu sakes in this article (but you'll find others in the series at True Sake).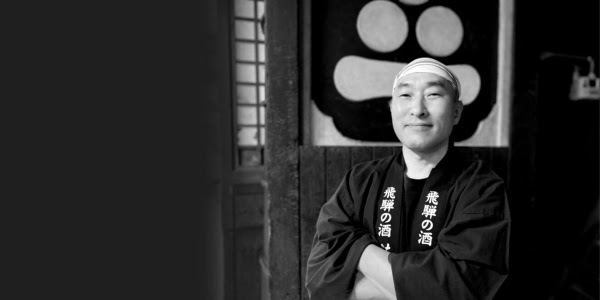 This is simply one of the most elegant, balanced, sakes we've ever tasted, and honestly, just had to have it.  First things first: this sake is brewed from Yamadanishiki rice that gets polished for 150 hours to 18 freaking percent! 
This sake is extremely light (like drinking a cloud), and is a touch sweet with an SMV of -2. Perhaps due to its intense polishing ratio, the aroma profile is very subtle, but don't let that fool you: it's flavor truly hits you like a delicate wrecking ball, perhaps made of steamed rice and deliciousness.
This sake truly is elegance in a glass, with a silky mouthfeel, a clean finish, and a bright, fresh, balanced flavor, influenced by the fact that it's Muroka (not charcoal-filtered) and bottled Genshu, (undiluted).
This particular sake, the W Aiyama Junmai Muroka Genshu, is made with Aiyama rice polished to 50%. (Aiyama, a rice strain developed in 1948, is partially derived from Yamadanishiki, Japan's most widely used sake rice, and Omachi, the country's oldest rice strain.) So, since 50% polish technically makes this a Junmai Daiginjo, why do they call it a Junmai? The answer is that all the sakes in their W lineup are Junmai. They do this in order to put the focus on the different sakamai (sake rice) they use in the making of this sake and not distract you with the polishing ratios.
We definitely get aromas of strawberries, pears, and steamed rice; flavors of strawberries, maybe a hint of banana, some melon, and experience the sweetness that comes with its -3.5 SMV. There's a clean, slightly sour, finish. Overall, it's a very easy to drink, extremely well- balanced sake that gets a lot of its flavor from the fact that it's a Muroka (non-charcoal filtered), and bottled "Genshu," or full-strength. 
Shameless PR part, but it's not entirely shameless because it's true: when we received The W-Series sakes, the first folks we poured them for were the folks at True Sake. We did this, not just for selling purposes (of course we want them to buy our stuff because we want you to drink it) but to hear their thoughts on what we're pouring. Pouring for these guys is like being cross-examined in court. Given that in a previous life, I, the author of this article, used to record depositions for trial lawyers, I know of what I speak.  They go over everything that we put in our tasting notes. They find flavors and aromas that we wish we'd discovered, and help us put our best sakes out there for you to try. We will often change our tasting notes based on what we hear these guys saying. We only import stuff we like, so when what we like is liked by the True Sake Crew, we're pretty sure you'll like it too. 
Sake, seriously, is on the cusp of being a much bigger deal in the US market.  An ancient beverage often taken for granted in Japan is really catching on with foodies, hipsters, sommeliers, and "sake curious."  You, dear reader, are a huge reason why sake is gaining more traction in the US and beyond.  Thanks for being on and enjoying this ride with us.
Suzuki-Marketing is 19 years old and counting. The company currently imports six sake brands (with more on the way), the world's leading shochu, three brands of Japanese whisky, and Ogata Ranch Maesawa Beef, also from Oshu-shi, Iwate. 
Richard Bischoff is the vice president of business development at Suzuki-Marketing, a Certified Sake Professional, and a WSET Level 3 Award Winner in Sake.