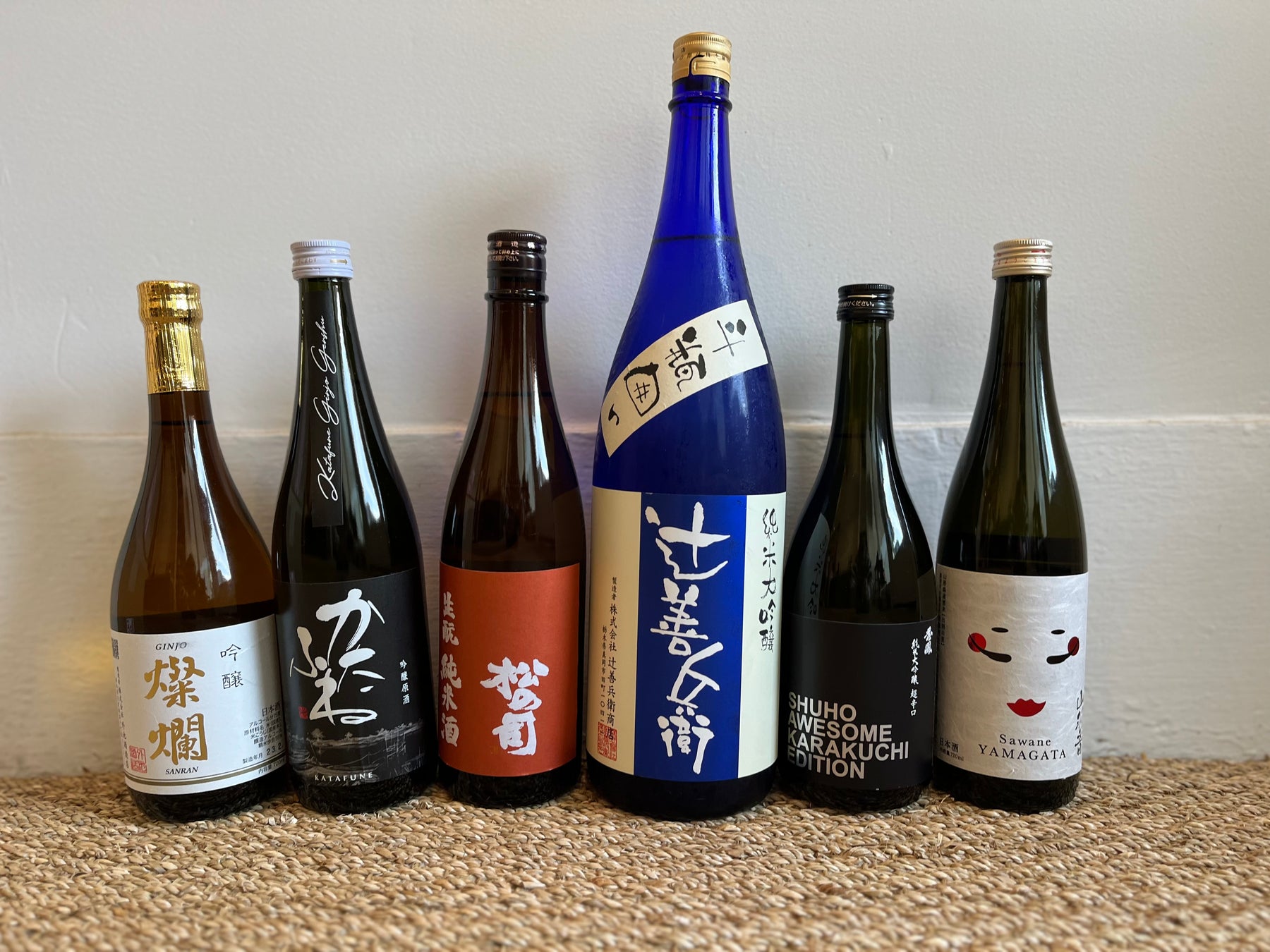 New Store Arrivals: Sanran, Katafune, Shuho, Den 90, Shirataki, Tsuchida, and Wakaze.
Sanran Ginjo
From Tochigi Prefecture. Ginjo. SMV: +1.8 Acidity: 1.4 
The nose on this classic Tochigi-Style sake is a great collection of peach, tangerine, melon, sweet rice, and green apple aromas. Lively, bright, light, clean and crisp this brew drinks smooth and with a gentle acidity that is refreshing and flavorful. It's very graceful and elegant with a tantalizing fruity over-all complexion and a quick dry finish. Look for tangerine, powder sugar, peach, pear, crisp apple, sugar cane, and grapefruit flavors that are clean and dry in a white wine glass. This is one of those "sessionable" sakes that drinks way too easy from a killer brewery. WORD: Refreshing WINE: Crisp Reds/ Bright Whites BEER: Crisp Ales FOODS: Sushi, sashimi, grilled fish and chicken, shellfish, oysters, and dishes with citrus. 

Katafune "Lagoon Boat"
From Niigata Prefecture. Ginjo Genshu. SMV: -3 Acidity: 1.4
The nose on this robust genshu "Undiluted" sake is a mild collection of apple, oatmeal, lime, pastry, with a hint of caramel. This massive brew drinks almost like an "anti-ginjo' Ginjo that is rich, round, chewy, wide, and wicked. Formerly a Tokubetsu Junmai this brew has been rebranded and it's milled to 60% with an ABV of 18%. It's also an umami bomb that is full and fun. Look for cream, molasses, hot chocolate, brown sugar, brownie, crème brullee, and cocoa flavors that glide around with depth, girth, and grace in a big bowl glass. Basically this is a mouthful of rice that drinks more full than fruity, and has incredible depth that this legendary and highly acclaimed brewery knows how to achieve. This is trophy sake. WORD: Full WINE: Deep Reds/Creamy Whites BEER: Creamy Belgians FOODS: Cooked oysters, Pad Thai, grilled artichokes, meat and game, rich stews and pastas. 

Matsunotsukasa "Kimoto"
From Shiga Prefecture. Kimoto Junmai. SMV: N/A Acidity: N/A
The nose on this traditionally made pole-rammed sake is a unique collection of pecan pie, butter popcorn, rum raisin, nuts, and ocean water aromas. This is an old-school kimoto that is savory, buoyant, and a touch slippery. Smooth, slick, silky, creamy, and medium-bodied there is definitely an acidity play in action that balances out the rice tones of the brew. Look for grapefruit, unripe pear, stone fruits, with minerality and some tantalizing shibumi with a dry crisp finish. This brewery is as hot as they come right now and we are lucky to get this offering. It's aged for two years then released so there is a lot going on with lingering umami and kimoto complexities. Good at room temperature and slightly chilled. WORD: Umami WINE: Zesty Reds/Acidic Whites BEER: Crisp nutty ales FOODS: Salty, savory, greasy, and grilled fare. 

Tsuji Zenbei "Tobingakoi"
From Tochigi Prefecture. Daiginjo Tobingakoi. SMV: ±0 Acidity: N/A
We want to thank Stuart Morris of Pabu Izakaya for allowing us to offer this Exclusive to Pabu sake. The nose on this Tochigi masterpiece brew is an atomic collection of Asian pear, lilac, alpine strawberries, cantaloupe, grape, and other tropical and floral aromas. This Daiginjo drinks you as much as you drink it! Full-bodied, lush, silky, airy, juicy, velvety, and plump it drinks with a lot of action and a ton of zesty flavors. Look for powder sugar, watermelon, guava, Asian pear, grapefruit, strawberry, with a little white peppers and lots of minerality. There is so much going on in this "mouth party" that you almost forget the 17% ABV and all those tropical flavors as the fluid itself is so awe-inspiring. Great sake. WORD: Tropical WINE: Fruity Reds/Beefy Whites BEER: Citrus ales FOODS: Sushi, sashimi, shellfish, crab, caviar, rich fare, ankimo, shrimp, and cheese plates. 

Shuho "Awesome"
From Yamagata Prefecture. Junmai Daiginjo. SMV: +10 Acidity: 1.45 
The nose on this dry Daiginjo is a cool collection of grape, lychee, mango, floral, and mineral aromas. We've been waiting for a long time to see a sake label that reads "Awesome." We use that term a lot in our reviews, so it was awesome to see the brewery use it to name this brew. "Cho-Karakuchi" literally means dry sake, and this sake lives up to that. Clean, crisp, juicy, and with a little zestiness this is a lively sake that drinks smooth and compact. Medium body with a little "Shibumi" (astringency) look for grape, apple, kiwi, daikon, dried pear, persimmon, and ginger flavors with a white pepper quick finish. An impressive dry Junmai Daiginjo that is crisp with a quick finish and would appeal to dry sake fans in a premium sake format. A very good sushi counter sake. WORD: Dry WINE: Zesty Reds/Crisp Whites BEER: Crisp Ales FOODS: Sushi, sashimi, cheese plates, oily fish, fried foods, soy sauce based dishes. 

Benten Sawane 
From Yamagata Prefecture. Junmai Ginjo. SMV: +2 Acidity: 1.3
The nose on this sake that was "Harmoniously brewed in Yamagata," is a fragrant collection of rose water, pear, mango, honeydew, and apple aromas. We like to call this a protypical Junma Ginjo sake with a prototypical nose and prototypical flavors that define a category. Smooth, bright, fruity, juicy, fleshy with a dry finish this is one of those "How can rice and water taste so fruity and tropical" sakes. We don't know how they do it, but look for pear, peach, strawberry, honeydew, champagne grape, persimmon, and ginger flavors on a fruity flow that drinks like the smile on the label itself. Made with local Dewanosato rice milled to 55% think round, clean, smooth and light sake that is prototypical Junmai Ginjo sake. WORD: Fruity WINE: Fruity Reds/Bright Whites BEER: Fruity Ales FOODS: Sushi, sashimi, shellfish, crab, lobster, Champagne fare, cheese plate, and fruit dishes. 
Den 90 
From Oakland California. Junmai. SMV: -1 Acidity: 1.9
The nose on this limited run sake is cool collection of butter cookie, lemon curd, pear, honey, ocean water, and sweet rice aromas. Making sake is difficult, especially when you are working with rice that is only polished to 90%. So behold terrific Junmai sake that is made with very prized organic Luna Koshihikari rice from the Sacramento Valley. Smooth, slippery, rich, semi-sweet, and wide this brew has some nice wine-like qualities of astringency and tannin-like dryness with a dry crisp finish. Look for lemon cake, sugar cane water, green apple, peach, yogurt, kelp, powder sugar, and sourdough flavors that slide through the palate. A very solid food-pairing brew that is local and very crafty! WORD: 90 WINE: Big Reds/Beefy Whites BEER: Citrus Ales FOODS: Street foods, tacos, stews, rich cuisine, curries, steak and chops.  

Noguchi "Nouveau" 
From Ishikawa Prefecture. Honjozo Nama. SMV: N/A  Acidity: N/A
The nose on this freshly released sake from a brewery that typically ages their brews is a crisp collection green apple, pear skin, spices, pumpkin bread, cantaloupe, and creamy aromas. Say hello to a performance sake that will speak to those who like clean, crisp, and laser tight sakes and are fans of clear spirits. Rich, bold, silky, tingly, and aggressive this nama rejoices in a 19% ABV. Look for crisp apple, pralines, peach, salinity, white pepper, dried rice, and mineral flavors on a dry, sharp, and warming flow. This is a totally new look for a Noguchi sake and it will remind the drinker that sake can be raw and wild. WORD: Brash WINE: Zesty Reds/Massive Whites BEER: Dry Ales FOODS: Champagne fare, sushi, sashimi, oysters, caviar, olives, smoked fish. 


Emishiki "White Label" Nama
From Shiga Prefecture. Junmai Ginjo Nama. SMV: N/A  Acidity: N/A
The nose on this seasonally released unpasteurized version of one of our favorite pasteurized brews is a spectacular collection of Lychee, passion fruit, white grape, kiwi, bamboo, citrus, and tropical aromas. Smooth, clean, crisp, and chewy this living brew is slippery with great body. A very fresh and "green" nama that has a sneaky richness with a hint of astringency and a crisp finish. Look for mango, green apple, raisin, white grape, banana bread, rock sugar, and grapefruit flavors that glide on the fresh and refreshing flow. Lots of depth to this brew that drinks with a peek-a-boo dense quality that feels great in the palate. WORD: Fresh WINE: Lively Reds/Crisp Whites BEER: Crisp Ales FOODS: Street fare, beach cuisines, shellfish, picnic foods, and light international spice. 
Shirataki "Seven" 
From Niigata Prefecture.
Junmai Daiginjo.
SMV: -8 Acidity: 1.3
The nose on this "Gift from Niigata" is an amazing array of melon, rock sugar, lilies, orange sherbert, lychee, ginger, and coconut aromas. Made with Yamadanishiki milled to a crazy 25% by Toji Matsumoto-san this sake is really a cut above. It's a signature brew that is made to impress sake drinkers of note, and in a word it's exceptional. Smooth, plump, rich, round, and very velvety this sake drinks with an uplifting buoyancy. There is a stunning umami complexity, but the star of the show is compelling sweetness that is present then gone with dry finish for all of that flavor. Look for honeydew, vanilla, flan, banana chips, sugarcane juice, sugar apple, ripe papaya, and rice bran flavors that glide through the palate on a elegant and confident flow. A stand up and cheer Ultra Daiginjo that should not be missed!
WORD:
Exceptional
WINE:
Smooth Reds/Fat Whites
BEER:
Creamy Belgians
FOODS:
Sushi, Sashimi, caviar, fois gras, ankimo, lobster, King crab, and sweet oysters.  

Shin Tsuchida "90"
From Gunma Prefecture.
Kimoto Junmai.
SMV: -13 Acidity: 3.9
The nose on this sake that pays homage to brewing techniques from the 1600's is a wild collection of apple cider, natto, maple syrup, candied cherries, wet wool, lemon peel, salami, and woody aromas. Wow! So much sake in such a drinkable fluid that is light and round for so many full-bodied flavors. Now that is technique at its finest. Using Gunma food rice milled to 90% this sake drinks you as much as you drink it! There is an amazing flavor field including apple cider, sweet tea, butter mushroom, cooked lemon, chicken stock, ham, sweet cherry tomato, parm cheese, and bucket loads of umami. When you look at the acidity level you ask what does it do? Basically it takes a huge amount of sweetness and flavors and cleans them up for a well-balanced and gentle finish. This sake is reward to those who like it big but balanced.
WORD:
Balanced
WINE:
Massive Reds/Beefy Whites
BEER:
Stouts
FOODS:
Steak and chops, fried anything, smoked meats, grilled veggies, cheese plates, rich pastas, umami-rich fare. 

Wakaze "Whiskey Barrel Aged" 
From Paris, France.
Aged Kijoshu.
SMV: -50 Acidity: 5.0
The nose on this Kijoshu sake (made with more sake rather than just rice and water) is a killer collection of cooked lemon peel, apple cider, caramel, peanut brittle, almond, and woody aromas. Say hello to a French sake that drinks great right here in SF. Made with French rice, water, and yeast it is a terrific Kijoshu that should not be missed. Smooth, chewy, velvety, viscous, round, slick, it drinks rich, ripe, and very layered. There is a sensual complexity to this brew that has bucket loads of flavors such as honey, cooked orange, lemon curd, burnt caramel, plum, molasses, and sassafras. It is fleshy and fun with a tingle acidity and a quick finish for so much up front. With a light ABV of 13% this is a food pairing masterpiece.
WORD:
Ripe
WINE:
Dessert wines
BEER:
Creamy Belgians
FOODS:
Foie Gras, smoked meats, game, cheese plates, rich fish and fowl.