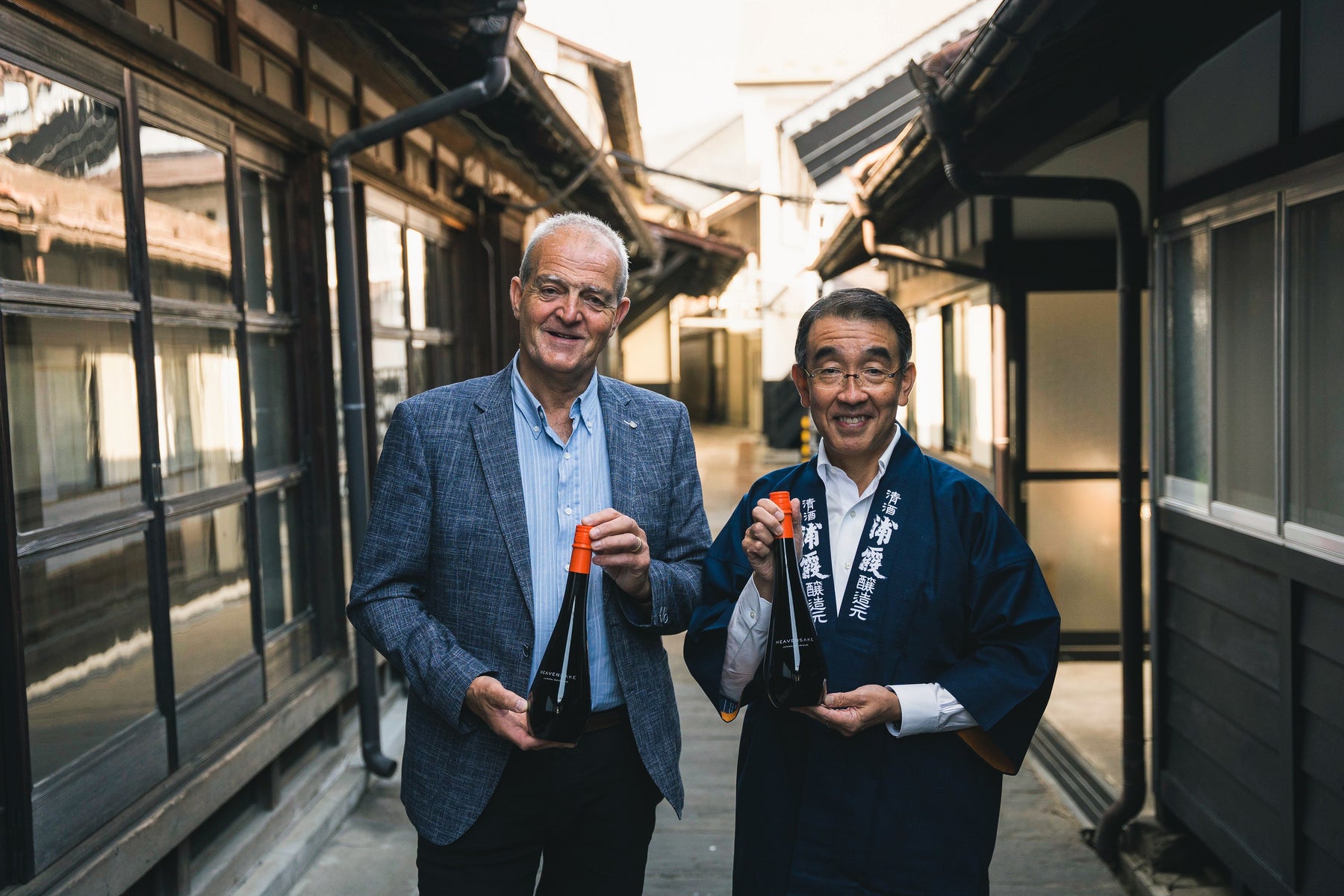 Sake Expressions – HEAVENSAKE
In over twenty years of selling sake – and drinking sake – I have witnessed many private label sakes come and go. The private label concept has done ok in the international sake scene, but they have only achieved limited success and sustainability. Most projects are restaurant related and do far better at the restaurant then in retail, if they retail at all. This all changed when HEAVENSAKE came on the scene. 

From the beginning I knew the HEAVENSAKE concept would not only survive but would thrive for decades to come. Why? They have it! They have the "It" factor, and it is opening the door to thousands of new sake drinkers the world over. What is their "It"? Basically they started with a genius French Champagne guru who wanted to produce sakes in his own style and manner for drinkability and new expressions. Then they targeted the bar and club scene to find new sake drinkers of all ages. Then they approached some killer breweries to make their sake expressions. And lastly, they designed a very distinctive bottle to bring their sake vision to the international sake market. 

We are big fans of HEAVENSAKE and when they asked to reach our customers to introduce their newest Junmai Daiginjo from Urakasumi we said heck ya! Regis Camus personally told me that the orange bottle-top was inspired by the Sake Samurai and you can taste this and other HEAVENSAKE products at True Sake for an In-store tasting on Saturday, June 17th! Herewith is HEAVENSAKE's Nes Rueda to describe their operation and inspiration in his own words: 

"When we first had the idea of bringing the art of assemblage to Japanese sake, the main question was whether our breweries of choice, and their respective Tojis, would find value in it? From our first creation with Dassai, to our latest one with Tatenokawa, the approach was always the same: we had to showcase the skills of our co-founder Regis Camus to gain their trust. But every time they saw how he brought these new aromas to life, they instantly agreed to work with us.  
 
Assemblage, commonly referred to as blending, is to alcohol what mixing colours is to painting. Combining yellow and blue will give you green, which in itself is pretty fascinating. Assemblage will do the same to alcohol, except the results cannot be seen as easily as they can with colour, which complicates the creational process. It takes years for Champagne's greatest "Maitres de Chais" to develop their craft and understand exactly how to combine different flavours and fragrances to achieve perfectly balanced masterpieces. 
 
Winning the prestigious "Sparkling Winemaker of the year" title at the IWC a staggering total of eight times, had already established Regis as one of the greatest of our generation. But in the world of sake, he had the desire to unlock new taste profiles and bring sake outside of Japanese restaurants by creating perfectly crisp liquids with playful floral touches and fruity notes throughout. The beloved Mediterranean smoothness of HEAVENSAKE was born, bringing us two consecutive "Best Sake" awards at the IWCSF, America's most prestigious Wine Competition. 
 
The concept of assemblage is fairly simple, the execution is not. Starting with the existing sake of our partner breweries, Regis immerses himself into the identity of each liquid to understand how they can interact with one another. The goal is to amplify and combine the good of each sake to achieve a new composition. "In blending, one plus one equals three" Regis likes to say. It takes days of experimenting through trial and error until the blend master's ideal combination is found. 
 

One of Regis' creations which perfectly illustrates his ability to transcend sake, is our LABEL ORANGE, in collaboration with Urakasumi. Working in tandem with the Toji, Regis was able to bring notes of zesty citrus and ripe peach to this 300 year old brewery known for its gentle aromas. Led by Saura-san, an iconic figure of the industry, he and Urakasumi have been avid supporters of our project from the beginning, and our gratitude for the man we kindly call our "Godfather" is endless. The orange colour is an homage to the Sake Samurai Association which he is the President of. It is thanks to leaders like him understanding our vision that HEAVENSAKE became a success story.
 
After gaining the respect of the most sought after Japanese and Asian Fusion accounts, like Kappo Masa, Zuma or Brooklyn Fare, our goal was to introduce sake to iconic places like Cipriani Downtown, The Setai or Chateau Marmont to make people discover the versatility and elegance of Junmai sake. 
 
The vision behind the HEAVENSAKE project was always clear, breaking Japanese sake into mainstream culture in hopes of heightening the entire category and sharing our momentum with all the great breweries and projects out there. There is still a long way to go but the evolution we have seen over the past years shows that the trend is growing significantly. 
 
One of our ways to attract new sake drinkers was to develop a 12% ABV sake called JUNMAI 12 in collaboration with Konishi, the family owned brewery who recently ranked third in the World Sakagura Ranking. Developing a sake with 25% less alcohol without compromising on taste, was a technical challenge masterfully solved thanks to the great collaboration with Konishi's team. It is through the power of blending that Regis was able to extract the caramel and cocoa notes that make JUNMAI 12 such an appreciated sake from Los Angeles to Paris, Dubai to Hong Kong.


We look forward to welcoming you all to Sake Day to taste and cheer with us along with many great leaders of the industry we cherish so much, including Saura-san. Reading about our story and creations may be interesting, but nothing quite beats the feeling of that clean, fresh HEAVENSAKE flowing straight out of a glass into your soul. 
 
Click on the link below to view the interview between Beau-san and Regis Camus on assemblage, LABEL ORANGE and their common passion for the purest drink in the world."