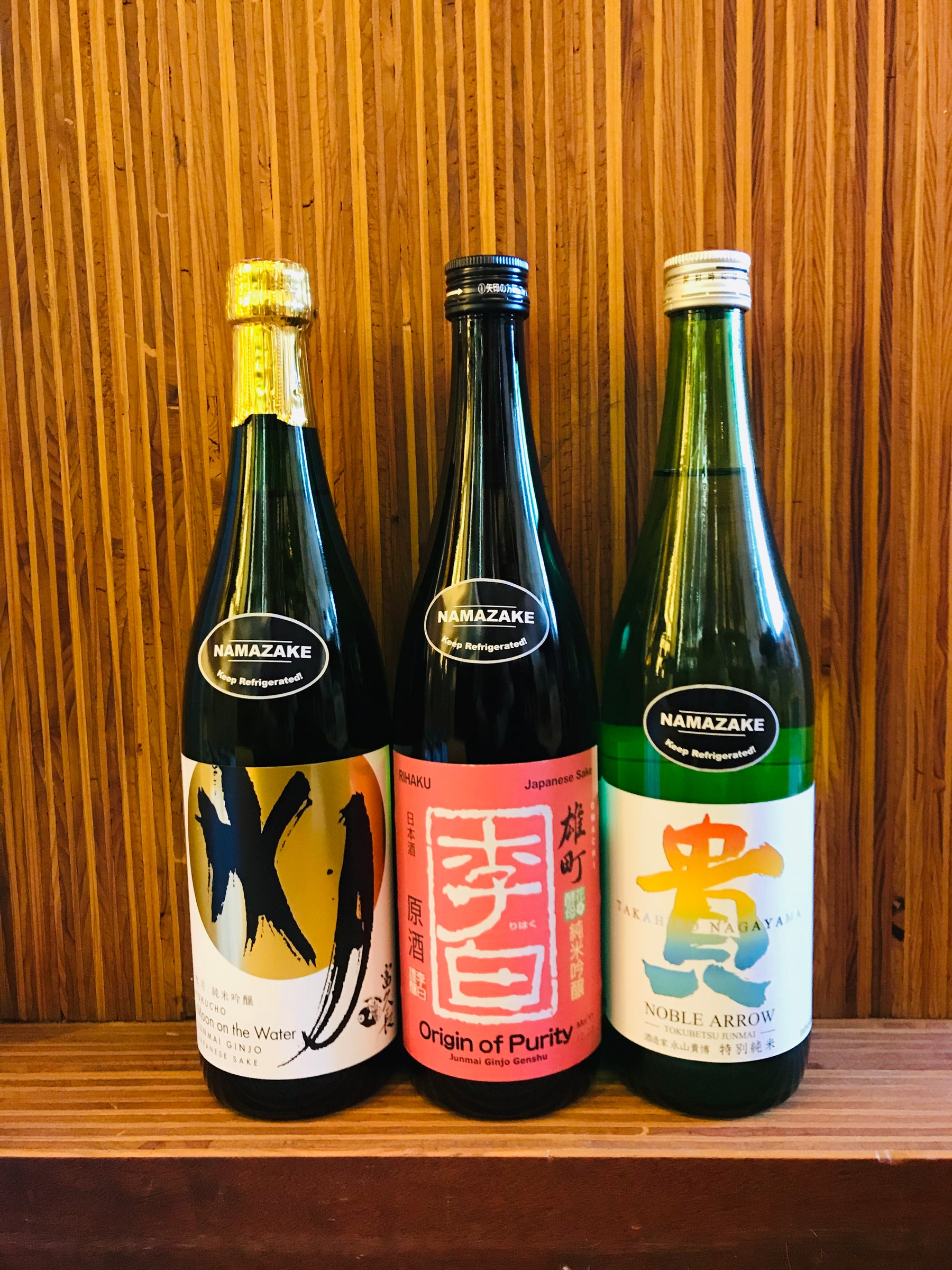 New Store Arrivals – Spring Namas Fukucho, Rihaku, Taka
Fukucho "Moon on The Water" 2021
From Hiroshima Prefecture. Junmai Ginjo Nama Genshu. SMV: +3 Acidity: 1.4
The nose on this seasonally released brew is a fruity collection of plums, citrus, papaya, melon, pear, lime, and rose water aromas. Say hello to a "Home Run" unpasteurized sake that is a pure winner. This year's Fukucho is simply amazing sake. Tingly, fresh, bright, effervescent, and very lively - let the fun begin. The balance stands out amongst all of the fun fruit elements such as green apple, honeydew melon, ripe pear, mint, and a kiss of anise. In a word, this is 3D Junmai Ginjo sake that is filled with fruit layers on top of fruit layers that work so well together. The fluid is up-front and fleshy with a zesty tingle and a magical mineral tail. Finishes with a lovely aftertaste that completes this incredible sip. WORD: Fresh WINE: Lively Reds/Zesty Whites BEER: Crisp Ales FOODS: Sushi, sashimi, crab, lobster, oysters, fruit plates, and Champagne fare. $46/720ml


Rihaku "Origin of Purity" 2021
From Shimane Prefecture. Junmai Ginjo Nama Genshu. SMV: +3 Acidity: 1.7
The nose on this seasonally released "Nama" or unpasteurized brew has a rich collection of berry, cherry, pear, apple, citrus, and steamed rice aromas. They say it's good to be king, but it's also good to be rich, and this fabulous Nama Genshu, "undiluted" sake, is liquid rich. Round, smooth, velvety, and full-bodied this brew feels right at home in the palate. Using the very tasty Omachi brewing rice, varietal milled to 55%, look for juicy hints of pear, fruit compote, and warm apple pie with flaky crust flavors. The brew is chewy but not gooey, and the rich fruit, rice, and umami tones come forth as the fluid warms in the glass. A very special and rich Nama that should not be missed. WORD: Rich WINE: Deep Reds/Complex Whites BEER: Creamy Belgians FOODS: Grilled and fried pub fare, meats, fowl, and game. $36/720ml
Takahiro Taka Nagayama "Noble Arrow" 2021
From Yamaguchi Prefecture.
Tokubetsu Junmai Nama.
SMV: +2  Acidity: 1.6
The nose on this seasonally released unpasteurized sake is a unique collection of mint, mineral, melon, green apple, spring onion, and green grass aromas. Made with two rice varietals, Yamadanishiki and Hattannishiki milled to 60%, this special Junmai is a very crisp Nama with lots of tannin-like dryness and crisp flavors of young fruits. Look for green apple, grapefruit, green grape, and some astringency from young melon, young pear, and young peach flavors. There is a very nice citrus and mineral play as the fluid warms, and it's bright, tingly, zesty, and very lively just like a good Nama should be. 
WORD: 
Crisp 
WINE: 
Tannin Reds/Crisp Whites 
BEER: 
Crisp Ales 
FOODS: 
Seafood and more seafood.
$31/720ml