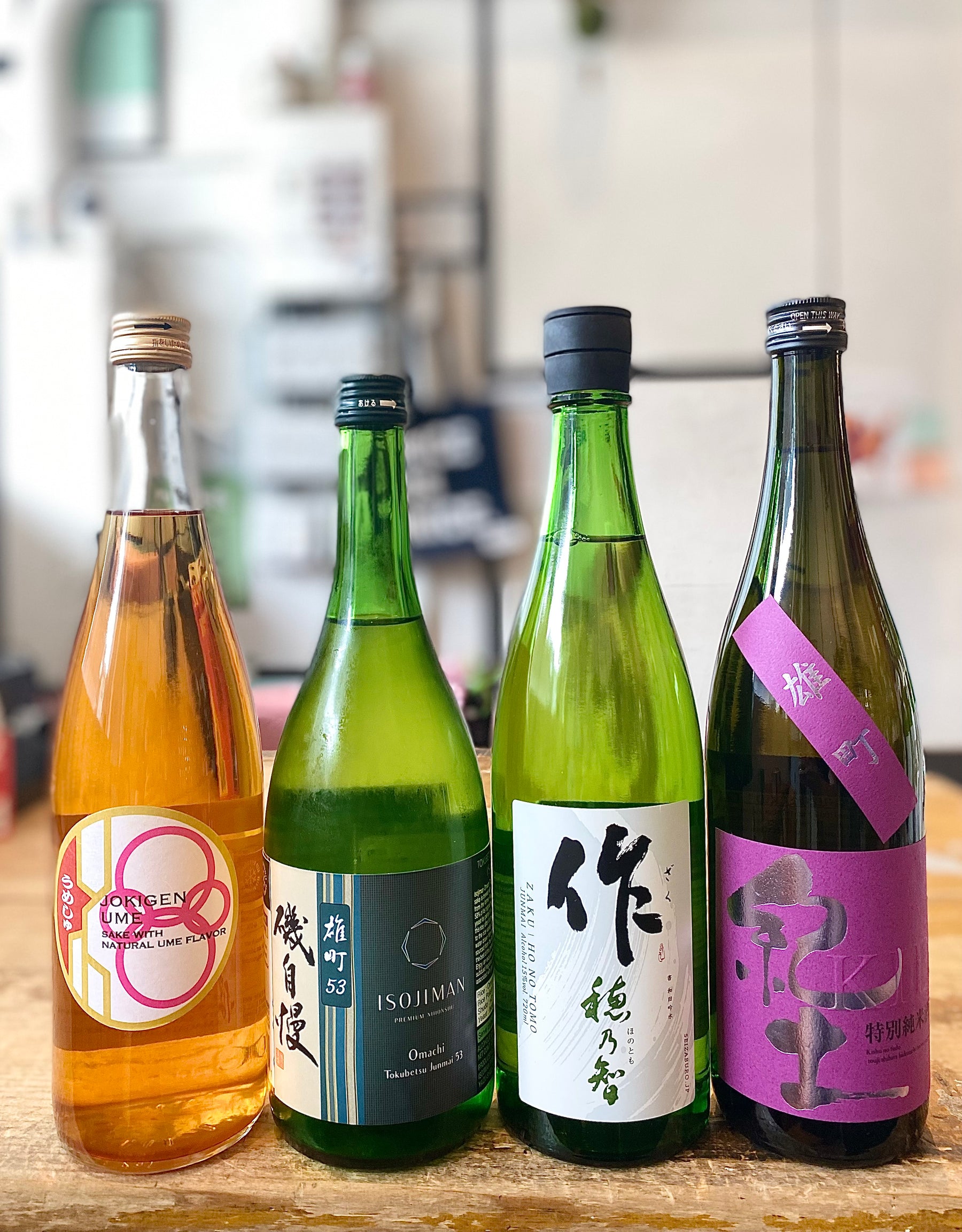 New Store Arrivals – Jokigen, Isojiman, Zaku, & Kid
Jokigen Ume
From Yamagata Prefecture. Junmai Umeshu. SMV: N/A Acidity: N/A
The nose on this gentle plum sake is a glorious collection of plum, honey, cherry, sugar, and orange blossom aromas. Behold a gentle umeshu that is not that "fat and sweet" old-style plum sake.  Elegant, smooth, round, and gentle, there are excellent plum tones. But also look for hints of citrus, honey, and brown sugar flavors on a fluid that is buoyant. Not too sweet, there is a gentle tartness that really brings all the flavors together in good ume balance. Very "plumy" and very clean for an umeshu. Add an ice cube to make it even lighter.  WORD: Plum WINE: Sweet wines BEER: Sweet Ales FOODS: Cocktail fare.
From Shizuoka Prefecture. Tokubetsu Junmai. SMV: +4 Acidity: 1.2
The nose on this updated fan favorite brew is a gentle collection of pear, cooked apples, cream, nougat, and steamed rice aromas. Say hello to one of our favorite brews that has been Tokubetsu-d "specialized" to a new milling rate of 53% for their Akaiwa Omachi rice and using their special house yeast called Isojiman New-5-1. In a word this is a professional sake through and through, and it will astound the sake aficionados and will be a very welcome drinking experience for new sake drinkers. Dry, clean, smooth, gentle, round, lush and layered, this is a rich sake that drinks more smooth than full-bodied. Basically this takes Omachi to a new amazing level of scope and balance with a flavor field that is not like your typical fruity brew. Look for sweet rice, nougat, cooked apples, confectionary sugar, butter, ocean water, and a whole lot of umami on full-bodied flow that is buoyant and soft. This is one of those Bucket List Brews that every True Sake fan should taste. WORD: Smooth WINE: Velvety Reds/Full Whites BEER: Creamy Ales FOODS: Seafood, grilled fare, salty and savory, meats, game, stews.  


Zaku Ho No Tomo "The Artisan"
From Mie Prefecture. Junmai. SMV: +5 Acidity: 1.7
The nose on this very popular Japanese sake is a gentle collection of mineral water, pear, vanilla, citrus, and stone fruit aromas.  This is a "craft" sake that reminds you that all sake is craft sake, but some are just more crafty! We call this a "built" brew as you can really taste and feel the brewer's technique in each sip. Smooth, round, juicy, slippery, fresh, with a quick finish. Zaku plays with a gentle sweetness of fruit tones, but has an overall dryness with lots of umami hints. Look for tangerine, ripe apple, vanilla, pear, sweet tea, Asian pear, ocean water, lemon, and steamed rice flavors on an elegant and slippery flow that is silent but very vocal. The great thing about this Zaku is the fact that it can be considered Sake 101 for new drinkers,
and Sake Master Class for professionals. WORD: Craft WINE: Soft
Reds/Deep Whites BEER: Belgian Ales FOODS: Anything from the ocean!

Heiwa Shuzo KID "Omachi"
From Wakayama Prefecture. Tokubetsu Junmai. SMV: +1 Acidity: 1.7 
The nose on this limited release masterpiece is a mild collection of raspberry, pear, peach, and citrus aromas. In a word, this is a very special expression of sake made with Omachi sake brewing rice. It's almost "elegant Omachi" that has impeccable balance and is a great example of the brewing talent at Heiwa Shuzo. Smooth, clean, and a little frisky, there is a mild fruitiness and crispness with a quick dry finish. Look for grapefruit, cherry, strawberry, purple plum, tangerine, grape, and lemon sorbet flavors on a very drinkable flow with an umami echo. There is a lot of control on the fruit, and the balance is outstanding. The structure of this Kid is inspiring, and rarely do I smile when writing a review. I'm smiling and so will you. WORD: Balanced WINE: Zesty Reds/Crisp Whites BEER: Crisp Ales FOODS: Salty & Savory, pub fare, grilled meats and fish, yakitori.