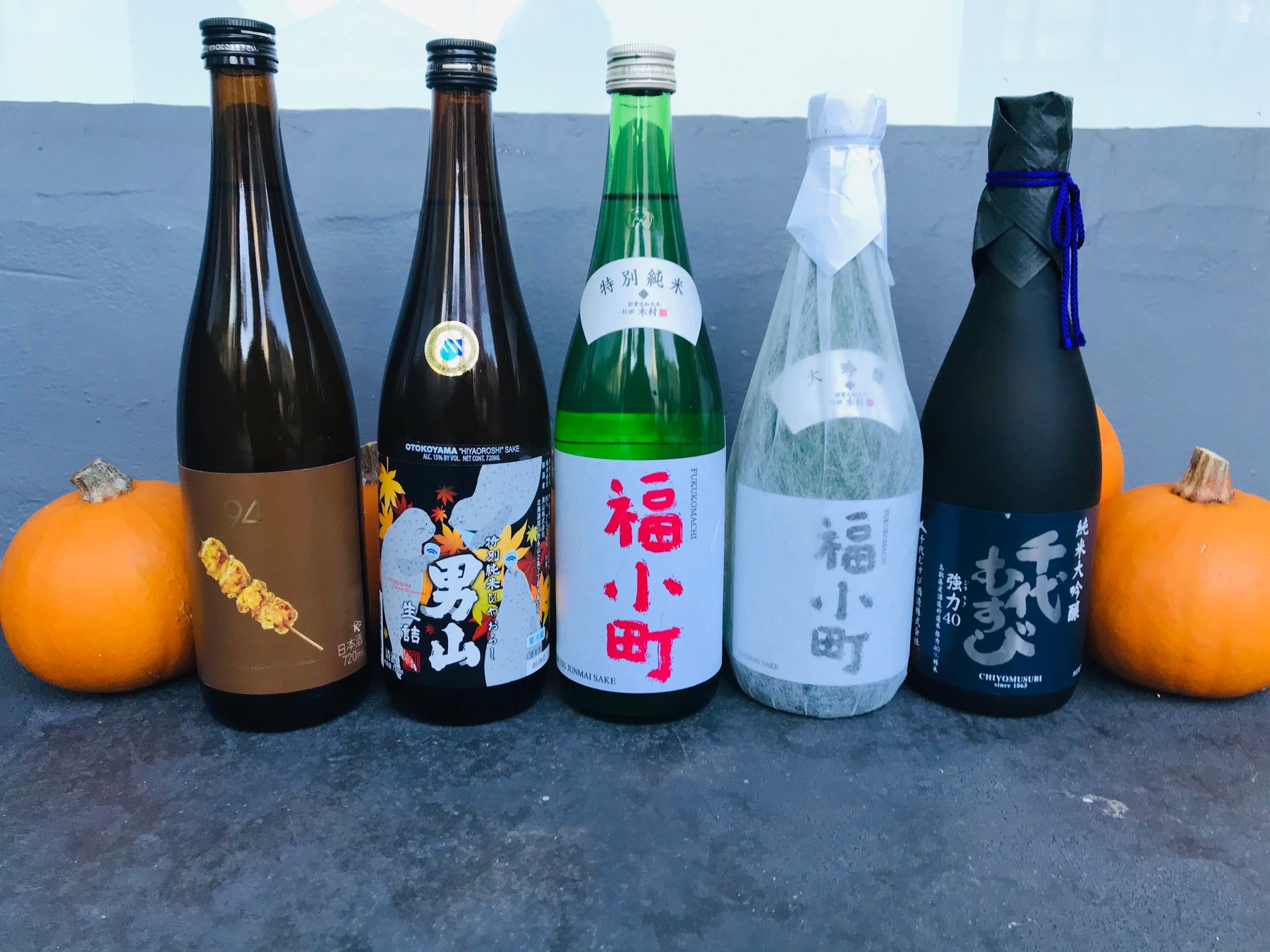 New Store Arrivals – Tamanohikari, Otokoyama, Fukukomachi, Chiyomusubi
From Kyoto Prefecture. Junmai Ginjo. SMV: +1.5 Acidity: 1.8
The nose on this very food friendly sake is a great collection of cocoa, caramel, soy sauce, pudding, and almonds. Say hello to a very tasty Junmai Ginjo that celebrates all things Yakitori. Yup! The amazing flavors of all sorts of chicken parts grilled on a skewer. The name of this brew is "94"(read as "Nine Four") and that's a play on words for the name "Kushi," which is short for Kushiyaki or anything on a stick.  Rich, round, smooth, and savory this sake has an incredible body that has creamy tones and a long umami tail. Look for hints of cocoa, maple syrup, peanut butter, nougat, dark chocolate, and burnt sugar. Does this mean it drinks sweet? Nope, not at all. It drinks more rich and velvety, which is great with the flavor of the chicken in sauce or with salt. We've been trained to pair light and dry sake with chicken, but this semi-sweets and savory sake dances like Ginger Rogers and Fred Astaire. Definitely pair this brew at different temperatures, because the brewery used AI to determine the perfect matches for this sake with salt, sauce, umami, at several different serving temperatures. WORD: Yakitori WINE: Pinot Noir/Fat Chardonnay BEER: Creamy Belgians FOODS: Come on you have to ask? (Think meats, fowl, game, and barbeque) 
From Hokkaido Prefecture. Tokubetsu Junmai Kimoto Namazume. SMV: ±0 Acidity:1.8 
The nose on this fall seasonal draft sake is a gentle collection of steamed rice, persimmon, powdered sugar, apricot, mochi, and melon aromas. This year's Otokoyama has many similar traits of past Hiyaoroshi sakes. Light, dry, clean, and compact with a little touch of young fruit astringency that is appealing to Red Wine drinkers. Look for hints of lime, white pepper, young melon, green apple, grains, macadamia nuts, and dried fruit tones. This extremely drinkable single pasteurized sake is made using the Kimoto or pole-rammed technique, which creates a nice acidity play that pushes the flavors through the palate. A great food pairing Fall Draft brew. WORD: Dry WINE: Dry Reds/Crisp Whites FOODS: Salty savory fare, sushi, sashimi, citrus-based fare.     
From Akita Prefecture. Tokubetsu Junmai. SMV: +2.5 Acidity: 1.3 
The nose on this unique sake that is new to True Sake is a gentle collection of caramel, Rice Krispies Treat, White Chocolate, and steamed rice aromas. Soft, round, and semi-thick this brew drinks fat and fleshy on the palate. It is very creamy and velvety that is not too fruity and not too dry, but rather smooth, rich, and ricey with layers of umami flavors. Look for hints of graham cracker, caramel, nougat, marshmallow, and breakfast cereal flavors.  The incredible aspect of this Akita sake is that you can taste the brewery's water in each sip amongst all of the amazing rich flavors. It is a very good warming sake that brings forth chocolate and creamy fudge flavors. WORD: Umami WINE: Pinot Noir/White Burgundy BEER: Creamy Belgians FOODS: Salty and savory fare, sushi, sashimi, grilled meats and fowl. 
From Akita Prefecture. Daiginjo. SMV: +2.5 Acidity: 1.2
The nose on this special brew is a glorious collection of green apple, tangerine, orange blossom, lemon custard, pear, melon, and Gardena aromas. Say hello to a talking sake. Huh? Yes, this amazing Daiginjo from Akita Prefecture made with Yamadanishiki brewing rice milled to 40% talks-the-talk. It literally begins a conversation on the first sip, which is electric with a tingle and just pops in the palate. We call this type of sake an "exciting" brew that drinks very vivid with bright and juicy flavors. Look for mango, papaya, candied ginger, berry, orange candy, melon, ripe peach, white pepper, and crisp fruit flavors. Delicious and exhilarating this Daiginjo is world class in that it has so many flavors that go in so many directions and yet it ties back together with great balance. And that is the hallmark of great brewing technique. WORD: Exciting WINE: Crisp Reds/Bright Whites BEER: Crisp Fruity Ales FOODS: Shellfish, sashimi, oysters, fruit salads, champagne fare.  
From Tottori Prefecture. Junmai Daiginjo. SMV: +1   Acidity: 1.2 
The nose on this brew that is made using the Goriki brewing rice varietal has a nice collection of berry, melon, grape, strawberry, and Gardena aromas.  Take a bite out of this bright, expansive, tingly, and crisp sake and be rewarded with a fruit basket full of flavors. Hints of apple, sweet melon, and berries come first then look for the sugar tones like rock candy, sugar cubes, and powder sugar on strawberries. The excellent acidity vividness offsets the sweet flavors to create a very energetic and bright sake drinking experience. Full-bodied and chewy it is a viscous sake that is considered an "Ultra" Daiginjo because it's been milled to 40%. Another one of those sakes that makes you think how can rice and water taste like fruit and sugar goodness! A solid brew that is a good gift-giving sake appealing to most!
WORD
: Bright
WINE:
Full-Bodied Reds/Fruity Whites
BEER:
Fruity ales
FOODS:
Sushi, sashimi, shellfish, oysters, cheese and fruit plates.