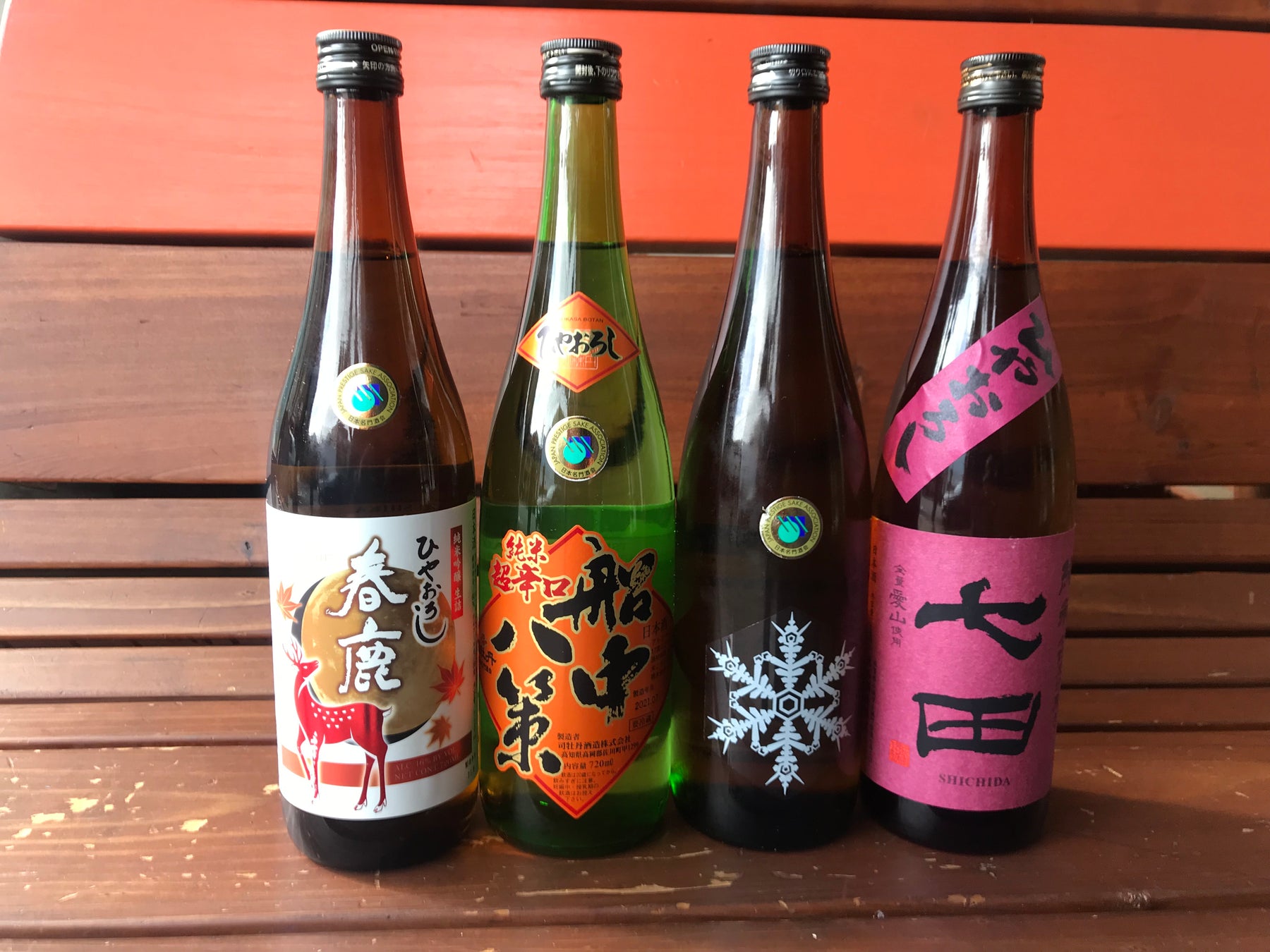 Seasonal Sake – The Second Amazing Flight of Hiyaoroshi Fall Draft Sake Has Landed
It's been a record year for the seasonally released single-pasteurized sakes known as Hiyaoroshi. And since True Sake has been selling these special brews since our first year of operations, and since we were the first retail store to sell Hiyaoroshi sake outside of Japan, we are thrilled to announce our new record number of fall draft sakes. 
What's the number? 
By hook and by crook we have managed to pull 17 Hiyaoroshi brews into our inventory this season. Sadly, a few have come and gone, but many have replaced these on our shelves. Guess what? The demand has been amazing, and that really floats our sake boats. It's awesome! We are so pleased that customers really enjoy this type of "rested" and single-heated sakes that speak to the fall flavor cuisines and hopefully your Thanksgiving table. And for you out of town folks these "draft" brews are far more stable than totally unpasteurized brews called Nama or in some instances Nama Nama. 
Herewith is the next flight of Hiyaoroshi sake and thank you for helping us make sake history once again! 
From Nara Prefecture. Junmai Ginjo Namazume. SMV: -4 Acidity: N/A 
The nose on this seasonally released single pasteurized "draft" sake is a mild collection of raisin, cooked apples, berries, grape, and crushed leaves aromas. Smooth, lively, and bright this autumn deer with the harvest moon in the background drinks fresh, crisp and expansive. Look for Asian pear, sweet rice, apple, cherry, and banana bread flavors that are zesty, fun, lively and drink with some legs on the glass with viscosity and slipperiness. It's a juicy and fruity Hiyaoroshi sake that is smooth and velvety that tickles the palate as it coats it. WORD: Lively WINE: Frisky Reds/Zesty Whites BEER: Crisp Ales FOODS: Sushi, sashimi, grilled chicken, shellfish, crab, fruit plates, Champagne fare.
Tsukasabotan Senchu Hassaku Hiyaoroshi 2021
From Kochi Prefecture. Junmai Namazume. SMV: +8 Acidity: 1.7 
The nose on this seasonally released "draft" sake is a cool collection of strawberry, sugar, peach, veggie, green apple, kiwi, and nutty aromas. If you are a dry sake fan, and you want to enjoy the relaxed and rich nature of Hiyaoroshi sake then this brew is for you! Tight, dry, clean, with a killer quick Kire finish, this brew would appeal to shochu fans who like that compact fluid feeling. This is a laser fast sake that flashes through the palate with a dry finish that has a touch of minerals to it. Look for Asian pear, powdered sugar, nougat, cocoa, white pepper, coffee, and snow melt flavors that are crisp and tight. There is a very cool shimmer of water in each sip that also makes this full-bodied dry brew slippery. WORD: Dry WINE: Dry Reds/Flinty Whites BEER: Mineral Ales FOODS: Izakaya "Pub" cuisines.
From Niigata Prefecture. Junmai Namazume. SMV: +2 Acidity: 1.5
The nose on the seasonally released single pasteurized "Draft" sake has an interesting nose of lemon custard, straw, unripe fruits, cucumber, cut grass, caramel, banana, and sunflower aromas. Is there snow in the fall in Japan? You bet, especially in places like Niigata where snowmelt produces some of the best sake out there. This Hiyaoroshi is a celebration of water and gentleness that has a lot of snowmelt and mouth watering elements that lets you experience minerals in sake. Smooth, even, slick, and watery, the finish on each sip is very quick and clean. Look for an array of flavors that are hidden within each silky sip including butterscotch, lemon, soy sauce, peach, bread, cucumber, mint, and frozen snowball flavors. The snowflake label is a great indicator of the fluid within, and the gentle and mouth watering action of this brew is a great sip of Niigata in the late fall. WORD: Smooth WINE: Gentle reds/Light Whites BEER: Light Beer FOODS: Sushi, sashimi, tofu, poached salmon and white fish, chicken soup.
Shichida Aiyama 75 Hiyaoroshi 2021
From Saga Prefecture. Junmai Namazume. SMV: +1 Acidity: 1.6 
The nose on this Fall released seasonal sake is a bright collection of stone fruit, pear, mango, banana, and blackberry aromas. This is a vibrant Hiyaoroshi that is both fleshy and relaxed with a bright crispness and acidity push. Look for peach, tangerine, blueberry, crisp apple, black berry, purple plum, and banana flavors that drink great in a wine glass. This is one of those brews that comes into its own as it warms in the glass with more smoothness and richness in each sip. The brewers use the rice varietal called Aiyama that they mill to 75% to get even more flavors and "action." Just think of late harvest fruits, yummy rice, and a fleshy fluid that pops in a bigger bowl and pairs very well with bright Autumn foods. WORD: Fruity WINE: Bright Reds/Crisp Whites BEER: Crisp Fruity Ales FOODS: Fall cuisines, meats and game, fatty shellfish, tempura veggies.
Oze No Yukidoke Hiyaoroshi 2021
From Gunma Prefecture. Junmai Ginjo Namazume. SMV: +1 Acidity: 1.5 
The nose on this single pasteurized seasonal draft sake is a juicy collection of pear, plums, fennel, banana bread, grape, mango, and tropical fruit aromas. If you ever wanted to taste what "aging for six months" tastes like on single pasteurized sake then this fruity and juicy Hiyaoroshi is for you. Fresh unpasteurized sake is brash, edgy, and sharp in many instances, but this aged brew that was made in December and released in October is round, lush, smooth, semi-bright, and void of all that punchiness of pure unpasteurized sake. Fluffy, fat, thick, and viscous, this brew is all about the body. Look for bubblegum, mango, sugar, cooked pears, candy, and apple sauce flavors that float on a chewy flow that feels great in the mouth. Chewy Goodness! WORD: Full-Bodied WINE: Fat Reds/Chewy Whites BEER: Fruity Ales FOODS: The Kitchen Sink! International Spice, meats, game, shellfish, tacos.
From Miyagi Prefecture. Tokubetsu Junmai Namazume. SMV: +1 Acidity: 1.6
The nose on this seasonally released single-pasteurized brew is a nice collection of pear, raisin, potato, cereal, honey, plums, chocolate, and steamed rice aromas. Smooth, round, savory, creamy, and rich, this fan-favorite fall draft sake drinks with a lot of flavors on a flow that is balanced and teases a lot of umami. Look for cocoa, caramel, cinnamon, apple pie, chocolate strawberries, toast, maple syrup, and steamed sweet rice flavors that open up as the sake warms in the glass. This year's version is a little drier than year's past, which gives the body some lightness, and a quicker finish. It's still viscous and chewy but lighter and dryer with a little spice tingle. WORD: Rich WINE: Zesty Reds/Fat Whites BEER: Crisp Ales FOODS: Salty and savory, rich and full-bodied, creamy and fried. 
From Yamaguchi Prefecture. Junmai Namazume. SMV: +2.5 Acidity: 1.9 
The nose on this fall draft sake is baked cinnamon apples, nuts, banana, hay, lemon yogurt, cup cake, and steamed rice aromas. Crisp, zesty, light, and dry, this Hiyaoroshi drinks very lively and bright and speaks to those bright red wine drinkers who like excitement in the glass. It's earthy and savory, but also it's light and bright with some tannin-like dryness and astringency that makes this brew refreshing. Look for cocoa, toasted rice, honey crisp, soy sauce, wheat toast, mineral, mushroom, and savory licks with a load of umami. It's dry and clean and as the fluid warms in the glass more smoothness and richness emerges. This is a very exciting Hiyaoroshi that was built to pair with Fall cuisines that feature sauces and marinades. WORD: Dry WINES: Zesty Reds/Crisp Whites BEER: Large Crisp Ales FOODS: Salty, savory, sauces, marinades, fowl, fat fish, stews. 
From Hokkaido Prefecture. Tokubetsu Junmai Kimoto Namazume. SMV: ±0 Acidity:1.8
The nose on this super star seasonally released single pasteurized sake with one of the best labels in sake is a gentle collection of nutty, creamy, lemon peel, and steamed rice aromas. Dry and juicy at the same time! How cool is that? It's lively, bright, and fresh for the season and speaks to those who enjoy tannin-like dryness with a little astringency that makes the fluid all the more refreshing. Look for mineral, blueberry, pomegranate, kiwi, grape, sweet tomato, and young pear flavors that drink with a gentle sweetness but are totally dry overall. Does thick water sound odd? It's refreshing thick water sake that is made using the traditional Kimoto or "pole-rammed" brewing style, which usually gives off a more slippery and smooth fluid. Another great year for Otokoyama Hiyaoroshi that opens up as it warms in the glass. WORD: Kimoto WINE: Dry Reds/Flinty Whites BEER: Crisp Stouts FOODS: Fall flavors, soups, stews, roasts, turkey, and rich bright cuisines.