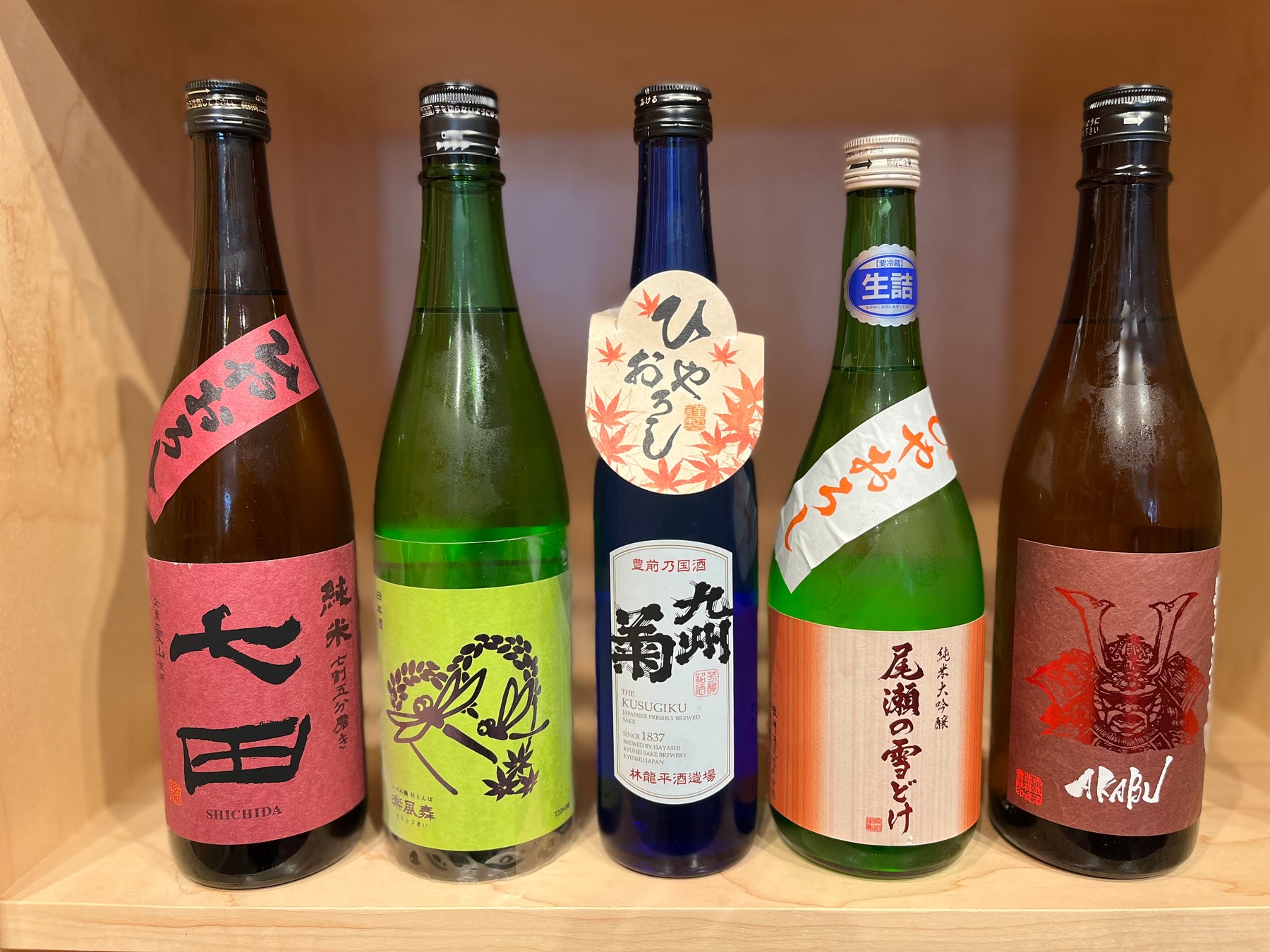 Sake Season – The Flavors of Hiyaoroshi "Fall Draft" Sake
Yay! It's autumn. And whether the weather feels that way or not, the sake industry has done its best to craft for you a style and the making of sake that speaks to this colorful season. Say hello to the first of many flights of single pasteurized and rested sakes that are built to pair with the flavors of fall. These seasonally released "Fall Draft" sakes come in different versions of autumn-ness. Some are savory and rich, and others have bright and frisky fruit tones, but they all are fresh for the season. The season of the changing colors and the walking away from summer and heading into the winter brewing season. 
"In the other gardens
And all up the vale,
From the autumn bonfires
See the smoke trail!
Pleasant summer over
And all the summer flowers,
The red fire blazes,
The gray smoke towers.
Sing a song of seasons!
Something bright in all!
Flowers in the summer,
Fires in the fall!"
-Robert Louis Stevenson-
"Nature's first green is gold,
Her hardest hue to hold.
Her early leaf's a flower;
But only so an hour.
Then leaf subsides to leaf,
So Eden sank to grief,
So dawn goes down to day
Nothing gold can stay."
-Robert Frost-
From Niigata Prefecture. Junmai Ginjo Namazume. SMV: ±0 Acidity: N/A
The nose on this seasonally released single-pasteurized Fall Draft sake is a glorious collection of melon, green apple, cherry, peach, honey, sugar, and simple syrup aromas. With changing colors of leaves on the red bottle behold a smooth yet lively layered semi-dry brew that is frisky with shibumi and a dry almond finish. Look for apple, melon, peach, grapefruit, juicy pear, umami, and lots of minerality on a fleshy and dry flow. Edgy and slightly biting, this sake is built for food pairing and would be enjoyed by dark spirits and chunky red wine fans. WORD: Minerals WINE: Vast Reds/Minerally Whites BEERS: Crisp Fat Ales FOODS: Roasts, International spice, meats and game, pasta, grilled fatty fish, shellfish.  
Shichida Hiyaoroshi 2022
From Shiga Prefecture. Junmai Hiyaoroshi. SMV: +0.6 Acidity: 1.6
The nose on this seasonally released single pasteurized Fall Draft sake is a fun collection of raisin, brown sugar, melon, crème brûlée, vanilla, blueberry, prune, and cinnamon aromas.  Smooth, round, chewy, and slippery this brew drinks with a crispness and dryness as well as hints of rice and fruit tones. Look for cinnamon, blueberry, apricot, pear jam, dark chocolate, cereal, mint, and honey flavors with elegant umami and an apple finish. Lots of good body on this year's Hiyaoroshi with solid balance, gentle acidity, and made with Aiyama milled to 75%. Always a fan favorite. WORD: Balance WINE: Dark Berry Reds/Crisp Whites BEER: Stouts FOODS: Fall flavors of fatty fish, fowl, and meat, with lots of savory fare.
From Kanagawa Prefecture. Junmai Ginjo Hiyaoroshi. SMV: +4 Acidity: 1.5
The nose on seasonally released Fall Draft sake is a gentle collection of steamed rice, blueberry, lime, white grape, cream, sherbet, herbs, and grassy aromas. The brewery loves this sake so much they sell it almost all year long, and it's made to symbolize dragonflies that hover over golden rice fields in the late summer fall light. Clean, light, crisp, with a clever water-like slipperiness. This unique and complex sake touches many different sake drinking sensations. There is a tannin-like dryness mixed with an astringency; Shibumi, that dries the teeth and palate with a delicate sourness that may come from the very interesting Rakufumai rice varietal. Again it's complex, but a complexity that is very drinkable. There is a wide flavor field that extols peach, green apple, young pear, young kiwi, Asian pear, lime with a light dry herbal and mineral finish. Aged for 6 months, this brew is a walk on the unique side, and would appeal to any sake drinker that seeks a new meaning in single-pasteurized sakes. WORD: Complex WINE: Tannin-Reds/Complex Whites BEER: IPA FOODS: Global Asian cuisines, dried meats, veggies, complex citrus dishes.
The Kusugiku Hiyaoroshi 2022
From Fukuoka Prefecture. Junmai Ginjo Hiyaoroshi. SMV: N/A Acidity: N/A
The nose on this seasonally released single pasteurized Fall Draft sake is a gentle collection of sweet potato, nougat, button mushroom, pumpkin, butter, oatmeal, and earthy aromas. Say hello to a new addition to our Hiyaoroshi sakes, and if you like it smooth, ricey, savory and dry then this brew is your favorite season in a bottle. Semi-bodied, slippery, watery yet ricey, light, and clean this is more of a traditional fall draft sake. Look for lots of mineral and brown rice tones with toast, mushroom, grains, snowmelt, oatmeal, broccolini, and forest floor flavors. This is our first 500ml Hiyaroshi so the price point is awesome to taste traditional style dry, ricey, and smooth seasonal sake. WORD: Dry WINES: Dry Reds/Clean Whites BEER: Dry Ales FOODS: Izakaya pub food, grilled everything, meats on a stick.

Oze no Yukidoke Hiyaoroshi 2022
From Gunma Prefecture. Junmai Daiginjo Hiyaoroshi. SMV: ±0 Acidity: 1.5
The nose on this seasonally released fall draft sake is an interesting collection of chive, cherry, grasses, mango, peach, sugar, cantaloupe, and herbal aromas. Full-bodied, weighty, slippery, velvety, round, fleshy, and chewy this Hiyaoroshi is a Junmai Daiginjo and there are not a lot of those out there. This is a very drinkable Fall Draft that has an array of interesting flavors on a fleshy fluid. Look for cooked berries, apple sauce, mint, grapefruit, strawberry, pear juice, spring veggies, and white grape flavors that slip through the palate. A food pairing superstar. WORD: Velvety WINE: Plush Reds/Fat Whites BEER: Fruity Ales FOODS: Crab, lobster, grilled fish and fowl, international spice, fruit and cheese plates.


Akabu Hiyaoroshi 2022
From Iwate Prefecture. Junmai Hiyaoroshi. SMV: N/A Acidity: N/A
The nose on this single pasteurized Fall Draft sake is a wonderful collection of caramel, banana bread, mango, brown sugar, brown rice, cinnamon toast, and whipped cream aromas. Smooth, round, rich, chewy, layered and plump this brew is unique in that it is so balanced for such plumpness. Talk about a "wow" sake! If you wanted the taste of Autumn in sake form this is it. The label might be influential when looking for the abundant flavors in each sip. Look for brown sugar, brown rice, brownie, ripe fig, baked peach, cinnamon, butter, mango, banana bread, and cooked pear flavors on a super balanced flow with a phantom finish that is plum, fun, then gone. Impressive sake. WORD: Decadent WINE: Smooth Reds/Fat Whites BEER: Belgian Ales FOODS: Grilled fare, stews, curries, meats, game, fowl, fatty fish.